Although the first electric scooters were produced in the '90s, their use is on the rise now more than ever. Designers have improved their design and function over the years.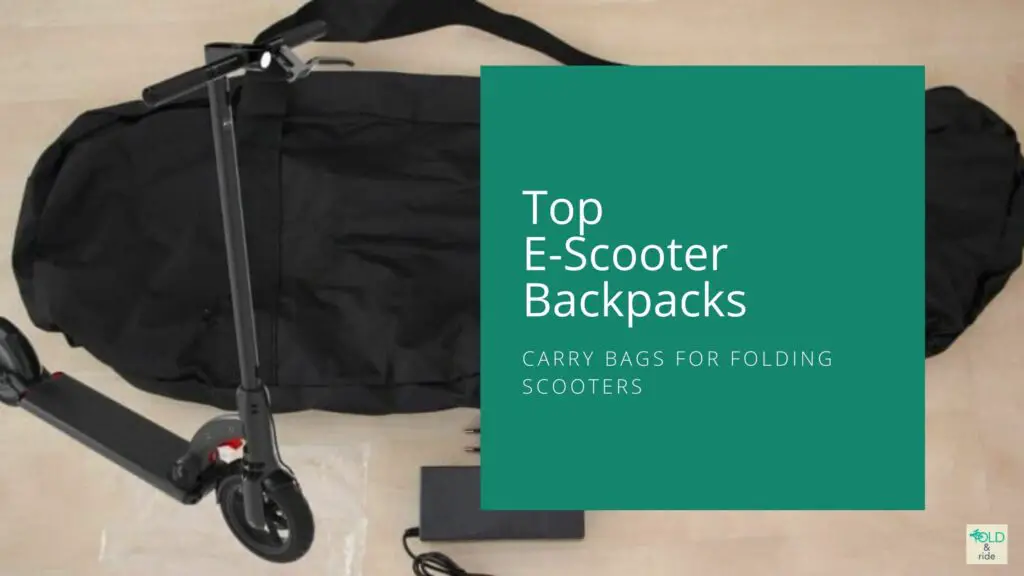 As an Amazon affiliate, we earn from qualifying purchases.
The fact that they are not only convenient and hassle-free but also eco-friendly makes them popular among users in several cities around the world.
The original bigger versions of the e-scooter were too heavy to carry around. Now they are lighter, and the best way for every e-scooter owner or renter to move them is with e-scooter backpacks or carry bags. This way, you can go everywhere with it conveniently, the gym, the office, the park, you name it.
For several reasons, some owners prefer to use straps instead of a bag to carry their scooters. This comes with the risk of damaging the scooter and getting dirt on your clothes. Before you think of investing in a backpack or carry bag, it's critical to keep in mind a few essential considerations when buying it.
In a hurry? Check our recommendation for the best E-Scooter Carry bag from Amazon ↗️
At A Glance – The Top 3 E-Scooter Carry Bags
Image
Title
Price
Prime
Buy
lamaki:lab E-Scooter Bag Storage Cover Heavy Duty Transport Bag Foldable Stylish for Xiaomi Mijia M365 Pro, Ninebot ES1 / ES2 Electric Scooter 115x45x20 cm / 45x18x8 in

Prime

Eligible

Buy Now
Epessa Carry Your Scooter Anywhere(Scooter Bag&Shoulder Strap Set)

Prime

Eligible

Buy Now
OwnMy Kick Scooter Shoulder Strap, Adjustable Scooter Carrying Strap for Kids Balance Bike Scooter Folding Chair Yoga Mat

Prime

Eligible

Buy Now
Product prices and availability are accurate as of the date/time indicated and are subject to change. Any price and availability information displayed on [relevant Amazon Site(s), as applicable] at the time of purchase will apply to the purchase of this product.
Prices pulled from the Amazon Product Advertising API on:
Key Considerations for E-Scooter Carry Bags
Any bag out there can potentially carry an e-scooter. That doesn't mean you should buy it. Without looking at certain vital factors, you'll be making a huge mistake. Here are the key considerations when buying an e-scooter backpack/carry bag:
Quality
When buying a new e-scooter backpack/carry bag, consider the fact that you're probably going to use it every day. Therefore, you must consider the quality. High durability and robustness will give you the confidence that you'll use the bag for a long time. Good quality also keeps your e-scooter safe from falling out and getting damaged while in transit.
Price
The price range for e-scooter carry bags is $22 to $80, with the more popular ones being around $35. If you want your backpack or carry bag to last a long time, you'll have to invest in good quality.
Sometimes this means you have to pay more for it. However, if you look around keenly, you might find some good deals or sales and get a quality bag at an affordable cost. At the end of the day, you're better off paying more for excellent quality.
Weight
A regular electric scooter weighs about 27 lbs/12.2 kilos. That's already a lot of weight to carry around. You don't need a bulky bag to weigh you down even further. Even the lightest model e-scooter that weighs approximately 10 lbs/4.5 kilos will become a burden if you have to carry it for a long distance.
Choose a lightweight bag as much as possible to avoid the extra weight. Make sure you don't compromise on quality.
Carry Handles
The carry handles are an important factor to consider. After all, what's a carry bag without handles? They must be sturdy and attached to the bag properly. Poorly made straps will defeat the purpose of having the bag in the first place.
A padded wrap around two strong carry straps keeps the weight of the e-scooter balanced and doesn't strain the bag or your hands. It should also have a shoulder strap that is adjustable and removable so that you can comfortably use it when the need arises.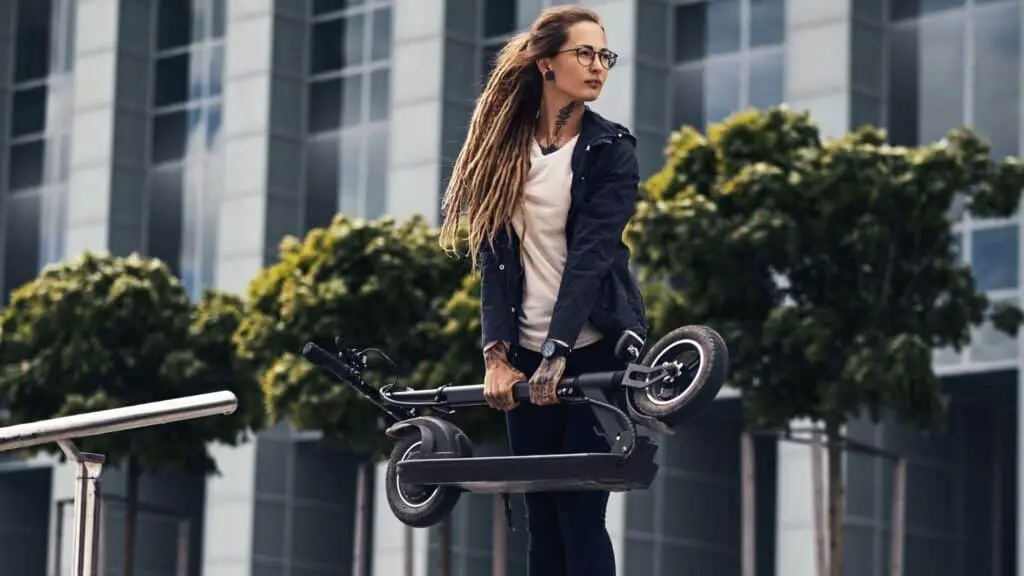 Fashion
Functionality is paramount, but fashion matters too. Remember, you'll carry your e-scooter to public places and social gatherings. Instead of buying bland colors that most people might have, you could go for bold and bright colors that speak life and make you look fashionable.
Portability
Buying a bulky bag that you can't easily put away is a bad idea. Besides being a lightweight bag, it should also be foldable and portable. You shouldn't have to worry about how to carry it when you go riding your e-scooter. Ideally, you should be able to fold it neatly and conveniently store it on the scooter handlebar while riding it from one place to another.
Waterproof
The backpack/carry bag must be made with waterproof material. In case the sky turns grey while you're on the move, you can quickly pack it to keep it safe from the rain. Basic science teaches us that electricity and water are a dangerous combination which can be fatal to the owner.
Keep in mind that small amounts of moisture can affect the electrical components in the e-scooter, so a waterproof bag is a non-negotiable consideration. Although developers have created waterproof e-scooters, their rating is not convincing enough for riders not to have a waterproof bag.
Size
This might sound like an obvious consideration, but it's still worth talking about. The size of your carry bag should be slightly bigger than your scooter. If your scooter is 10-inches, you can't purchase a bag that's exactly 10 inches or less. The probability of damaging your scooter and the bag itself is high if you can't secure the scooter in the bag comfortably.
Don't be fooled into thinking that buying an oversized bag is the solution. This is also a bad idea. With a lot of space in the bag, the scooter won't be stable but will keep moving from side to side, which could potentially damage it.
Accessories
E-scooter riders have several accessories like riding glasses, locks, lights, gloves, straps, and so on. They need safe storage spaces. It's a great idea to purchase a carry bag with side pockets to store these accessories. These pockets keep the accessories safe and reduce unnecessary bulk.
---
Here are a few key considerations if you choose to purchase a shoulder strap instead of a bag:
Length
The strap should be long enough and easily adjustable to your comfort level. Unless you're sure what length will suit your scooter, go to the store and try out the various options. 
Quality
The reason you can't compromise on quality is that the shoulder strap itself carries the whole weight of the scooter. It must be made from premium material. Poor quality that wears easily can cause the strap to snap suddenly and endanger the rider.
Shoulder Pad
Imagine carrying the weight of your scooter a long distance with a strap that doesn't have a shoulder pad. Your strap must have a thick enough shoulder pad to protect you from bruises and discomfort.
Secure Buckles
The buckles on both ends should be top-range so that they can fasten securely without the risk of suddenly unfastening while you're on the move.
Price
Shoulder straps are generally affordable, and this might blind you to buying any strap on the market. Do not scrimp on quality by buying the cheapest one. Invest a few more dollars on the best strap that will last you a couple of years.
---
3 Top E-Scooter Carry Bags
The Lamaki: Lab e-scooter bag is made from the highest quality nylon (1680D Oxford Cloth), making it tear-resistant and extremely durable. Its sophisticated design was originally intended for the Xiaomi Mijia M365 and M365 Pro e-scooters. However, you can use it for different types of scooters as long as they are the right size, for example, Segway Ninebot ES1/ES2, IO Hawk Sparrow, Kugoo S1 Pro, and a few others.
The bag's measurements are 115 x 45 x 50 cm or 45 x 18 x 20 inches. It's a light bag weighing 1.54 lbs/0.69 kilos.
What We Liked
This carry bag is foldable and portable. You can easily attach it to the e-scooter handlebar while riding. It comes with 2 small straps (with buckles) for this purpose.
The bag is spacious on the inside and fits the scooter well.
It's water-resistant, and you can use it under normal rainy weather conditions (do not submerge in water or leave outside in the rain).
It has a wide and reinforced shoulder strap so you can carry your e-scooter comfortably.
It's a lightweight bag.
What We Didn't Like
The bag is not padded enough to carry certain e-scooters. If you use a Segway Ninebot Max G30D, Segway Ninebot ES4, or Segway Ninebot GS1 Gen2, this bag is not for you. If you're traveling on a plane, your scooter may get damaged while going through baggage.
It doesn't have side pockets for extra storage for accessories like straps, lights, and so on.
---
Epessa Oversized Scooter Carrying Bag
Originally, this bag was specifically designed for Segway Ninebot ES/ES1/ES2/ES3/ES4 and all GOTRAX series. A recent upgrade to the bag makes it spacious enough to accommodate other e-scooters like the Ninebot Max. You can easily keep it in the trunk of your car or carry it on the train/bus. The Epessa carrying bag is highly durable. It's made from quality 1680D Oxford cloth, which is water and scratch-resistant. You'll be using this sturdy bag for a long time.
What We Like
It's lightweight.
It's spacious and can fit various sizes of scooters.
It's foldable and portable
What We Don't Like
While it is foldable and portable, you can't attach it to the scooter as you ride. You have to carry or put it in another bag while riding, which is an inconvenience.
It doesn't have side pockets. All your accessories have to go in the same space as the scooter. This may cause damage to some of them.
---
OwnMy Kick Scooter Shoulder Strap
The OwnMy Kick strap is not a bag, but it helps you carry your scooter around. You can also use it for other items like yoga mats, foldable bikes, and balance bikes. It has a 1-inch width and an adjustable strap. Each package comes with 2 straps.
What We Like
Made from high-quality, durable nylon and buckle, resistant to wearing and corrosion,
It's robust enough to bear a capacity of up to 40 KG.
This scooter shoulder strap features a non-slip shoulder pad that makes carrying easy and comfortable.
Easy to fold and store away in your bag
It's multipurpose, and you can use it to carry kids' bikes, beach chairs, yoga mats, and so on.
The strap length is adjustable to your level of comfort, from 51" to 72".
The buckles on either side are secure and easy to fasten and unfasten.
You can wear it over one shoulder down to the opposite side for equal weight distribution
Good price point
What We Don't Like
No doubt, your clothes and your car will get dirty. Having extra clothes is such an inconvenience.
It attracts unnecessary attention while you're carrying it around.
Prone to damage from moisture, rain, scratches, and so on.
No storage for your accessories
---
Conclusion
If you use an e-scooter and want to extend its durability, the best thing you can do is purchase a backpack or carry bag. They are generally cost-friendly and make it convenient for you to carry your scooter wherever you go. You won't get dirt on your clothes or draw unnecessary attention while carrying it as you would with just a strap.
Most importantly, the carry bag will protect your scooter from water damage, scratches, and dust. It also provides ample storage space for your accessories like locks, gloves, lights, and so on. This reduces the bulk in the bag. If you're buying it from a store physically, go with your scooter to try different bags so that you can find the perfect fit for you.
Functionality and size are important factors to consider, but the one you shouldn't negotiate on is quality. Choosing a good quality and portable carry bag will give you value for money, and you're sure to use it for years to come.
Bags offer several benefits, but the shoulder straps are handy as well. You can balance the weight of the scooter on your body and store the straps easily. Whether you choose to have a bag or shoulder strap, make sure to remember the above considerations before making your purchase.