As folding bikes have made their way into the mainstream market over the last 10 years and more and more people are using them as an eco-friendly commuting alternative, the folding electric bike (e-bike) market has also started to boom.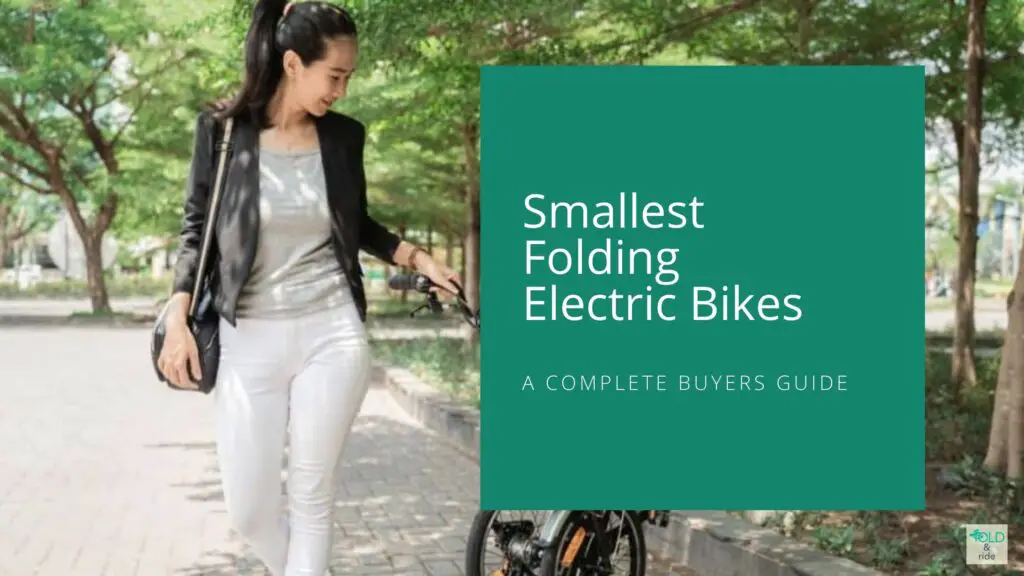 As an Amazon affiliate, we earn from qualifying purchases.
Manufacturers are coming out with lighter and smaller e-bikes at a rapid rate and this is something that we are really excited about as initial E-bikes were incredibly heavy and clunky bikes that were not fit for purpose.
Editors Pick
Our editor pick for the smallest folding electric bike is the Swagtron Swagcycle EB-5. This folding e-bike is a truly great bike considering it's one of the smallest on this list. Despite the 14" wheels, this bike can be adjusted to support adults and teenagers alike and the option to pedal-assist is very much underrated in a market that's moving away from this function. 
The price is very favorable when compared with some of the more premium brands, the world's lightest bike (Hummingbird Electric) is coming in at almost 4x the price of this model and is only 15lbs lighter.
If you want a portable and affordable folding e-bike for your commute then you'll struggle to find a better model that can fold up as small as the EB-5 whilst offering similar features.
Before looking at the 6 smallest folding electric bike options on the market we'll first take a look at some of the key considerations that you need to be aware of when getting a small and lightweight folding e-bike. 
At A Glance – The 6 Smallest Folding Electric Bikes
Image
Title
Price
Prime
Buy
Swagtron Swagcycle EB-5 PLUS Folding Electric Bike with Pedals and Removable Battery, Black, 14" Wheels

Prime

Eligible

Buy Now
Electric Bicycle, Sailnovo 14'' Electric Bike for Adults and Teenagers with 18.6MPH 45Miles Waterproof Folding Electric Bike with Removable 36V 10.4Ah Lithium-Ion Battery Throttle & Pedal Assist

Prime

Eligible

Buy Now
Qualisports Folding Electric Bike Nemo 16Inch Urban Ebike for Women Adults Kids 250W Motor 36V 7Ah Removable Battery 20MPH City Commuter Lightweight 30lbs Bicycle

Prime

Buy Now
Electric Bicycle, Sailnovo 14'' Electric Bike for Adults and Teenagers with 18.6MPH 45Miles Waterproof Folding Electric Bike with Removable 36V 10.4Ah Lithium-Ion Battery Throttle & Pedal Assist

Prime

Eligible

Buy Now
Swagtron Swagcycle Pro Pedal-Free App-Enabled Folding Electric Bike with USB Port to Charge on The Go, White

Prime

Eligible

Buy Now
Jetson Electric Bike Bolt Folding Electric Bike, with Pegs - with LCD Display, Lightweight & Portable with Carrying Handle, Travel Up to 15 Miles, Max Speed Up to 15.5 MPH , 40" x 20" x 37"

Prime

Eligible

Buy Now
Product prices and availability are accurate as of the date/time indicated and are subject to change. Any price and availability information displayed on [relevant Amazon Site(s), as applicable] at the time of purchase will apply to the purchase of this product.
Prices pulled from the Amazon Product Advertising API on:
Considerations for Folding E-Bikes
The earth's population is continuing to grow, major cities are becoming busier and global warming means that more and more people are becoming environmentally conscious and 'eco-friendly'. With this in mind, welcome the emergence of the folding e-bike. 
A compact, portable, lightweight, fast and convenient commuting bike that not too long ago was only seen on a college campus and outside the occasional coffee shop. They have since burst into the mainstream and is fast becoming the bike of choice for most commuters. 
With this rise in popularity, it's easy to get carried away and end up purchasing a folding e-bike that is not well suited to your needs, therefore, we've outlined some must-know considerations before looking to purchase a folding e-bike.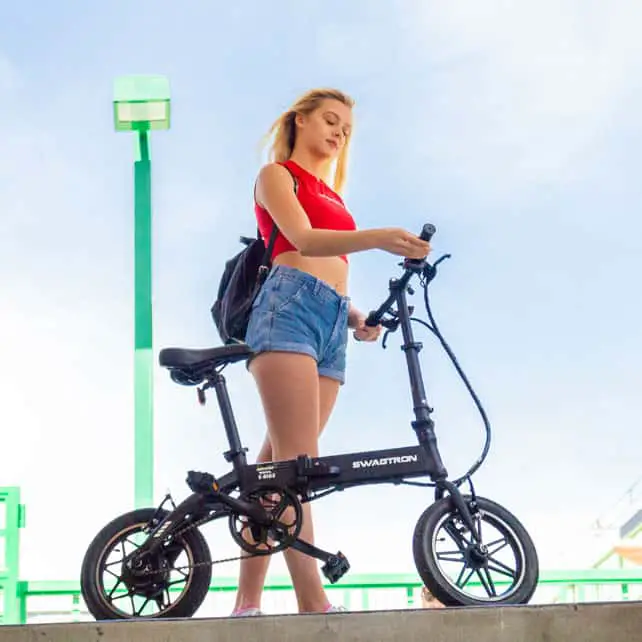 Price
While folding bikes, in general, have very closely related pricing structures between competitors based on specific features, the folding e-bike category is much more open and people can end up paying more for features they don't need. For some basic features, it's not uncommon to see similar models with a price difference of $1,000+.
The reason for this is that it's a lot more difficult to overprice a non-electric folding bike because customers can easily understand the features. When it comes to a folding e-bike, however, battery wattage, charge time, motor power and a range of other factors can make it much easier to price a product higher with a 'perceived' higher value. 
The products we review shortly will all take into consideration price comparisons and we'll break it down so that you can see the competitively priced models, as well as those with a higher price which actually have the quality and additional features to warrant the price. 
Size and Weight
This is the key factor that we'll be looking at in this article and the reason for this is that a small e-bike doesn't necessarily mean that it's portable or compact. 
When looking for the smallest folding e-bike, we are making the assumption that you want to be able to store it in the trunk of a car or take it on public transport, store it under your desk at work or carry it up to your apartment and store it in a small area (cupboard or hallway) each day. These are urban bikes so we will definitely generalize based on some of these likely scenarios.
These are common reasons that we find people want a small folding e-bike and therefore you need to make sure that as well as being small, it's also lightweight enough to carry around and can also be folded down quickly and conveniently. 
Power and Battery Life
Finally, when looking at the smallest folding e-bikes, you'll also want to keep in mind the power of the motor and battery (especially as most batteries have a lifespan of 2-4 years). 
A small bike will often have some compromises to make and one thing you don't want to compromise on with a folding e-bike is the power and battery life. The reason for this is to ensure you don't have to do most of the work when it actually comes to cycling. 
If you can't reach a decent assisted speed and the battery life doesn't get you to work and back each day then there is no point paying for a folding e-bike when a non-electric bike would likely be the better option for you. 
With a small bike, you'll find that they won't be as powerful as larger models in general (though the technology is constantly improving), however, we've got a list together that will hopefully cover all bases when it comes to packing power into a small size.
---
6 Best Smallest Folding Electric Bikes
The Swagtron Swagcycle EB-5 e-bike is a great starting commuter bike that packs sufficient power alongside incredible portability. The bike weighs only 37lbs which fiercely contends with some of the lightest folding e-bikes on the market. 
The battery range of 15.5 miles makes your daily commute easy and has enough power to tackle an uphill climb giving you the option to pedal, throttle or both. Despite the small size when folded (26 x 15.6 x 23.6 inches), this bike can be adjusted when open to suit both an adult or teenage rider. 
✅ What We Liked
This bike comes pre-assembled which is ideal for those that don't have many tools or assembly skills
The bike is height adjustable for use by both adults and teens which makes it a great family bike
A 15.5 mile battery range is very good for a folding e-bike of this size. A typical full-size folding e-bike can get around 30 – 40 miles on a full charge however these are typically much larger bikes and 2-3 times the price of this model
The removable battery option is available for charging convenience (though does cost an additional $250)
Removable power line with quick disconnect is a unique feature that we don't commonly see meaning you can use this as a manual bike with ease.
❌ What Could Be Better
Recharge time of up to 5 hours is a long time considering the battery range is 15 miles.
A fixed chain with no gears means you rely on the battery as it will be difficult to ride manually.
---
The Qualisports Nemo Folding e-bike is an excellent (and powerful) addition to the folding e-bike range. With a max speed of 16mph which is powered by a 36V/250W motor, you're also getting a battery with a range of 25+ miles when fully charged.
The aluminum frame provides enough strength to not only be lightweight but also durable supporting a weight capacity of up to 220lbs. With this, you're also getting an easy 3 step fold for convenient storage and portability.
This bike also comes in at a weight of only 30lbs net and while it's not the smallest folding e-bike that we've come across, dimensions of 26.1 x 15.75 x 25.2 inches mean that it's certainly small enough to be a contender!
✅ What We Liked
This bike comes fully assembled and includes a handy tool bag for the times when you might need them
Height adjustable from 5' – 6'3" means that much like the Swagtron model above, this bike is a great fit for all the family
7Ah Lithium-ion  battery has a riding range of 25+ miles which is more than enough for most long commutes
Disk brake system within 3m will also cut off the cruise and throttle as a nice safety feature
❌ What Could Be Better
16" wheels are the main drawback on this folding e-bike, especially if you are looking for the absolute smallest folding e-bike on the market
---
This folding e-bike offers another 250W motor which gives speeds of up to 25mph when power-assisted (18mph without). The LCD display meter gives a clear reading of battery life night or day or ease of monitoring which is a good feature. 
The carbon steel frame means this bike is unfortunately not the lightest when it comes to build quality weighing in at a whopping 70lbs! While it can be folded down to a compact size the weight means it won't be the truly portable e-bike that many are looking for.
✅ What We Liked
This is the cheapest folding e-bike we've come across and while it doesn't have any standout features, the price should be more than enough to warrant consideration.
3 riding modes allow to easy customization of your ride depending on commute length, terrain or battery life
LCD meter is a nice addition to keep an eye on your battery life
❌ What Could Be Better
This is too heavy to really be of much consideration for a majority of people.
Folding Electric Bikes Without Pedal Assist
The above folding e-bikes all offer pedal assist and while this is often a necessity with bikes, the future is moving towards e-bikes without these requirements. Therefore, we also take a look at some of the smallest folding e-bikes that don't need you to pedal in order to save on maintenance and size. 
---
The XTD Airwheel is an incredibly lightweight and 'futuristic' folding e-bike. With USB charging, mini Li-Ion battery (same model as Tesla), phone holder and headlight built into the handlebar you'll feel that you're on the cutting edge of e-bike technology with this model. 
It lacks in power, despite a 300W motor the max speed on these 8" wheels is only 12mph and the battery range of 15 miles means this bike is much more suited to a short commute. 
The main feature with this is portability and size, at only 27lbs in weight and dimensions of 19.6 x 11.8 inches you're getting one of the smallest e-bikes on the market.
✅ What We Liked
Weighing only 27lbs this bike can easily be carried in a bag (hand luggage) whilst also being able to support weights of 220lbs
USB charging is a convenient and definitely new technology in the e-bike category
Phone holder in the handlebar and electric braking system
❌ What Could Be Better
With speeds of only 12mph and no pedal assist you'd only be looking to use this bike on small commutes in a city or college campus.
A max battery range of up to 15 miles isn't great and emphasis on the fact that this is a short commute bike
---
Swagcycle is making another appearance on our list with the Pro folding e-bike. With a weight capacity of a huge 264lbs, speeds of 18mph (with app tracking), a 15.5 mile ride duration on a full charge, a charge duration of 3-4 hours and weighing in at only 30lbs this is a powerhouse of an e-bike!
This is definitely a folding e-bike for those that are looking to make shorter commutes and is great for inner-city travel. As far as folding e-bikes are concerned, the smart, sophisticated and sleek design with the Swagcycle Pro means that you feel less like you're on a poorly converted bike and more like you are on the future of eco-travel. 
✅ What We Liked
USB charging allows you to power up on the go and charge while you ride, or during a break
Fast set up (around 10 minutes) to install footpegs, handlebar and seat.
Well thought out design using quality materials and an easy to fold down sequence.
❌ What Could Be Better
Only suitable for flat terrain as the max incline it can handle is 12 degrees
An app is required to reach max speed.
Similar specs to EB-5 but no pedal assist really limits this bike to where you can use it
---
The cheapest folding e-bike on our list is the Jetson Bolt. Whilst being cheap in price it matches some of the other bikes we've looked at in a range of performance specs. The aluminum frame is ideal for a lightweight model and this bike only weighs in at 34lbs with a 250lb weight capacity.
14" tires are a great addition to allow for some added comfort (in place of a lack of suspension) and the twist throttle and cruise control handlebars make any ride an easy effortless trip. 
✅ What We Liked
The cheapest folding e-bike we could find in these size ranges means that you won't be breaking the bank to get a lightweight and small folding e-bike for your commutes
Built-in carrying handle is a unique little feature that makes up for its limited foldability
Cruise control is a nice feature if you want to take it easy on a scenic ride
Built-in bike stands are another nice feature that you don't realize you want until you have it!
❌ What Could Be Better
It may fold up to be portable however it doesn't compete with some of the other bikes on this list and though it may be small it's again not the smallest
5 hour charge time is a lot considering the range is only 17 miles
---
Final Thoughts
While modern technology is getting smaller and more powerful at the same time, folding e-bikes are not yet up to this standard. Looking for the smallest folding e-bike is not necessarily the best and therefore some of our recommendations have tried to find the best combination of size, weight and price.