When it comes to folding bicycles, Brompton and Dahon are two of the most well-known brands. Both offer compact, lightweight bikes that can be easily stored when not in use.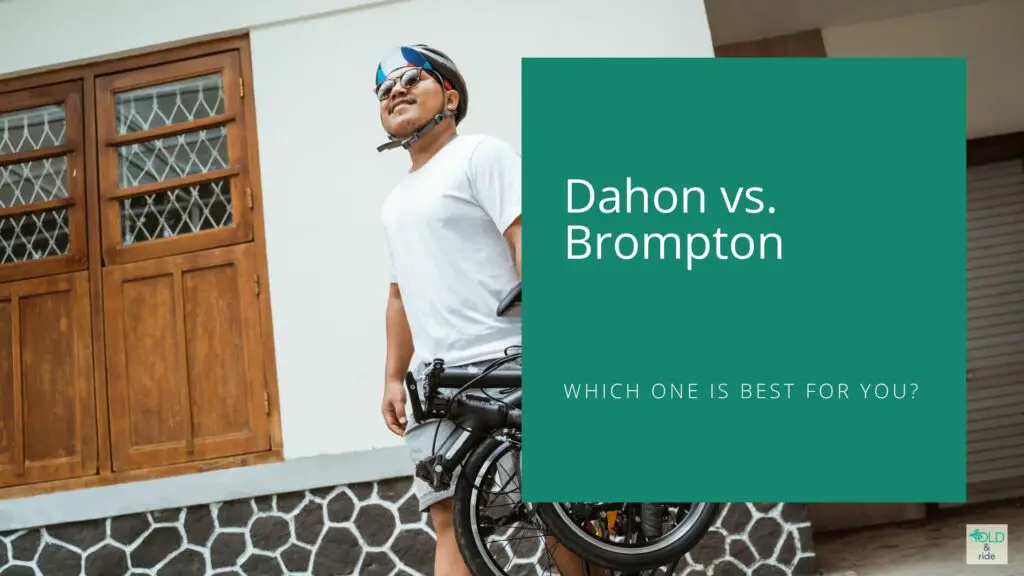 As an Amazon affiliate, we earn from qualifying purchases.
Their main selling points are their compact, lockable design and ease of use. They are also a great way to reduce congestion and pollution caused by cars, while still enabling people to get around more conveniently.
In this article we'll take a closer look at the differences between a Dahon vs Brompton foldable bike, so you can make an informed decision based on your own needs and priorities.
Let's dive in!
Dahon: The Company
Dahon was founded in 1986 in Southern California by David Hon, a Taiwanese American engineer and inventor. It started off as a manufacturer of bicycles and folding bikes.
In the early 2000s, the company began to expand into other major cities including New York, London, and Tokyo. They added gym equipment and fitness accessories to their product line-up.
In 2014 they opened a new office in Italy. Dahon is known for their stylish, high-quality folding bicycles. They produce around 100,000 bicycles per year. Their main markets are the US, Europe, and Asia.
Their main focus is on growing their sales in major cities and in densely populated areas.
Brompton: The Company
Brompton is a British brand that was founded in 1976 by Andrew Ritchie, a former racing car engineer. Initially, it was a small-scale enterprise that manufactured and sold folding bicycles.
At the time, Brompton was one of the first companies to offer a folding bike. The success of the product led to the creation of various models and variants.
Today, Brompton is a renowned brand known for its high-quality bikes. The company designs and manufactures bicycles in the UK. It has around 200 employees, including engineers, designers, and other professionals.
Their products are exported to over 70 countries around the world.
Differences between a Dahon and Brompton Foldable Bike
To determine the differences between a Dahon and Brompton foldable bike, we must first understand the difference between the two brands.
As we've seen, both are known for their high-quality folding bicycles. However, there are a few key differences between them. Brand – As we've discussed above, Brompton is a British brand while Dahon is based in the US.
So, there may be some variation in how the products are designed and how they function.
Style – Dahon folding bikes are available in a wide variety of sizes and styles. The company offers different foldable models for different types of riders and different types of terrain. Brompton, on the other hand, offers fewer styles and options.
Frame – The frames of Dahon and Brompton bikes are also made of different materials. Dahon uses a 6061-T6 aluminum frame, while Brompton uses a specially designed and patented "Brompton" frame made from steel.
Quality – Dahon and Brompton are known for creating high-quality, durable folding bicycles that are meant to last. While they are not cheap, they are worth the money.
Warranty – Both brands offer a one-year warranty on their bikes. However, it's important to understand the terms and conditions of the warranty. This will help you get your bike repaired or replaced as soon as possible if there are any issues.
Which One is Best for You?
When comparing a Dahon vs Brompton foldable bike, it's important to keep in mind your riding style and needs. This way, you can choose the best bike for your requirements. Here's what you should consider when trying to decide between a Dahon and Brompton folding bike:
Your riding style – If you are a casual rider who prefers to go for a ride once in a while, then a Dahon folding bike may be ideal for you. Brompton, on the other hand, is designed for regular riders who need to go to work on a daily basis and travel often.
Your budget – Dahon and Brompton bikes vary in price. The price depends on the type of bike you choose: i.e. the size, design, and features. However, you can easily find a good quality folding bike in the $700-$900 price range.
The type of terrain you ride on – If most of your rides take place on rough terrain, then it's best to go for a Brompton bike. They are sturdier and have a stronger frame than Dahon models.
Ease of use – Dahon is arguably easier to use than Brompton. You can fold and unfold this bike in seconds.
Final Words
As you can see, Dahon and Brompton are both great folding bikes. They are both durable, well-built, and easy to use.
They are also ideal for both casual riders and those who travel often and need to transport their bike often. The key to choosing the best folding bike is to understand your riding style and needs, and then deciding between a Dahon and Brompton model.
With this information, you can easily narrow down your choices and find the perfect folding bike for you.