There are few vehicles more convenient and versatile than an electric folding bike. Not only are compact bikes an environmentally friendly choice for commuters, but they also fold right in half and can be taken on a road trip.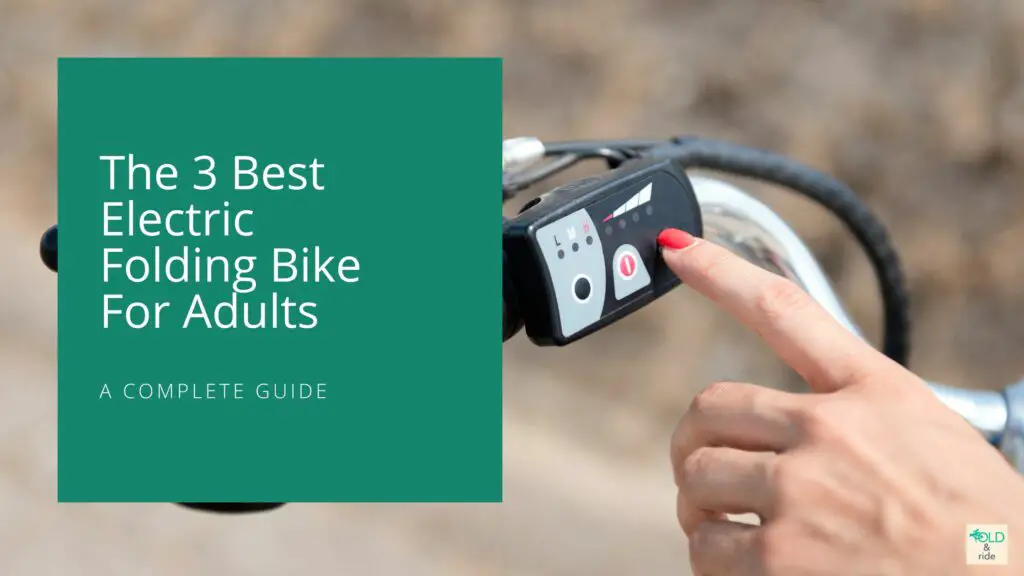 As an Amazon affiliate, we earn from qualifying purchases.
The best part is you have the option of pedaling or using it as a motorbike.
When choosing an electric bike consider the bike's frame style, tire size, weight, foldability, motor, battery, range, performance, and appearance. Our top three similarly priced choices fully charge after four hours, have fat 20" tires, and suit adults 5'3 to 6'3 in height.
#1 The Haibike Mars Electric Foldable Bike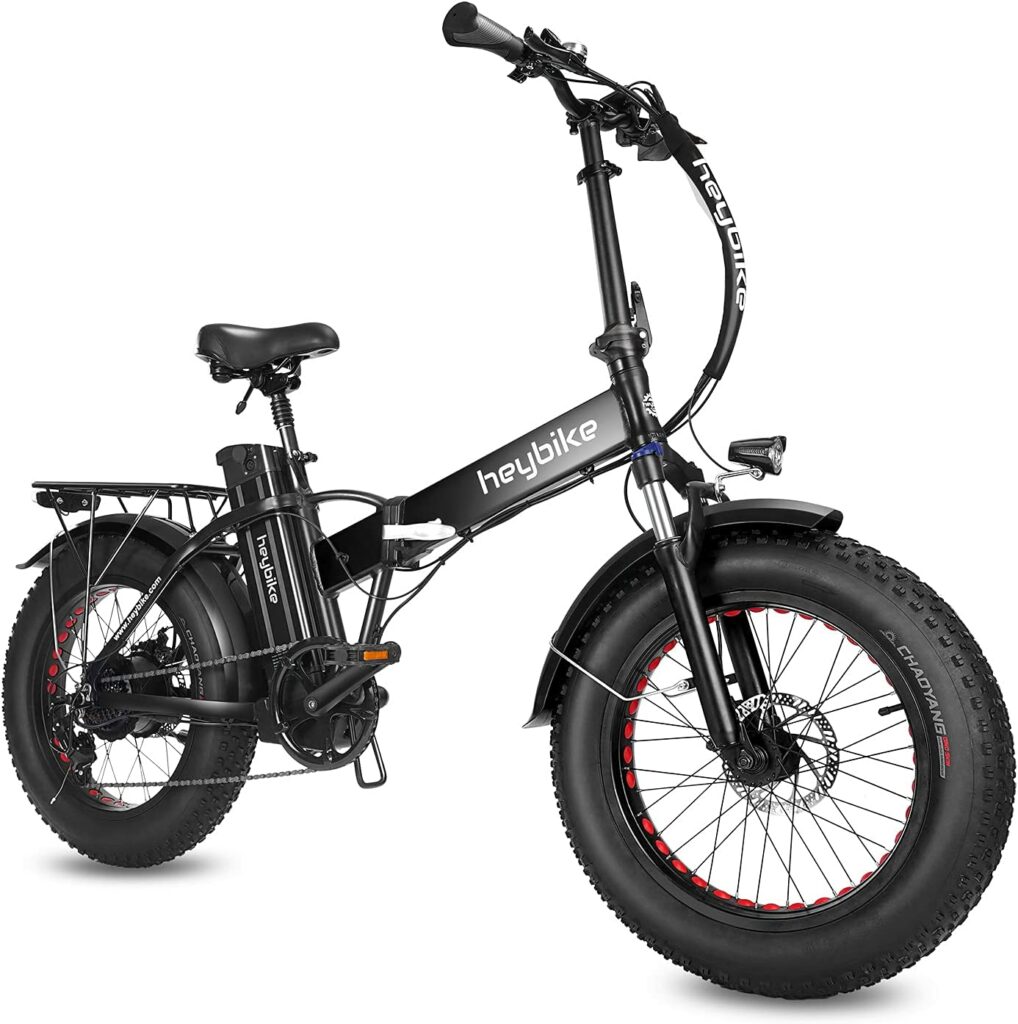 The black Heybike Mars Electric Foldable Bike is designed for adult trailblazers. Fat 20" tires can handle any terrain, from forest trails to street car tracks. Its low-slung seat is meant for joyriding on snowy roads and sandy beaches. 
However, its aluminum frame can also easily be tricked out with baskets to carry groceries.
The Hey has an awesome 48-mile range, and a 20 mph top speed. It boasts two riding modes (Pedal and Riding assist), as well as a 7-Speed Shimano gear system.  It comes fully assembled with 65 Lithium Ion batteries. 
Reasons to Buy
It folds in half in two seconds.
The fat tires are puncture-resistant.
Lighting built into the bike frame.
The modular battery can be charged on or off the bike.
All-terrain dual shock absorbers offer a smooth ride.
Comes with detachable mudguards.
A 24-month warranty that covers manufacturer's defects and there is a 30-day money-back guarantee
It is the #1 best-selling foldable electric bike on Amazon.ca
Second Thoughts
It is quite heavy at 66 pounds.
It is more expensive than many foldable electric fat tire bikes at $1699.99.
Who Is The Heybike Mars Electric Foldable Bike For?
This is the foldable electric bike of choice for the safety-conscious adult who wants a cost-effective vehicle that can handle both city and country terrains. 
#2 The Belle House Folding Electric Bike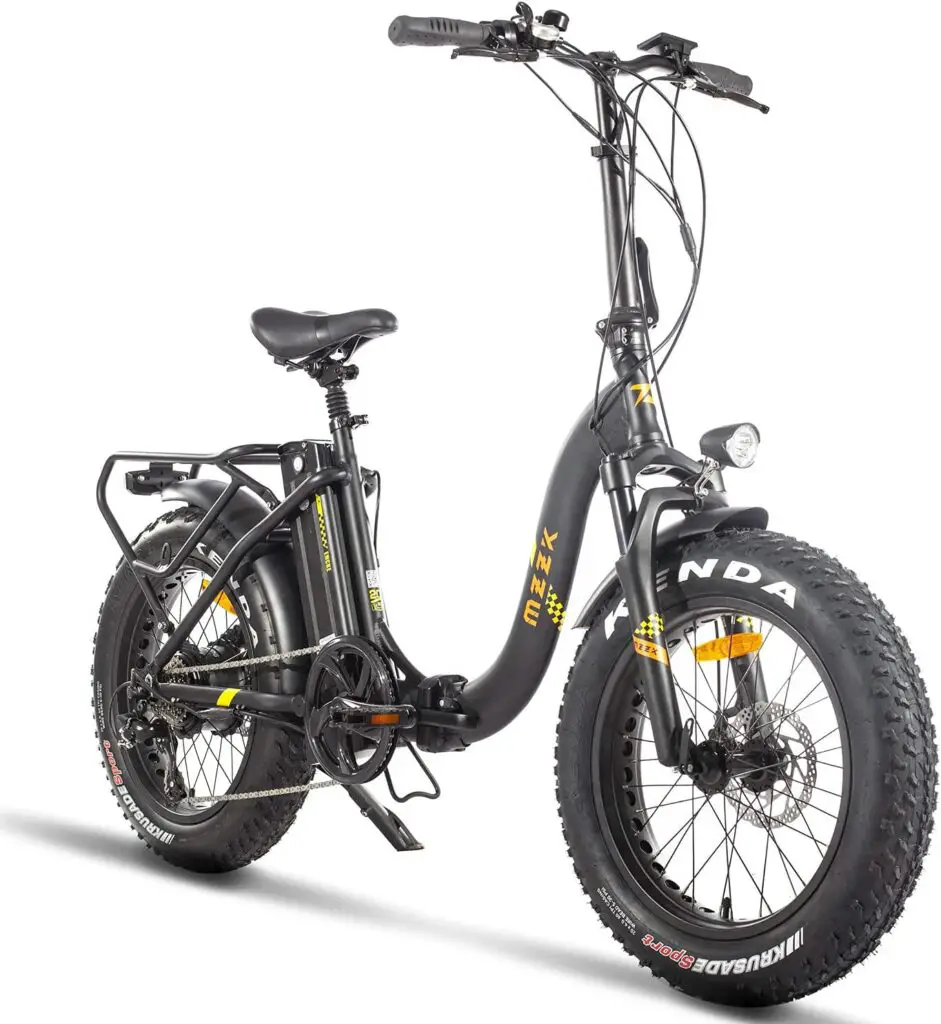 The Belle House 750w Folding Electric Bike is built for longevity. It is powered by two modular 48V batteries that charge fully in just four hours. 
The 500w Brushless Geared motor goes a distance of 30 miles in any terrain, including, sand, mud, and ice at a maximum speed of 20mph.
It has an attractive black step-through frame, constructed of a lightweight aluminum alloy created from hydroforming technology. 
The anti-slip 4" X 20"  tires and shock absorbent front fork suspension safely cushion the rider from every bump on the road. It has three riding modes, E-bike, Pedal Assisted, and Icycle (for riding on snow and ice).
Reasons to Buy
Folds completely in half to 14".
Powerful 750w motor for the price.
Comes with a Shimano 7-speed transmission.
Anti-skidding tires adapt to snow, and or any terrain.
LED headlights and taillights are built into the frame.
Step-through bar design makes it easy to ride while wearing a long coat or skirt.
Comes with a kickstand, footrest, mudguard, and lock.
One-year warranty for the eclectic motor, battery, and charger.
Second Thoughts
Expensive for some people at 1649.00.
Requires some (minimal) assembly.
Who Is The Belle House Folding Electric Bike For?
This is the perfect lightweight bike for the adult who appreciates a conversation piece and needs a safe way to commute from a rural area to a city, regardless of road or weather conditions.
The GOTRAX EBE4 Folding Electric Bike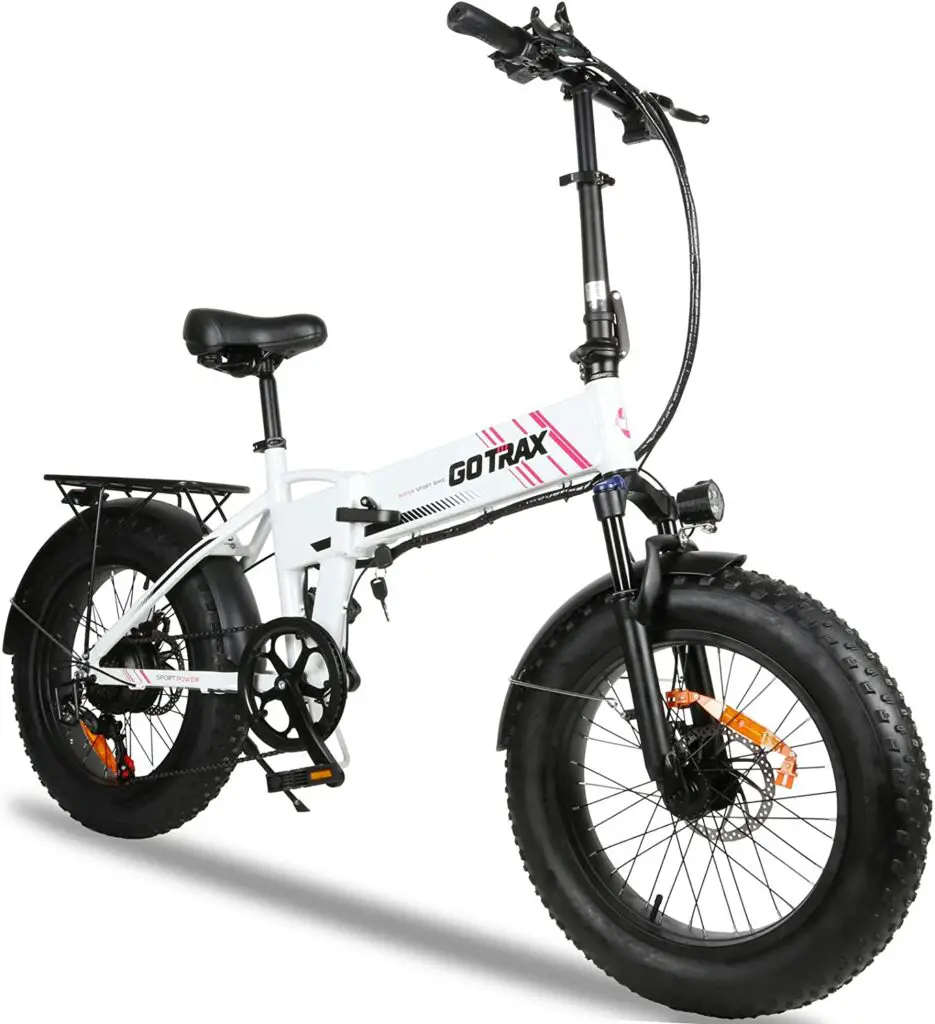 The Gotrax EBE4  is a sporty folding bike that is white with blazing stripes on its mid bar. It has a 48v battery that travels for 50 miles per charge if using the pedal assist and 25 miles on its own throttle. 
It is cheaper than similar models that have the same 20" wheels and 7-speed professional transmission.
The aluminum Gotrax has a higher mid bar than most foldable electric bikes. The horn, headlight, and digital display are positioned on the T-shaped handle. It's better as a trail bike, although it does come with a small carrier attached to the back.
Reasons to Buy
Powerful, efficient 350w motor is high torque
Equipped with Shimano 7-speed transmission.
Digital display shows speed, distance, headlight status, and battery power.
Strong aluminum frame holds people who weigh up to 265 lbs.
Folds tightly to 14" wide.
Fenders to keep flying dirt away.
Arrives preassembled with a tool kit.
Second Thoughts
Limited rear suspension, which could make for a bumpy ride.
Design does not favor carrying groceries or hiking gear.
Who Is The GOTRAX EBE4 Folding Electric Bike For?
The Gotrax is more of a trail bike than an urban machine; the exceptional torque of its high-speed brushless gear motors suit makes it ideal for jumping snowy or sandy hills.
Final Thoughts
All three of our choices have tough fat tires, sophisticated front suspension systems, and can travel at least twenty miles on a four-hour charge. 
The most stylish of our choices is the Belle House with its low step-in bar and broad back carrier. Both the black Heybike and white Go Trac have a more angular, adolescent look.
The curvy black Belle is the most expensive, most likely because of its 750-watt motor, but it is only 50 dollars more than the 500-watt Heybike. The least expensive is the white Gotrax, with a 350-watt battery and a less mature low-slung look.