It used to be the case that electric scooters were simply just a toy for kids, there was limited power, often cheap materials used in the build and despite that the price was incredibly high!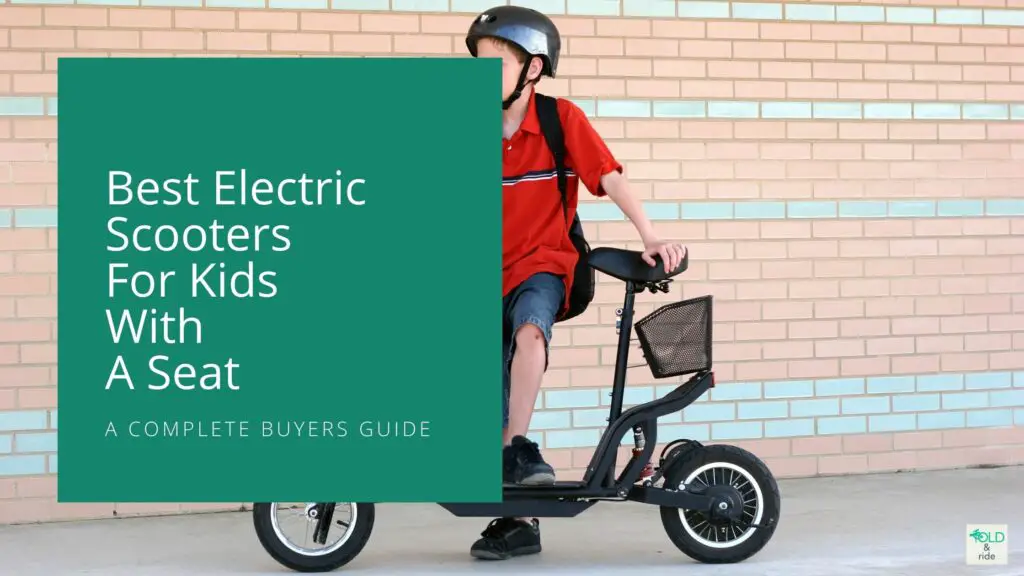 As an Amazon affiliate, we earn from qualifying purchases.
Fast forward to the present day and you would be forgiven for assuming that some models of electric scooters are a moped or dirt bike. The quality of the material has improved, the power and speed have improved and more importantly, the price has stayed quite consistent meaning that they are much more affordable and value for money than when they first came onto the market.
It's not uncommon to see adults using electric scooters these days to commute to work or head around the block to a coffee shop so this increased popularity has led us to consider what the best electric scooters for kids (with a seat) are
In this bracket we are going to look at the scooters that are capped in their power output, this is important for any parents, guardians or those buying it as a gift to be aware of because you might see an electric scooter as a toy but modern models have speeds that go as high as 25mph!
We don't make that point to cause any safety worries (in fact studies show that e-scooters are just as safe as a road bike) but rather to make you aware that electric scooters are no longer just toys. They are in fact becoming very viable options for transport (we're sure you've seen the electric scooter rental businesses popping up all over major cities worldwide). 
Also, check out this useful guide on e-scooter safety to make sure your child is aware of their own (and others) safety when riding one.
With that said it would be easy to buy an electric scooter with the opinion that it's just a toy and can't go that fast when in actuality there are some pretty powerful models available which is why we've looked to find the most 'kid-friendly' models that we could whilst also making sure they would be perfect for most teenagers.
When it comes to seated electric scooters, the Razor E300S is really the go-to model. Whether it be for an adult or a child, someone that is 5'1 or 6'3 tall or someone that weighs 150lbs or someone that weighs 220lbs the E300S really does cover most bases.
This model is actually built with a large deck, frame and tires to make it suitable for adults and teens alike and this is probably the most universally friendly electric scooter on the market. While speeds of 15mph are great for short duration journeys, it's not too fast and most teens are quite capable of riding bikes at a quicker speed.
We also need to point out that this is an exceptionally valued price for an electric scooter. It's easy for manufacturers to add unnecessary features in an effort to charge higher prices but the E300S really is a good value electric scooter that has the durability and quality of build to last.
✅ What We Liked
A 15mph max speed limit is ideal for peace of mind knowing that this scooter won't go any quicker than if a child was riding a bike
Removable seat and post gives the option for stand up riding which is essential for ensuring that the novelty doesn't wear off and this ends up being an unused 'toy'
Range of colors available rather than a standard white or black that is most commonly used, we particularly like the vibrant sweat pea addition!
Weighing in at only 56lbs this is lighter than most bikes so can be easily transported around by teenagers
Suitable for ages 8+ (if they are tall enough for the seat)
40 minute battery duration is more than enough to provide entertainment for a kid or for a teenager to visit friends around the block
❌ What Could Be Better
The charge time claims to be 12 hours however the manufacturer even states that it could take up to 24 hours to fully charge
The battery is an old-style acid battery and therefore has a limited life in terms of charge cycles. This doesn't affect the ride duration but rather how many times you can charge it before it goes flat permanently
---
The VIRO Rides Vega is a unique 2 in 1 electric scooter that's ideal for kids and young teens. The 120lbs weight limit and a max speed of 10mph means that it's a great seated electric scooter for kids, though don't be surprised if they grow out of this once they reach early-mid teens.
The 2 in 1 feature is the clear standout selling point of this model, the ability to go from and seated electric scooter to a standing scooter with the push of a button is a great piece of ingenuity and something we'd wish to see in more adult folding bikes (hinges and latches are still the primary methods).
This bike is going to be a fun purchase and would be a great gift, it's easy to forget that electric scooters were first made to be fun especially with all the recent popularity amongst adult commuters. This is therefore a great model to put the fun aspect back into electric scooters and not take them so seriously in terms of high-end features with the most powerful motor etc… 
✅ What We Liked
The street art design is definitely a nice feature and gives it a distinct look that separates it from the generic black and white models that we often see
The 2 in 1 aspect of seated scooter that folds into a standing version is the clear standout feature with this electric scooter
The speed of transition from seated to standing with this scooter is a simple push of the button with is a simple aspect that we particularly like about this scooter
The run time of 40 minutes is in-line with other electric scooters 
Enclosed motor and chain drive will keep the kid's fingers safe from any possible accident
Lever activated brakes and thumb control throttle make this scooter simple to control and easily intuitive
❌ What Could Be Better
It's great for kids but we feel it's a bit of a stretch to say this would be suitable for most teenagers as it definitely has a toy aspect to it
Great concept but we feel the build material isn't of the highest quality. This is reflected in the price but more steel and less plastic would be our preference
It has a fast speed but is also actually quite loud when running
---
Razor has another electric scooter on our list and it's one that's aimed specifically at teenagers aged 14+. OK maybe it's aimed at commuters specifically, but this is the closest we've seen to an electric scooter that a teenager would actually enjoy. 
Max speeds of 13.5mph and a battery duration of 40 minutes means that this scooter is slightly slower than the E300S which makes it better suited to teenagers who are just learning to use an electric-powered vehicle on the roads.
There's also a smaller version of this model which is ideal for children aged 8+ up to a max user weight of 120lbs which you can check out here.
✅ What We Liked
User weight capacity of 220lbs means it will easily handle most teenagers weight (as well as most adults)
Folding handlebar and adjustable seat makes this an incredibly portable and easy to store the electric scooter
The simple and sleek design of this scooter will definitely appeal to most teenagers, especially when modern technology, products and brands like Apple have set a benchmark in terms of clean designs that appeal to younger audiences
Air pressured, flat free rear tire is a very nice addition
Aluminum frame offers a sturdy and durable scooter with the added benefit of being lightweight
❌ What Could Be Better
This product lacks reviews and product descriptions on Amazon (though Amazon list it cheaper then the manufacturer which is why we recommend Amazon)
8" tires are definitely on the smaller side so best to avoid bumps or rough terrain
---
As folding electric bikes with seats are quite new to the market we've noticed that you are quite limited in choices, especially when it comes to kids/teenagers scooters (most are standing for the 'fun' and also safety aspect). 
We did however find this unique accessory that can be used as a seat extension for certain Segway model scooters. It's a simple attachment that will convert a standard Segway electric scooter into a seated version. 
This is definitely a product that fills a gap in the market and if you already own a compatible model, then it's a no brainer to make the upgrade with this accessory rather than buying a new model completely. We've seen some very low-quality electric scooters on the market so this accessory definitely fulfills a need.
---
Editors Pick
Our editors pick for the best electric scooter for kids is the Razor UB1. The sleek and simplistic design, high-quality build and ease of portability make this a bit of a standout feature for us and we know it will appeal to most teens. 
While it's priced slightly higher than our 2nd placed item (Razor E300S), we feel that the marginal cost difference is more than justified thanks to a lightweight aluminum frame, folding metal footpegs and ease of portability for a hybrid form of travel.
The most important thing that separates the models above is that we can easily see teenagers using the UB1 model, it's got such a clean design that as the electric scooter market grows in popularity this model will definitely maintain a modern feel giving the purchase some genuine longevity.
Final Thoughts
We've spent some time searching out appropriate electric scooters for kids (that aren't toys), despite the growing market it's still very much early days in terms of electric scooter design and innovation. 
Having said that, there are certain companies that have taken advantage of this opportunity and provided some high-quality scooters that are suitable for a kid, teens and adults alike (it's not uncommon for all three to find some use out of the Razor E300S).
We're very excited to see what the future holds for electric scooters but in the meantime, some of those we've reviewed in this article are great options for enjoyable and casual riding experience.