How much do folding bikes cost? What is the best folding bike for city dwellers? What about cyclists who live in rural areas? Where is the best place to buy a folding bike?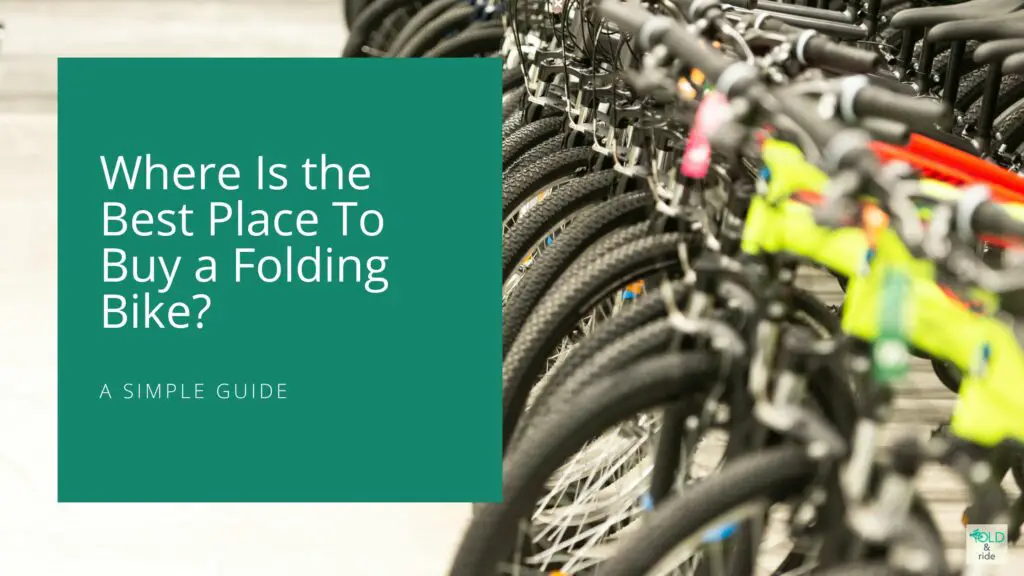 As an Amazon affiliate, we earn from qualifying purchases.
There isn't one answer to where to purchase this type of bicycle. The best place to buy a folding bike depends on your tastes and needs. Let's look at some of the most recommended places to find a folding bike.
Folding Bikes by Dahon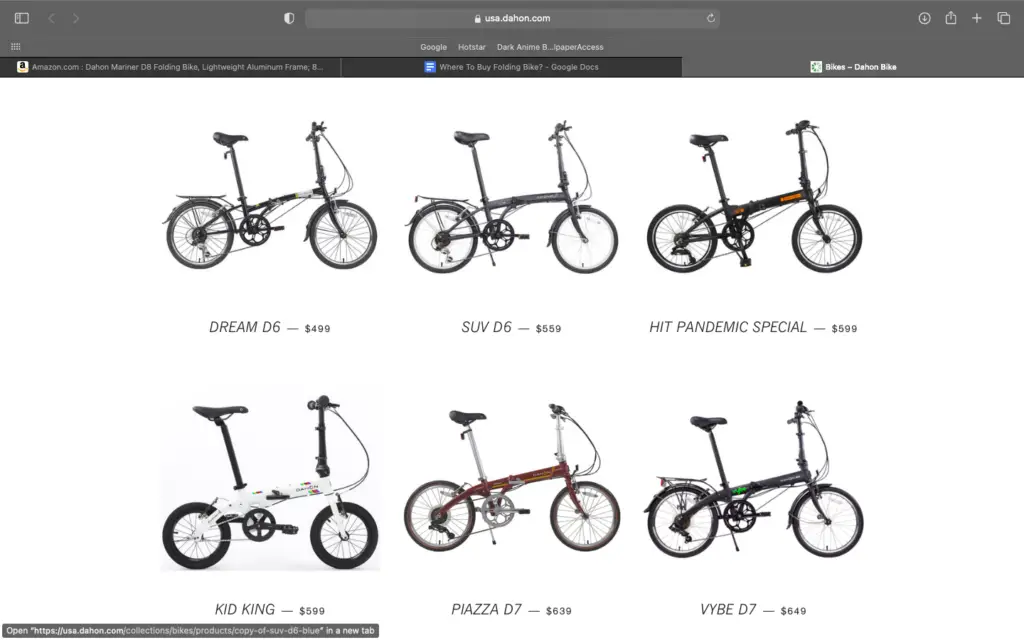 The manufacturers of Dahon Bikes consider themselves to be "pioneers and leaders" in the creation of folding bikes. They assumed this title when they began operation in 1982. 
Dahon boasts that their bikes are small enough that you can tuck them beneath your seat on the train, yet large enough to give you the freedom that you yearn for. 
Their bikes range from the Dream D6, which we have reviewed here. The D6 costs $499 to the Unio E20 Disc Mid Motor at $2599. To find the closest Dahon dealer to you, follow this link: Dahon Store Locator.
Target & Walmart
You can also purchase folding bikes from many department stores, such as Target. When buying from their website, you can choose whether you'd like to pick up your purchase or have it delivered. 
Target has over 202 results for the search "folding bike." The problem is that these results include anything from an exercise pedaller to kids' bikes and tricycles. You can find much better results with a search of their brand names.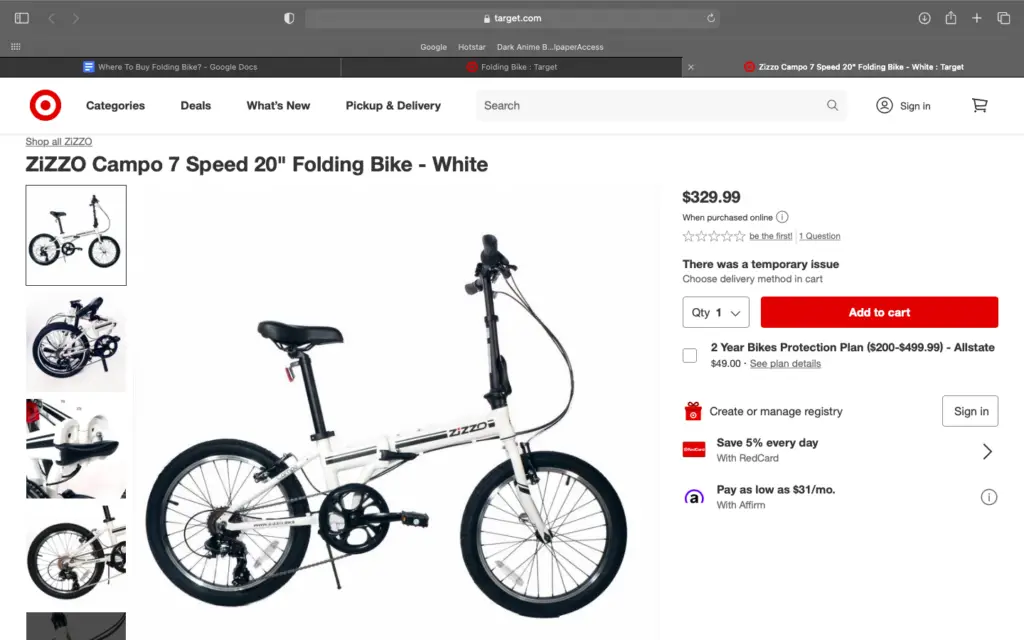 Target's folding bikes range in price from around $330 for the Zizzo Campo 7 20″ bike to the 26″ Go Speed Electric Folding Bike at about $1700. Shipping is free, and many choices are unavailable in the store. 
Walmart also sells folding bikes and has options from just over $200. This department store even sells the Dahon D9 for just over $700. Walmart has a 30-day return policy and free shipping.
Amazon
You can find many brands, styles, and types of folding bikes on Amazon, and, with Amazon Prime, most purchases ship for free.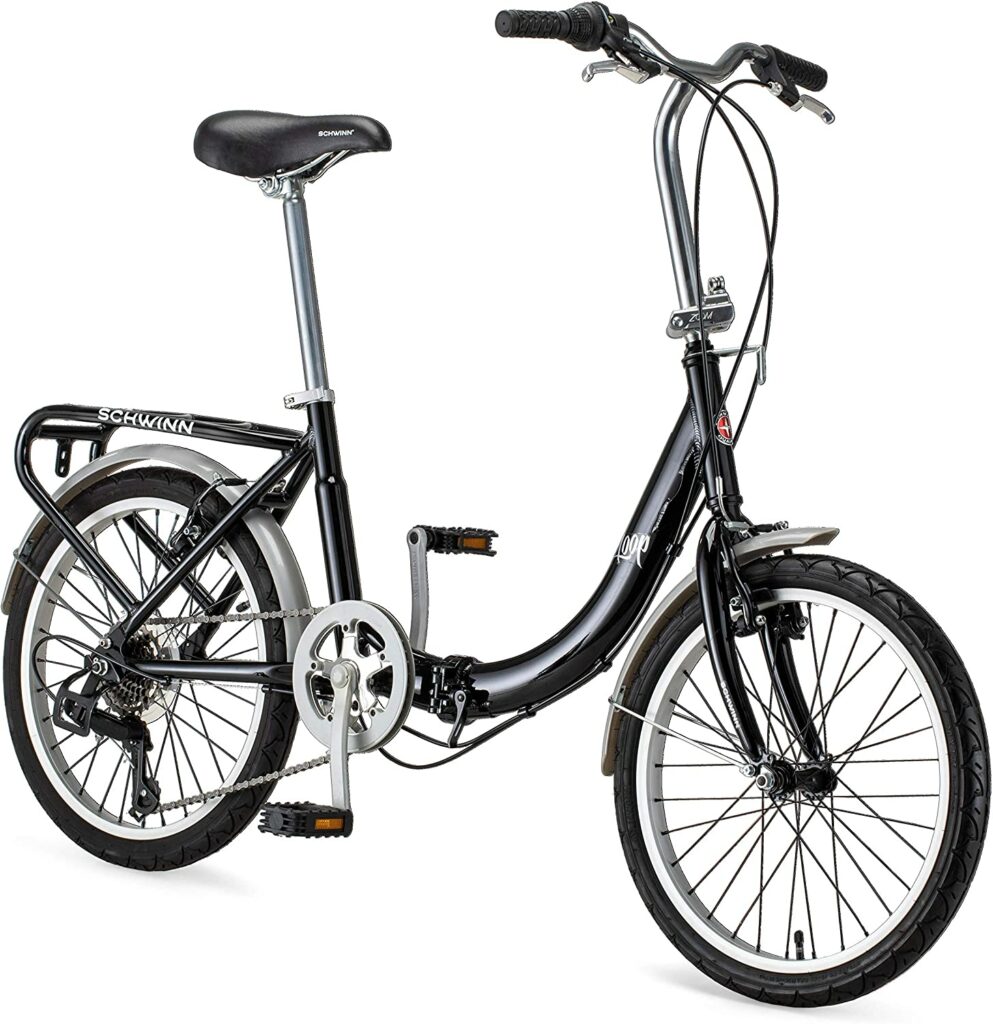 The Schwinn Loop 20″ Folding Bike is an excellent choice for those in the market for a great folding bike to travel around the city. It has a folded size of 30″ X 32″ X 11″ and won't take up much space when you're ready to store it. 
If approved for Affirm, you can get the Schwinn bike for $415 or $83 a month for five months. This bike does not have a locking mechanism, so you will need to carry it in its case or read our post on how to keep your folding bike together.
If you are looking for a larger folding bike, Amazon also has that. The Columba 26″ Folding Bike is an 18-speed, 35-pound option that is better for those who plan to transport it in their vehicles. Prices start at just under $280 or $19,50 a month with Affirm, but to get it that cheap, you will need to pay for delivery.
Another excellent choice for those who are looking for something a bit closer to the Dahon models is the Qualisports Portable Folding Electric Bike. Right now, Amazon has it for just under $1200, or $50.87 a month for those who are approved for Affirm payments. Shipping is free with Amazon Prime.
Bikes Online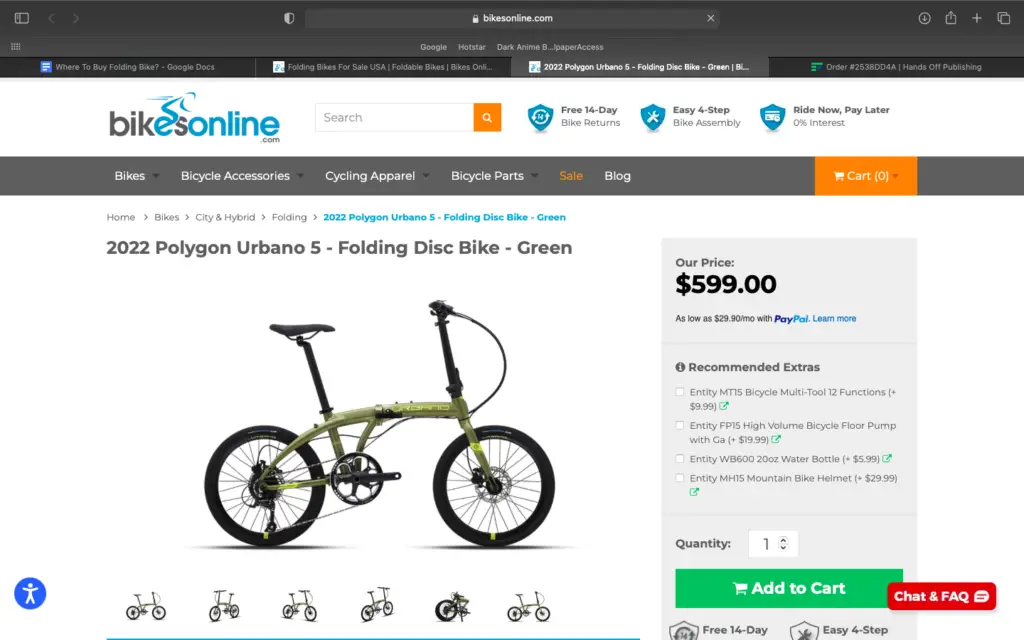 Another awesome site to purchase folding bikes is Bikes Online. They offer amenities such as 0% interest "Ride Now, Pay Later" financing and free returns for 14 days. 
Bikes Online features an easy four-step assembly process. They offer four styles of the Polygon Urbano folding bike, ranging in price from around $500 to $600. 
Bike Exchange
A slightly more extensive variety of folding bikes is available on the Bike Exchange site. They offer six different folding bikes, ranging from just under $500 to just under $1800. 
Bike Exchange sells KHA F16-D, Mack Cycle & Fitness Giant, Playtri's Montecci, and Zippy's Biria and Sun bikes. They have an A+ rating with the Better Business Bureau and won the eKomi customer award.
Brompton Bikes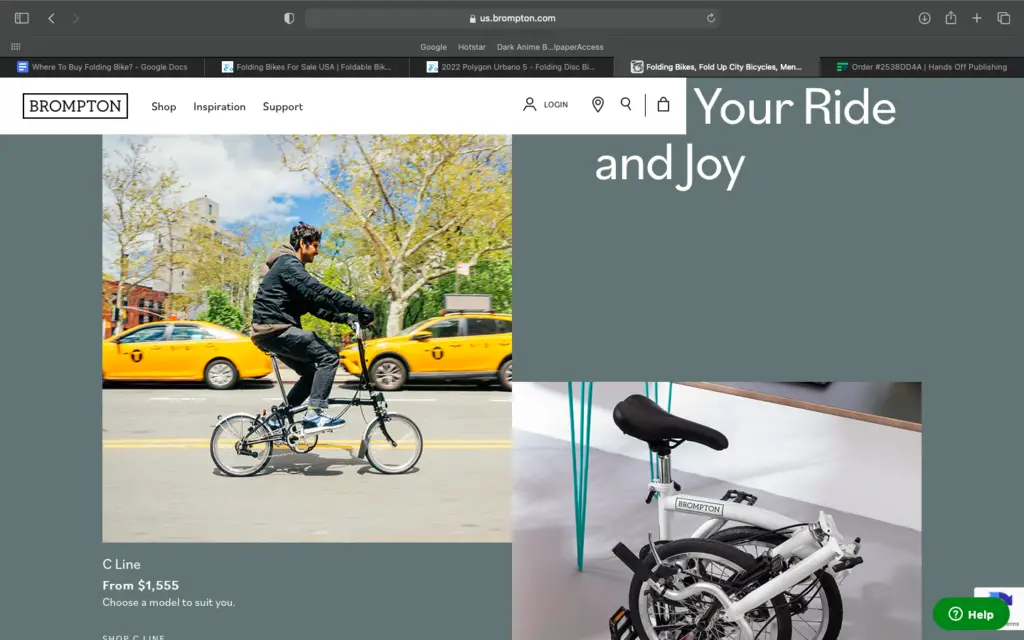 Several different styles of folding bikes are available from Brompton Bikes at a wide range of prices. Brompton's cycles are made to fold down in under 20 seconds, making it fast and easy to carry and store.
Their models include the A Line 3 Speed, which costs almost $1200, the C Line Urban and costs $1550 and their most expensive Electric C Line Explore, just under $4000. 
All of their bikes are handmade in their London Factory. You can purchase Brompton bikes through their website or at Junction New York.
Conclusion
Of course, there are many other places to purchase folding bikes, and there is no way to name them all here. If you have not found one that interests you at the sites mentioned here, you might try searching "where to find folding bikes near me."
We hope you have enjoyed this article about where to buy folding bikes. Please feel free to browse our site for more informative articles on folding transportation.