The Dahon Dream D6 is a pretty incredible folding bike, with a lightweight steel frame and 6 gears. It's ideal for anyone who wants to ride their bike and then collapse it and take it with them, or pack it away neatly at home. The product will fold into a closet easily, making it perfect for those with limited storage space.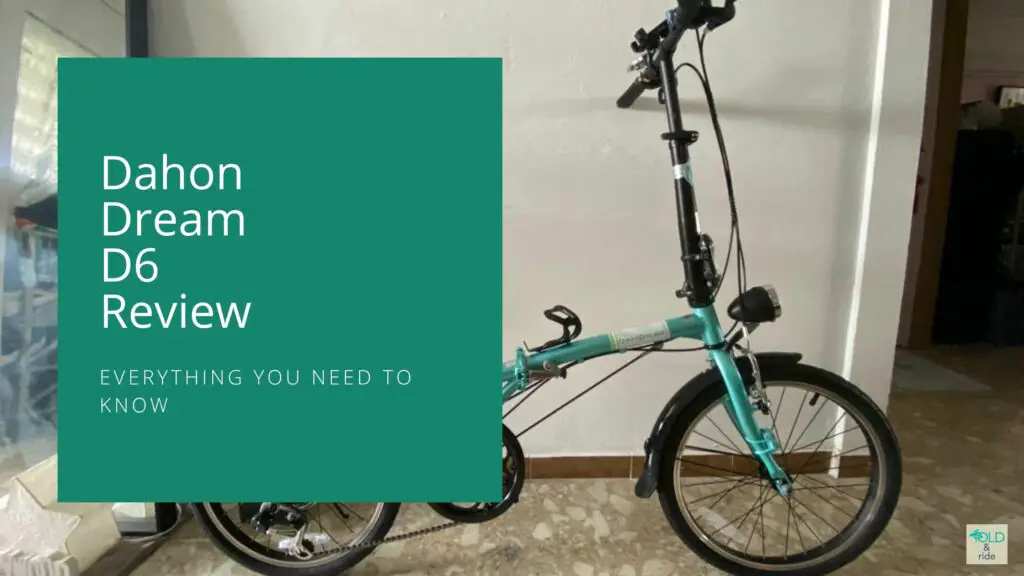 As an Amazon affiliate, we earn from qualifying purchases.
The Dahon Dream D6 is produced by Dahon, which originally started in the United States and began manufacturing bikes in 1982. The products are mostly made in China and Bulgaria, and the company is known for its patented single-hinge frame, which allows the handlebars to fold inward.
Dahon is famous for a few different bike models, and the winners of the Smithfield Nocturne folding bike race in 2008, 2009, 2010, and 2012 all won on Dahon bikes. The company has won a variety of awards over the years.
Pros
Tough, durable frame that will last well
Smooth gear changes
Smooth ride, even on fairly bumpy roads
20" tires with plenty of tread to offer good grip and control
Adjustable handlebars to accommodate different height riders
Cons
Heavier weight, at around 30 lb.
Hard, uncomfortable saddle
Shimano Index shifters in the gears can take some adjusting to
Hard handlebars are not particularly comfortable to hold
Slight sacrifice on the steering
Is The Dahon Dream D6 For You?
The Dahon Dream D6 is generally used by commuters or travelers who need to either store the bike at their destination, or tuck it away somewhere small when they get home. For example, if you are in an RV, you might want a bike for the freedom it offers, but the space commitment may be too much.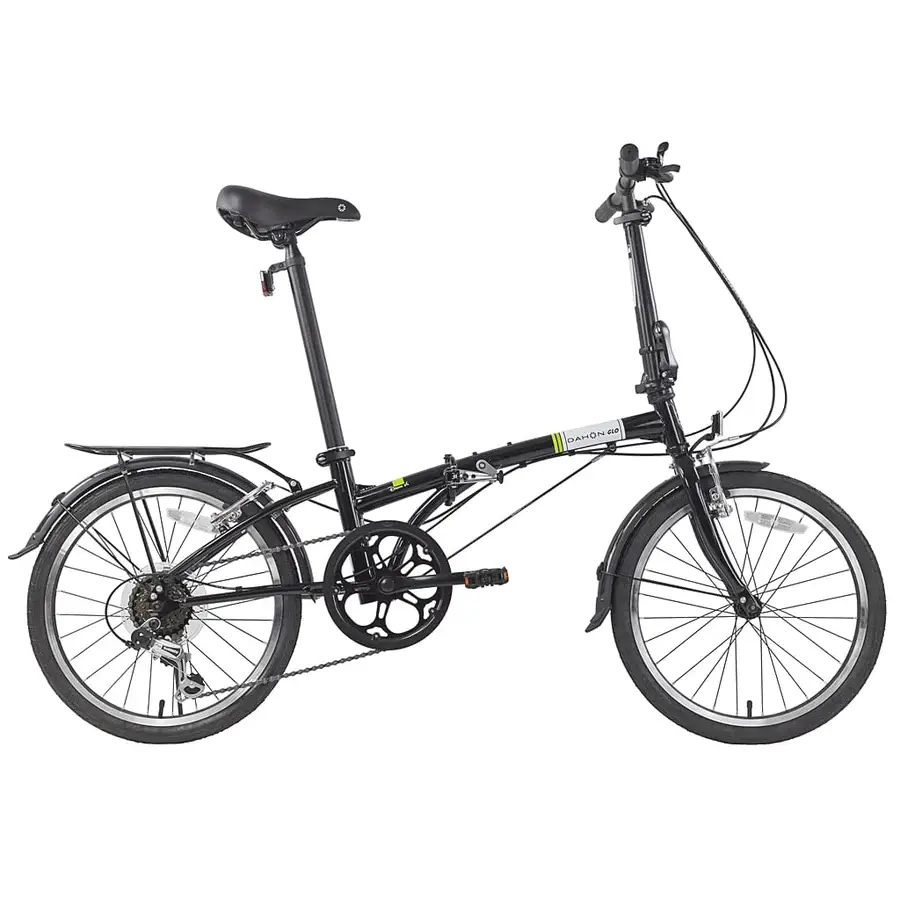 Here, the Dahon bikes shine, because they can be folded down to around 80 cm x 28 cm x 65 cm. That's small enough to fit in a fairly large cupboard, tuck alongside a coat rack, or otherwise be placed in a compact storage space.
The Dahon Dream D6 probably isn't for you if you don't want to fold your bike up, as folding bikes tend to suffer from a few disadvantages, no matter how well made they are. They are often bumpier, and less durable than non-folding bikes.
They are also more expensive, although the Dahon Dream D6 is at the lower end of the folding bike range, and could be considered a budget option.
This bike isn't bad for beginners, partly because of the price point and partly because it still offers a smooth ride, despite being a folding bike. You may not find it perfect, but it's certainly a good option if you want to try folding bikes without expending large amounts of money.
What We Like About The Dahon Dream D6
There are some great things about the Dahon Dream D6. Firstly, it's pretty lightweight. The bike weighs around 30 lb., which makes it fairly easy to pick up and handle for most riders. If you're going to be folding a bike, it's important that you can lift it and put it away when necessary, so don't underestimate the importance of weight.
However, the speed with which you can pack it down is also very important, and this is advertised at about 10 seconds. That means you can easily put it away when you've finished with it.
Despite being foldable, it also manages to provide a smooth ride and fairly good transitions between the gears. You shouldn't experience any lags when you move from one gear to another. The bike is equipped with a 6-Speed Shimano Tourney TY-21 Rear Derailleur with trigger shifters.
Although steel frames aren't the lightest on the market, they are better for durability, so the Dahon Dream D6 should last well even if you ride it a lot. The handlebars on new models are aluminum to help decrease the bike's weight, and they are adjustable so you can ensure that they are at a comfortable height for you.
What We Don't Like About The Dahon Dream D6
Like any product, the Dahon Dream D6 has a few drawbacks. It is the cheapest in the Dahon range, so you are likely to see a reduction in quality compared with some of the other Dahon products.
The first drawback is that the handlebars are narrow (for compactness) and have a recessed head tube. This creates a little bit of a lag when you are steering, which some people find annoying, and which may reduce your ability to change direction suddenly. The handlebar grip is also a little hard on the hands.
Similarly, the bike's saddle is somewhat hard and uncomfortable, and riders may find it challenging, especially for long rides. Most cyclists would welcome more cushioning here.
The steel frame does also mean that the bike is heavier, and this may make it unsuitable for riders who need a light bike. Here, the payoff is extra durability, but you will have to decide if this is worth the increased weight.
What's Included?
What you get with your Dahon Dream D6 may vary depending on where you purchase it from, but in general, the company only ships the bike, and does not include any accessories. However, the bike itself does have the following:
Integrated rear mudguards
Integrated front mudguards
Integrated rear carrier
You can purchase additional products from Dahon, including a kickstand, a fender, and a rack. Of these, it might be nice if Dahon included the kickstand with the bike, but overall, it is a decent option without additions.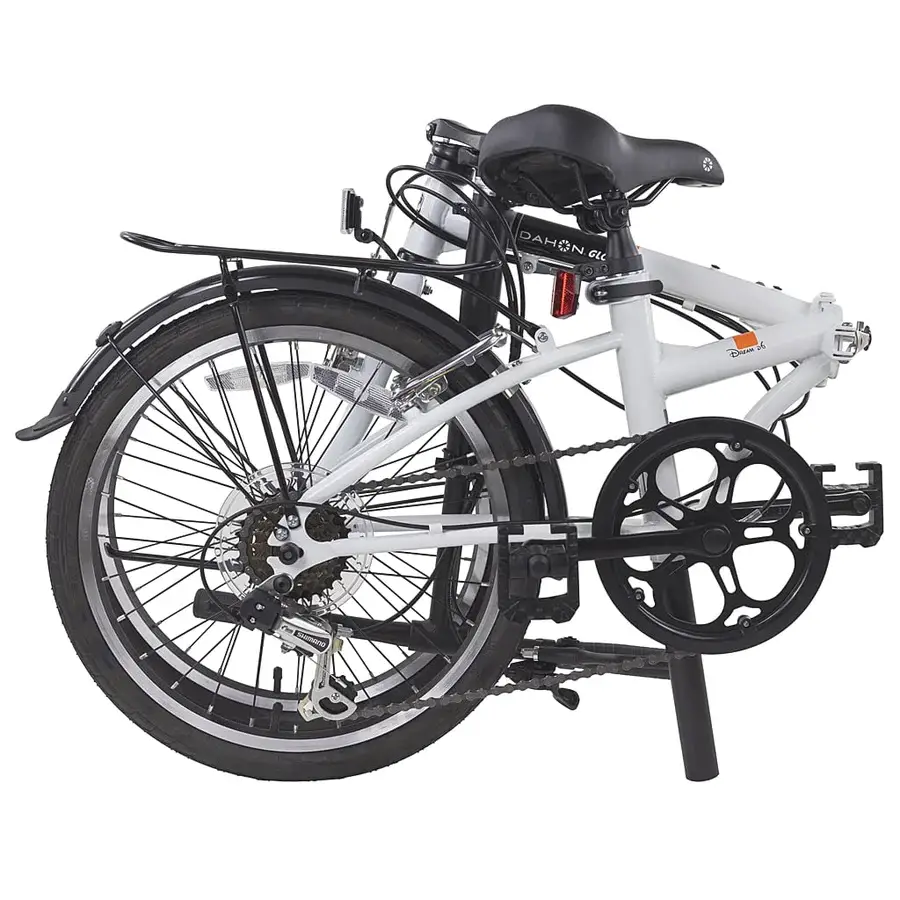 Technical Specifications
| | | | | |
| --- | --- | --- | --- | --- |
| Folded Size | Weight | Saddle | Spoke Weight | Tire Size |
| 31.5" x 11.02" x 25.6" | 31.5 lb. / 14.3 KG | DAHONErgoComfort | 14 g steel | 20" x 1.5" |
Features
The Dahon Dream D6 therefore has a lot of great features, including:
Adjustable handlebars to support different height riders
Lightweight design
Compact folded size
Strong steel frame with deltec
Lightweight aluminum handlebars
6 gears with rear derailleur
Dahon Shifters
Foldable pedals
Max rider weight of 230 lb.
The Dahon Dream D6 has some great specs and should stand up to a lot of use. This, coupled with its low price point, makes it an attractive option, although it is a shame the bike isn't lighter. You may also find that it takes some time for you to adjust to the product's shifters, as these often come with a learning curve.
Final Breakdown
Score: 9/10
Overall, the Dahon Dream D6 is a great bike if you are looking for a budget model that you can take anywhere, and that you can quickly and easily pack down into a closet or small storage space. It isn't as flashy as some models out there, but it is a great folding bike and it will offer you a comfortable ride, even if you are travelling a long distance.
The speed and ease with which you can fold the Dahon Dream D6 away when you have finished with it are among the biggest attractions that this product offers, because they mean you don't have to mess around at the end of a long commute. The Dahon Dream D6 is therefore a great option for anyone looking for a foldable bike, and we highly recommend it.