Founded in 2012, Jetson focuses on ways to get around town. They sell bikes, hoverboards, and scooters and have a complete line just for kids. Their mission statement insists that all people should "experience the freedom" of being able to "ride happy."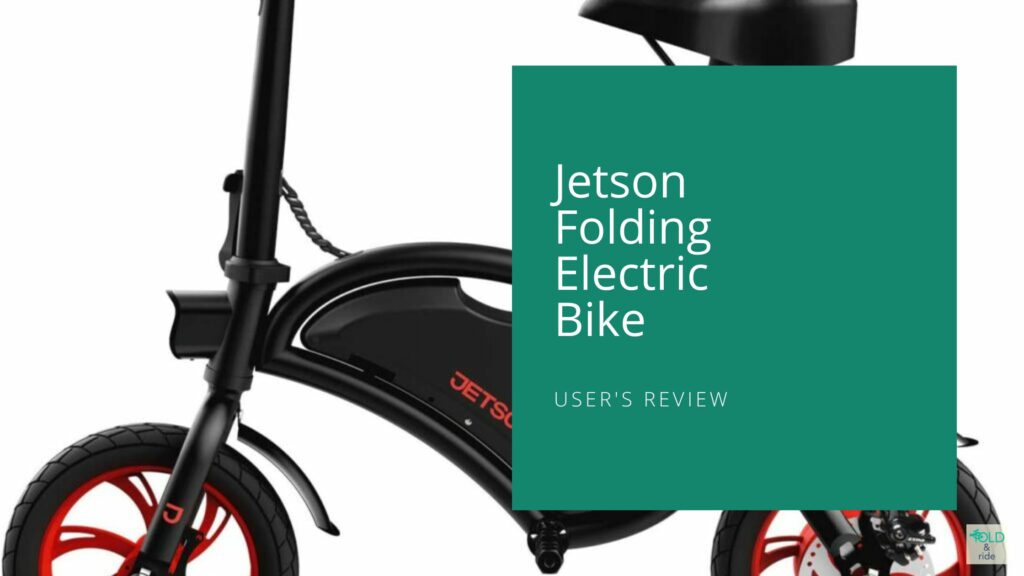 As an Amazon affiliate, we earn from qualifying purchases.
Jetson boasts that they have the "best products" on the market for their customers' daily commutes and promises to help you sail through traffic. Jetson also claims they can help alleviate the common worries over gas prices or parking areas.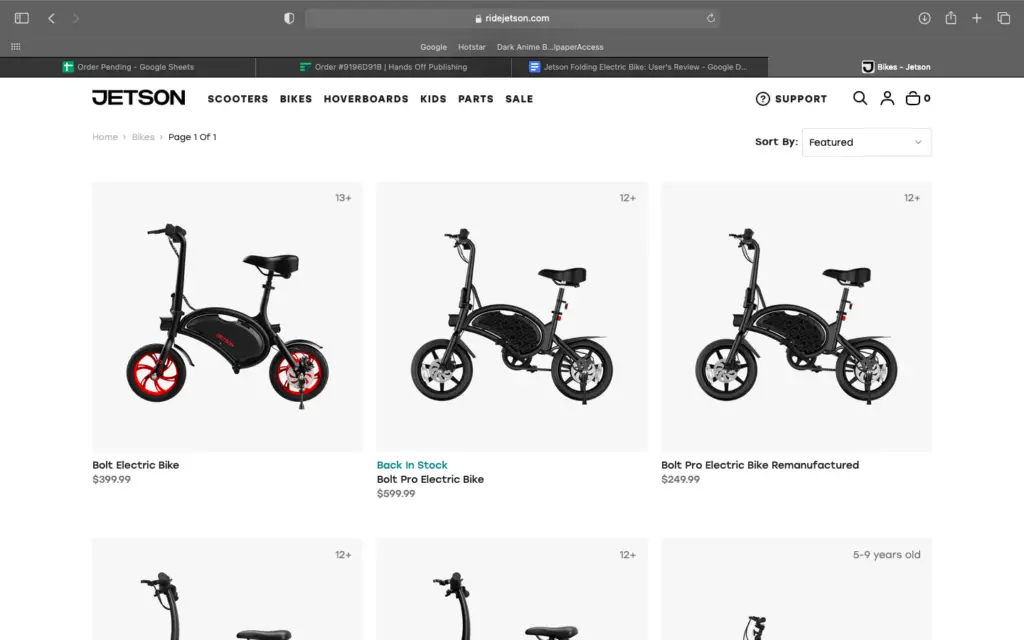 Although they sell many different e-mobility products, this post will review the Jetson electric bikes.
Reasons to Choose Jetson's Bolt Electric Bike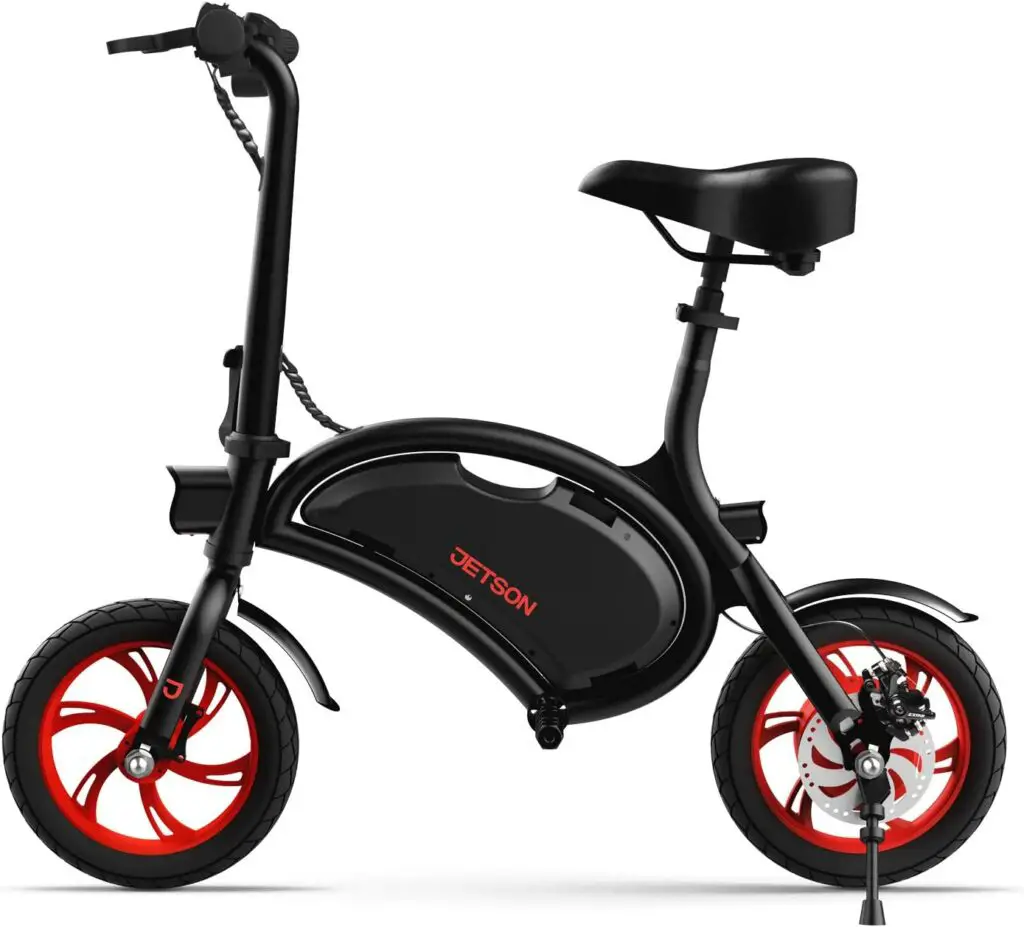 The Bolt not only seems to be one of their more popular models, but it is also quite affordable at just under $400 on both the Jetson website and on Amazon. But why would you want to purchase this bike?

Lightweight frame – The frame on the Bolt is made of an aluminum alloy that helps ensure that the bike is lightweight while remaining durable enough to stand up to zipping through traffic on all sorts of terrain. The Bolt can carry up to 250 pounds and is sturdy enough for a daily-use bike.
Rechargeable battery – The battery on the Bolt is a rechargeable lithium-ion. You can travel from 15 to 17 miles before having to worry about recharging. It comes with its charger and recharges within 3 hours.
Easily assembled – While some folding bikes and folding e-bikes may be complicated for the user to put together, the Bolt is relatively easy to assemble. 
Compact size – Unfolded, the Bolt is only 40″ X 20″ X 37″ and is even smaller at 40″ X 4.5″ X 28″ once it has been folded down. It comes with a handle built right into the frame. 
At just under 40 pounds, this bike is easy to carry and tuck away underneath your seat or in a trunk, closet, cabinet, etc. The handlebars of the Bolt fold down. Once folded, you have a portable bike stand to place it on when you arrive at your destination.
LED speed and distance display – An LCD computer display on the Bolt allows the rider to see precisely how fast they are traveling and how far they have gone. 
LED headlights and tail lights – For those who love to ride at night, the Bolt not only has LED headlights but also features a rear light that serves as a brake light as well. 
The Jetson App – A feature not available with all electric bikes, the Jetson app makes it possible for cyclists to map out their rides, as well as control the bike's speed, adjust the bike's LED lights, and keep tabs on their battery life.
Foot pegs and kickstand – The Jetson Bolt comes with two foot pegs to make your ride more comfortable. It also features a kickstand that resembles that of a motorcycle to securely hold your bike up when parked.
Cruise control – Those foot pegs will come in handy when you choose to set the cruise control on your Bolt. Not only can you relax your hand's grip on the throttle, but rest your feet on the pegs and let the bike do the work.
250-Watt motor – The 250-watt allows the rider to travel up to fifteen miles an hour for a maximum range of fifteen miles. This is plenty of speed and distance for those simply looking to commute to work or school or cruise around town.
Fantastic price point – Anyone who has shopped for an electric folding bike knows that getting all of these benefits for under $400 is a great deal. 
Reasons the Bolt May Not Be for You
While all of the perks above make the Bolt an excellent bike for most people, there are always a few things that could discourage some buyers. Here are the cons of the Bolt.
Only suitable for short trips – While traveling at 15 miles an hour sounds great, and a distance of 15 miles seems reasonable, that translates into the fact that your excursions on this bike must be less than an hour long. 
Then it takes at least 3 hours and up to 5 hours for the bike to recharge completely. This works well if you are taking the bike to work and can charge it during the day, but not so well for someone who wants to spend a day exploring the city.
Not made for larger people – Because of its small size, 12-inch tires, and no suspension, this bike will not be a good fit for anyone who is tall or heavy. Although it will carry up to 250 pounds, anyone over six feet tall or on the heavier side will most likely be uncomfortable on this bike.
Conclusion
For its price, the Jetson Bolt is an awesome bike with many great features. While it isn't for bigger people, this product is a good buy for those who don't mind a smaller bike.
We hope this article has helped the reader decide whether a Jetson bike could be right for them. Feel free to review our site for more informative posts like this one!