Andrew Richie founded Brompton in 1975 while working to build a bike that would fold into a "locked package." Richie's goal was for the cycle to be slightly larger than its wheels.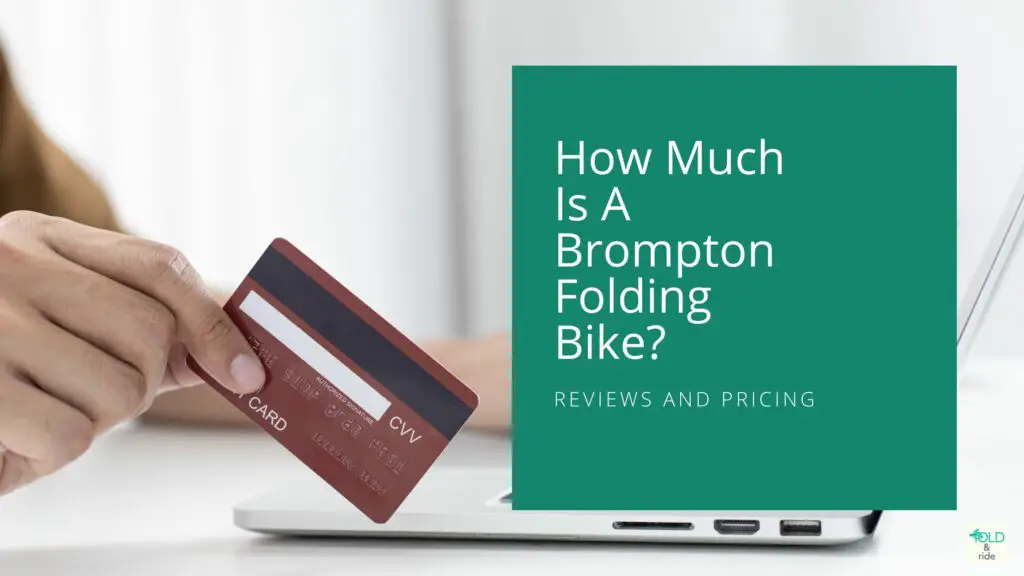 As an Amazon affiliate, we earn from qualifying purchases.
As of 2022, reviewers still praise the Brompton bike's ability to fold into a smaller package than any other bike on the market. They are described as practical, detail-oriented, and easy to transport and store. 
These bikes can last as long as three decades. Brompton's frames come with a seven-year warranty, and other parts carry a two-year warranty. They offer free shipping on their website for all orders over $50.
According to the company website, cyclists can fold these bikes in under 20 seconds. "Nothing folds like a Brompton," they add. Let's take a look at the bikes that this manufacturer has to offer for those who are considering a folding bike.
A Line 3 Speed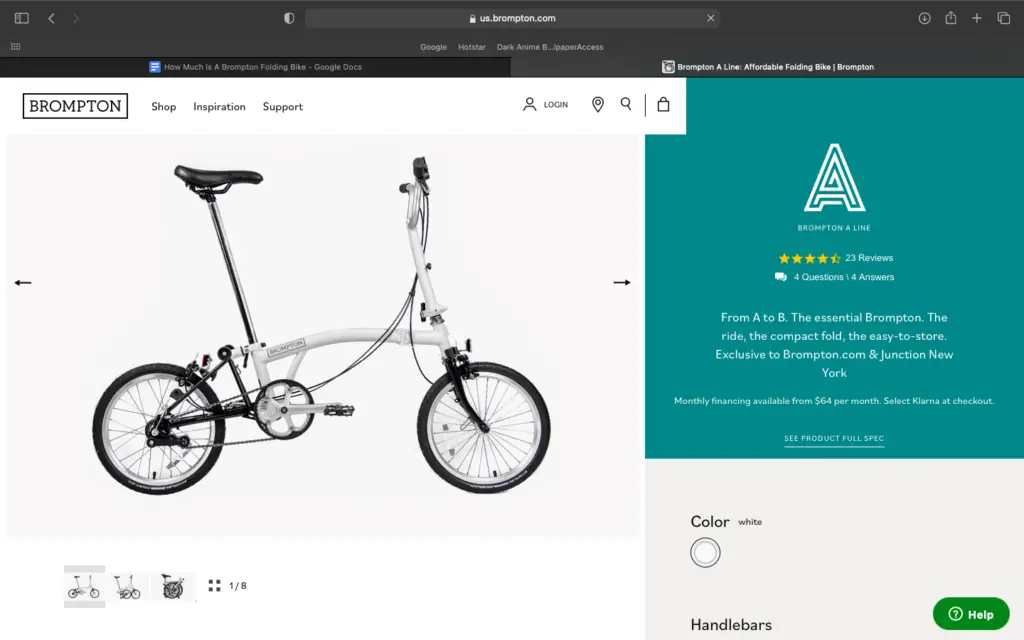 The A Line 3 Speed sits at the bottom of the price range for Brompton bikes, starting at $1,150 and weighing 25.35 pounds. Dubbed "The essential Brompton," this bike is sleek and straightforward and folds down to a mere H 25.3″ x W 23″ x D 10.6″. 
The A Line comes with a gloss white steel frame and features a 3-part fold, making it possible for the bike to transform into a compact size that is easy to store. The 3-hub gears and riser seat make maneuvering through city streets a breeze.
This bike is made to be compatible with all Brompton parts and fittings so that you can continue to upgrade and add features as you go. Made by hand in London, England, Brompton's A Line can only be purchased from the Brompton website or at Junction New York. 
C Line Urban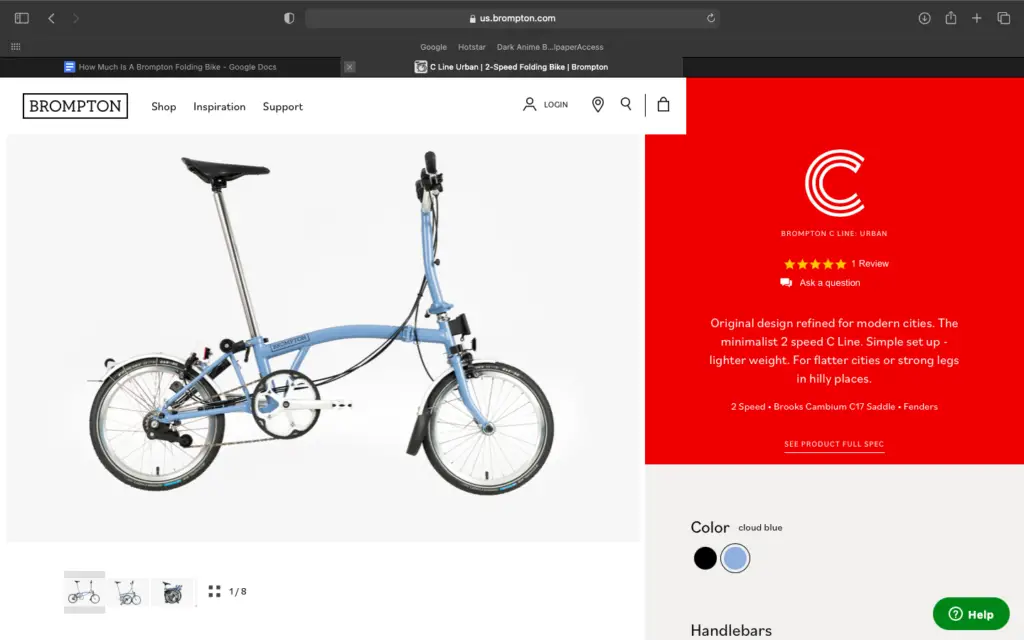 Similarly priced to the A Line is the $1555 C Line Urban 2 Speed bike that weighs 24.82 pounds. This bike comes in Black and Cloud Blue and is specifically designed for navigating the city streets of the modern world. 
The two-speed C Line Urban is made to be lighter weight than some of its counterparts and is most beneficial in the flatter streets of the city. Those who wish to take this bike into hilly areas need more muscular legs.
With two gears and only one gear trigger, this bike is easy to use and light enough to zip through town, take along on walking platforms, and carry along with you in lifts. 
The two-speed, $1755 C Line Urban with Battery Lighting is the ultimate folding bike for city-dwellers, with a folded size of H 25.3″ x W 23″ x D 10.6″ and a weight of 24.82 pounds. It comes in Black.
C Line Urban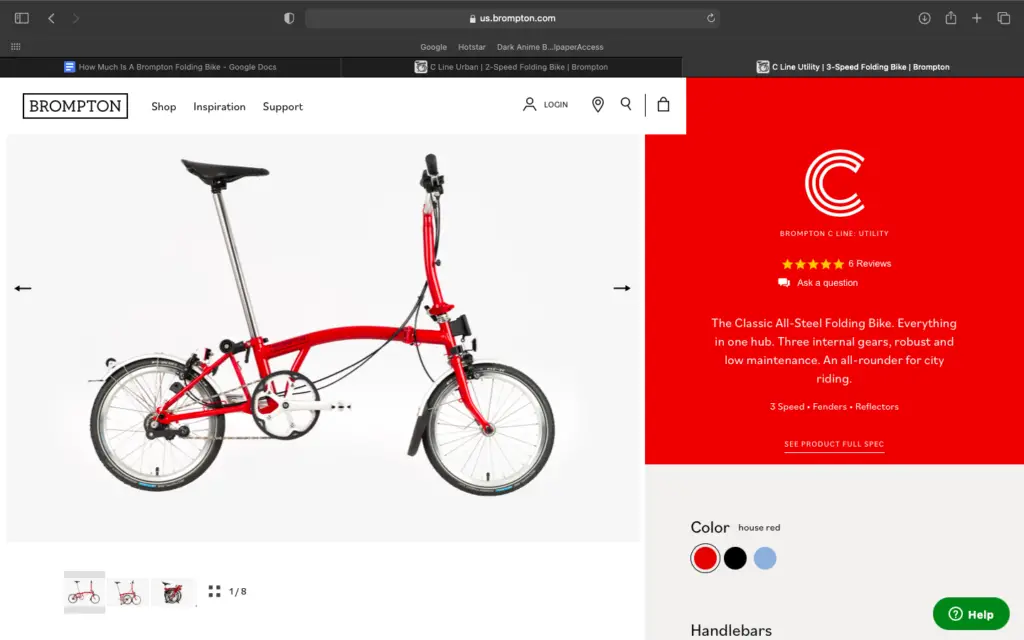 For those who don't mind a bike that is a bit heavier, the three-speed, $1630 C Line Utility from Brompton is an excellent ride at 26 pounds. It comes in Black, Cloud Blue, and House Red and features mid-length handlebars for classic steering or high handlebars for those who'd rather sit more upright.
This bike was the first Brompton built. It comes as a three-speed with a hub gear with gears that are sealed as protection from the dirt, grime, and water so often found on the London streets. Due to those hub gears, you can shift the C Line Utility even when you're stationary.
For those who travel on wet city streets, do a lot of stopping and starting, and want to avoid having to do a lot of maintenance on their bike, this is an excellent choice. It folds down to 25.3" H x 23" W x 10.6" D.
The C Line Utility with Battery Lighting is a two-speed bike that costs $1830, weighs 26.01 pounds, and comes in Black and House Red. 
Other Brompton Bikes
The rest of the bikes that Brompton offers on their website include their top-of-the-line electric bikes.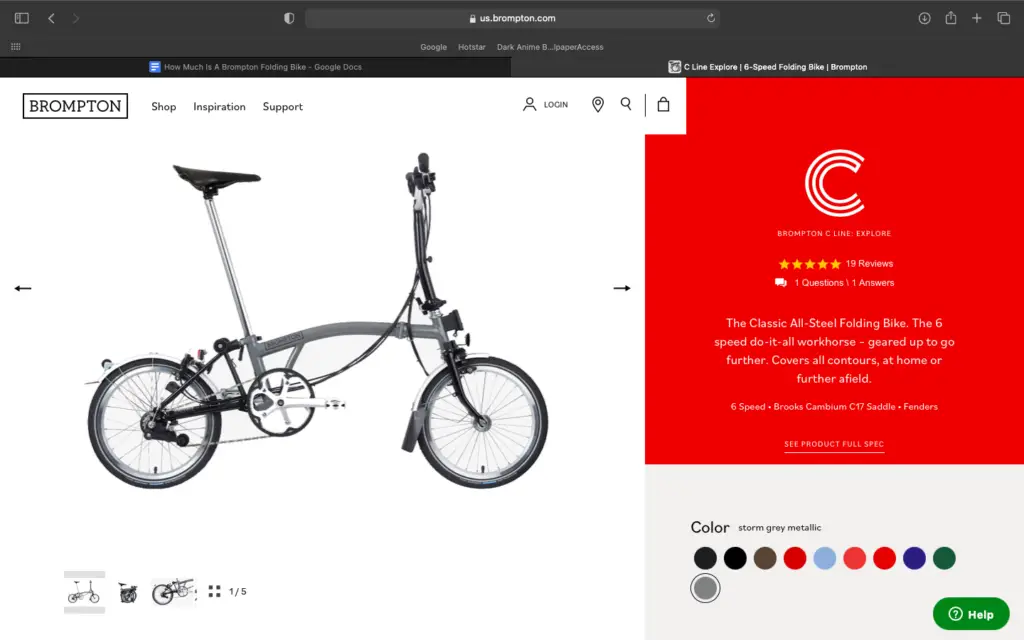 The 26.7-pound C Line Explore 6 Speed Bike is $1755 and has the same folded size as the others. It comes in Black, House Red, Storm Grey Metallic, Piccadilly Blue, Racing Green, Fire Coral, Cloud Blue, Flame Lacquer, Black Lacquer, and Midnight Black Metallic.
The 6 Speed C Line Explore with Battery Lighting weighs 26.7 pounds and costs $1855. It comes in Black, Fire Coral, Cloud Blue, Piccadilly Blue, Black Lacquer, House Red, and Racing Green.
Brompton's Superlight Black Edition Explore 2021 is down from $3,076 to $2,619 and weighs 24.7 pounds. It comes in Flame Lacquer. The 6-Speed Electric Explore 2021 is 33.97 pounds and costs $3700. It comes in Black, Turkish Green, and Blue.
The P Line Urban 4 Speed is 21.8 pounds and costs $2950. It comes in Midnight Black Metallic and Storm Grey Metallic. With Battery Lighting, the P Line Urban is 21.4 pounds, costs $3100, and comes in the same two colors. 
Brompton's top-of-the-line, most expensive bike is their Electric C Line Explore, a six-speed model with a 250w hub motor. It weighs 38.4 pounds and will set you back $3850. This one comes in Black Lacquer, Flame Lacquer, Turkish Green, and Black.
Conclusion
The prices and weight of these bikes are standard, but customization is available so that you can truly make your bike exactly as you want it. It depends on what you want and how much you are willing to pay.
With several colors, handlebar types, gear systems, saddle heights, lighting, and other choices, Brompton can help you create the bike of your dreams. According to the specifications on their website, all of their bikes fold to approximately the same size.