In the world of bicycles, few things are as divisive as the humble Brompton. These compact, folding bikes are loved by some and loathed by others. The question of whether or not they're cool is almost irrelevant; people feel strongly about them either way.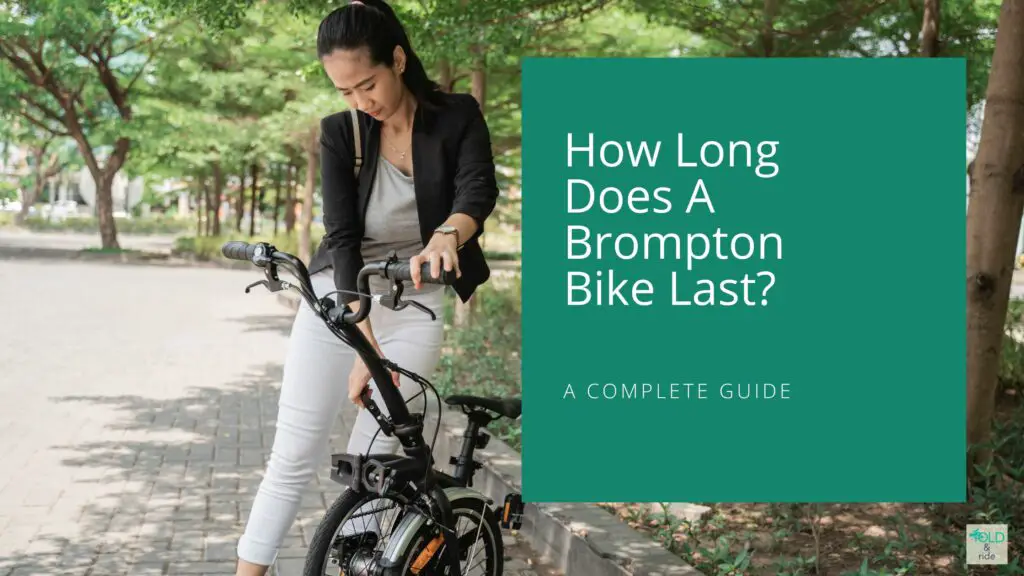 As an Amazon affiliate, we earn from qualifying purchases.
This is because there's a lot to unpack when it comes to Brompton bikes. Are they heavy? Are they impractical? How long do they last? To answer this last question specifically, we decided to take a closer look at the durability and longevity of the classic Brompton bike. How long can you expect your Brompton to last, and what kind of maintenance will it require after that?
Read on for our review and analysis of how long a Brompton lasts, based on first-hand experiences from owners around the world.
How long does a Brompton last?
With proper maintenance and care a Brompton bike can last up to 30 years – if not longer. Brompton offers a 7 year warranty so you know that any slight issue in those early years will be fixed, no questions asked.
All Brompton bicycle frames have a 7 year warranty when registered. The electrical components on the Brompton Electric are covered by a 2 year warranty, on Brompton Electric C Line models this can be extended to 3 years when registered. All other non-wearing components have a 2 year warranty.

https://www.brompton.com/support/warranty
To make a Brompton last that long you may have to invest in replacement parts with brakes, tires and chains being common culprits.
It will always be cheaper to maintain your Brompton than replace it, with maintenance costs estimated at $0.05 per mile ridden.
Is The Brompton Durable?
The fact that it's such a fiddly thing doesn't necessarily mean that the Brompton is less durable than other bicycles, but it does make it much harder to maintain.
To get a better idea of how long a Brompton lasts, let's take a look at the components that make up these bikes and how they hold up over time. Because the bike is so compact and folds down so small, the manufacturers have had to make some compromises when it comes to the materials used.
Bromptons are made out of lightweight metals and plastics, which are much more fragile than the materials used in other bikes. The wheels, for example, are made out of aluminium, which is easy to break if you're not careful.
The Brompton also lacks a more refined system for adjusting the tension in the chain, which can make managing the bike a bit of a nightmare.
Brompton Maintenance: What You'll Need To Know
One of the reasons it's so important to take care of your Brompton is that it's incredibly difficult to find replacement parts for these bikes.
The unique design of the Brompton means that it can be hard to find certain bits and pieces that break or wear out over time. If you have a mishap with your bike, you may have to repair or replace it in its entirety. These issues with the bike's design are compounded by the fact that the frame is made from carbon fibre, which is notoriously fragile.
Because of this, you should probably avoid leaving your Brompton outside, as it's likely to be eaten by insects. It's also important to keep your chain clean, oiled, and properly tightened, as this can be a serious source of trouble when it comes to the Brompton.
Brompton Cycling Maintenance Tips
Here are my quick tips to making your Brompton last:
– Check your tyres: If your tyres are worn down or have a tear in them, you risk getting a puncture when you hit the road.
– Clean your chain: A clean chain will last longer and will be less likely to break as a result of grit and grime building up in the sprockets.
– Tighten your brakes: Make sure your brakes are properly tightened so you don't end up flying through your handlebars.
– Protect your frame: Protect your frame from grit and grime by fitting a bike cover.
Final Words
If you want a bike that will last a lifetime, the Brompton is probably not the best choice. If you want a bike that will get you from A to B without breaking the bank, however, then a Brompton is a great choice.
Brompton bikes are a little temperamental, but they are also easy to ride, cheap to maintain, and super stylish. They are not for the faint of heart, but anyone who likes a challenge would be well suited to taking one of these little bikes for a spin. With the bike industry evolving at a rapid pace, it's crucial to stay up-to-date on the latest cycling trends and technology.
Whether you're a seasoned cyclist or just getting into the sport, these articles will help you understand some of the basics and make an informed decision when purchasing your next bike.