If you are aged 20 years and over then you'll likely remember when a folding bike was nothing more than a novelty item.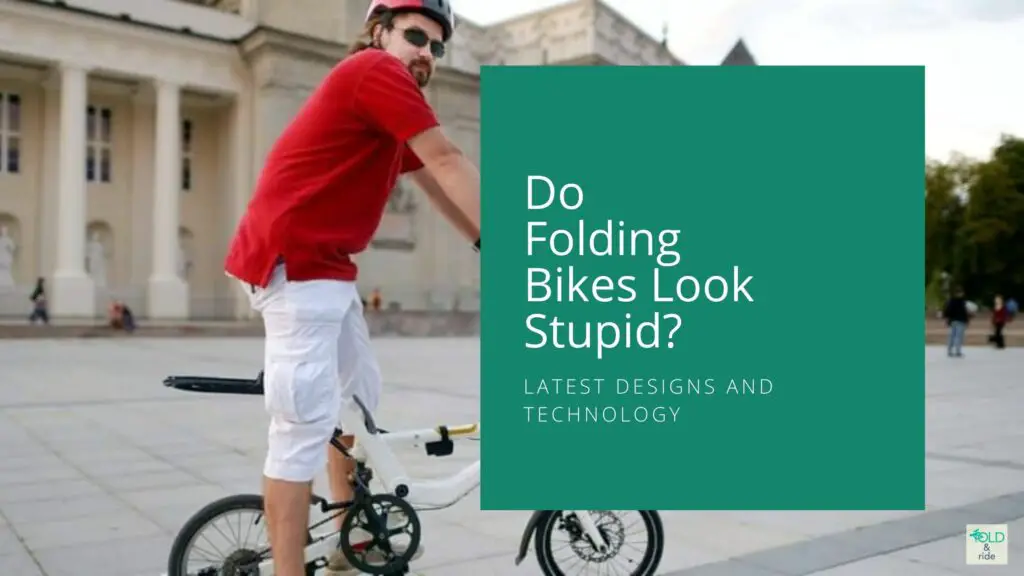 As an Amazon affiliate, we earn from qualifying purchases.
They were heavy, clunky and the folding mechanism would require an engineering degree to work out how to fold and unfold each time. In fact, the folding mechanism was such poor quality in the early stage of folding bikes that it negated the very point of them!
It's hard to see how these early models would ever catch on in the mainstream, however, fast forward to 2020 and the folding bike market is booming. In urban terrain and big cities around the world, the popularity of an eco-friendly and portable folding bike is growing at a rapid pace. What was once a strange product used by an eccentric college student is now a must-have item.
We can certainly agree that with their primitive designs, most folding bikes before the year 2010 definitely looked strange and even stupid. As manufacturers have realized the growing popularity of the folding back, however, designs and innovations are rapidly improving and we are seeing folding bikes that are so unique it's almost impossible not to be impressed. 
If you have ever thought that folding bikes are stupid or just a trend then read on as we are going to introduce you to some unique designs that show folding bikes are not only here to stay but are most likely the future of urban travel.
What Are Folding Bikes Used For
Before we get into some unique designs that are currently on the market, it's important to understand why folding bikes are growing in popularity and what to look out for in a good folding bike. Any company can claim to have a unique and futuristic design however if it's not practical then it loses the intention of what a folding bike is all about. 
Folding bikes are first and foremost a portable and convenient way to commute in large cities. Traffic and pollution are at all-time highs and as people become more conscious of their impact on the environment we are seeing more and more individuals (and city infrastructures) move towards sustainable forms of travel. 
The modern-day folding bike is used primarily for short commutes in a city, the design needs to be one that can be folded up quickly for a hybrid form of travel (like jumping on the subway in NY or the tube in  London), are easily stored underneath a work desk, can fit in the trunk of a car and can be tightly packed away in a small apartment. 
The key features for a modern folding bike are:
Lightweight 
Quick to fold
Durable 
Comfortable
Fashionable
Small and compact
These are a lot of boxes for a manufacturer to tick so let's now take a look at some of the latest designs and technologies that are being used for folding bikes.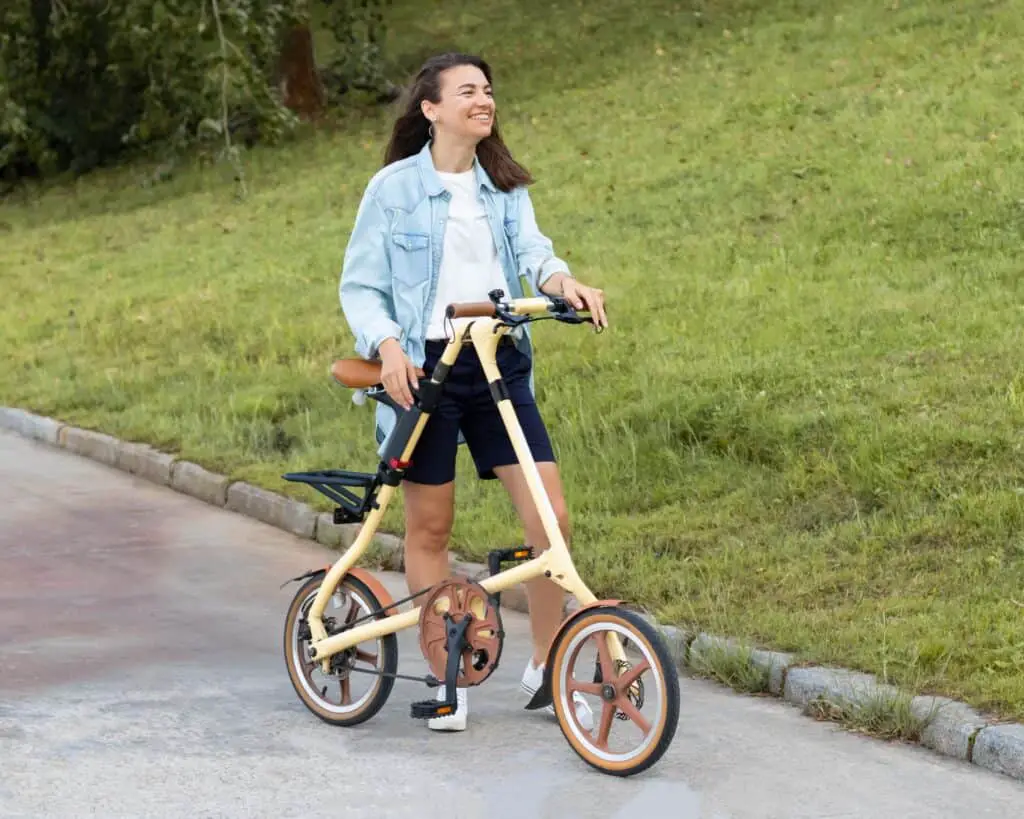 Fold Away Innovations
Bikes are large items, a standard 26" wheeled bike can take up a significant amount of space and folding bikes were initially designed to be a more compact and convenient alternative. Initial folding designs were, however, highly ineffective, clunky and more of a novelty feature rather than a practical one. 
Leading manufacturers are now innovating and finding ways to make folding bikes smaller, more compact and incredibly easy and quick to fold away. Take the German Manufacturer Riese & Muller, they've designed the Birdy folding bike to fold away in less than 5 seconds (4.9 seconds to be exact). 
When we consider that folding bikes used to require tools in order to take the bike apart for a 'folding feature', the Birdy's folding time of only 5 seconds is incredible. That's not the only feature though, the pivot points at the suspension (yes this bike even has suspension) allows for the quick fold without the use of a hinge which was previously considered the only way to fold a bike. 
This bike also features disk brakes, 8-speed Shimano gears and mudguards meaning it's not just for urban use but also some off-road!
It's not only the folding speed that has come on leaps and bounds in recent years but also the ease of folding as well. 
We love to have convenience and live in such a fast-paced world with things like Amazon 1 click ordering, streaming on-demand and contactless payments, that ease of use really is the future of the folding bike. This is already becoming evident with some designs that we've seen leading the way.
Kwikfold, a UK based folding bike company, released a folding electric bike in 2018 that takes seconds to fold away thanks to a quick-release locking handle. It may not be the most compact of bikes, yet the ease of folding is evident here. 
Fubi (a finish Manufacturer) has a very simple folding bike that closely matches the style of a standard road bike and just to glance at this bike you wouldn't even be able to tell that it's a folding bike. Sure, some features have been made basic like a single and 3-speed gear option however this minimalistic and modern design would not look out of place in an urban environment.
It's not just the folding mechanisms that are improving with these bikes though, weight and speed are also seeing great innovations as well.
Lightest Folding Electric Bike
Our personal favorite folding bike is the Hummingbird Electric. This is currently the world's lightest folding electric bike and this is important to note as we are seeing electric bikes become increasingly popular as more people look to take eco-friendly forms of commuting. 
Weighing in at only 22.7lbs thanks to the high-grade carbon fiber/aluminum structure this bike really does master the minimalistic and modern look for a folding bike. Not only will this bike be light in comparison to folding electric bikes but also light in comparison to folding bikes in general.  
Fastest Folding Bike
Another common myth is that folding bikes are slow, clunky and not very aerodynamic however there are innovative models that are incredibly fast with an impressive, streamline design. Tern, for example, has a model (Eclipse X22) that has 26" wheels and is a full-sized road bike yet still maintains the capability to fold down in just 10 seconds.
There is no denying that this bike has an ultra-modern design and it would be almost impossible to tell that it has a folding mechanism, a far cry from previous years when we can agree that folding bikes certainly would have looked stupid but also wouldn't have had the performance specifications like the Eclipse X22 has (as well as various other models).
Unique Designs
We've noticed that while some of the designs mentioned above are quite literally revolutionary, there are some that we are quite skeptical about. This might be down to personal taste or too much of a radical design but we've found some folding bikes that would definitely turn a few heads even in today's world of unique folding bikes.
Take the YikeBike for example, the Model V is a futuristic, aluminum electric bike that is ultra-compact and is very minimal in the way of features (in fact it's a stretch to actually call this a bike!). The price tag is high but nothing in comparison to the Model C, this premium-priced, carbon fiber model is priced higher than some cars and let's just say you'd certainly turn a few heads riding one of these. 
Another unique bike is the Italian Bad-Bike which is the world's first folding electric fat tire bike. While this model may be a few years old now but there's no denying the ingenuity and uniqueness of the design. This bike is a far cry from folding bikes of years gone by and is currently the Harley Davidson of the folding bike world!
Tern's (making another appearance here) Cargo Node model is the final folding bike that catches our attention in terms of design and practicality. 
This interesting bike has a weight limit of 350lb and features seat attachments to the rear for up to two children. This means you can fold the bike up, place it in your trunk, go to a scenic destination and then take your children on a long ride which to us is an amazing accomplishment for a folding bike. 
There's also the added feature of versatile all-weather carry bags with a 35L capacity which is a great way for potential uber eat riders to really step up their productivity (though that's just us thinking outside the box here).
Final Thoughts
While people are still getting used to seeing folding bikes in some areas, there is no denying that they are a popular choice amongst urban commuters and travelers alike. Thankfully, with the rise in popularity, we've seen some drastic improvements in design and functionality in recent years. 
From Hummingbird's sleek and ultra-light folding e-bike to the Tern Eclipse X22 which can be easily mistaken for a road or racing bike, it's obvious that folding bikes are improving year on year and there's no denying that 'looking stupid' is one of the last phrases you'd use to describe these models. 
** OK, there are still some folding bikes that look stupid but you can't win them all!