With each passing year, folding bikes are becoming more innovative, more durable and most importantly, lighter. A lightweight feature is essential for a folding bike because its appeal is of course portability and convenience for commuters or people with limited space for storage.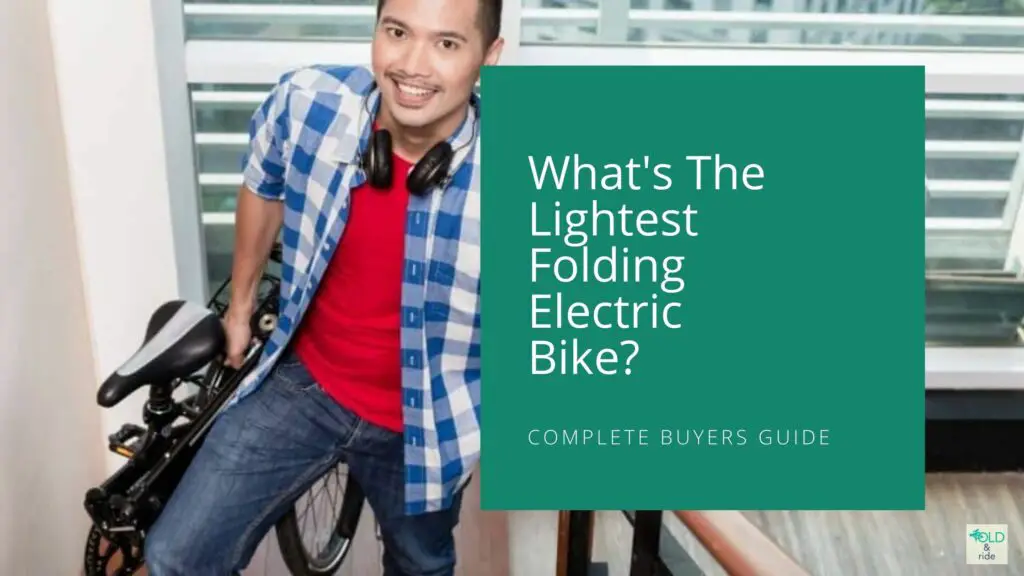 As an Amazon affiliate, we earn from qualifying purchases.
This requirement, therefore, remains a key feature when looking into making an upgrade and purchasing a folding electric bike. Adding a motor and battery will of course add to the weight of a bike and in previous years it's safe to say that electric bikes of any model would weigh what seemed like a ton!
Skip this article and head over to Amazon to see our top pick! ↗️
Through innovations in the cycling industry and specialist brands within the folding bike category, we now have electric bike models being released that can match (or even beat) some non-electric folding bikes in terms of weight. 
With new and exciting models being released almost annually we wanted to give you an updated look at the lightest folding bike in 2022 because spoiler alert, there's a new release that has just been announced as the lightest folding electric bike (e-bike) on the market!
Lightest Folding Electric Bike 2022
OK, just to clarify we are crazy about folding bikes here at Fold and Ride, our passion is for the portable, convenient and lightest folding bikes that will get you from A – B in an urban environment. With this in mind, there's a bike that comes around every once in a while, and really catches our attention for a particular standout feature. 
When it comes to a folding electric bike in 2022, the amazing engineering that has gone into the Hummingbird Electric has made it top the list of the lightest folding bikes. We'll cover some of the close contenders a bit later in this article as there are some incredibly light e-bikes currently on the market. 
For now, though, we'll look into the stunning Hummingbird Electric in a bit more detail and see how they've managed to create this engineering masterpiece. 
Hummingbird Electric
The Hummingbird Electric is the self-proclaimed "lightest folding e-bike in the world" and weighing in at just 22.7lbs it's hard to argue with that statement (trust us, we've done our research!).
Hummingbird have made a habit of creating premium lightweight bikes so this isn't a gimmick or novelty item. They previously had the world's lightest folding bike weighing in at 15.2lbs so their track history in premium quality and lightweight bikes is already well established. 
This e-bike isn't a model that Hummingbird has just thrown together, with a price tag of $4,500 – $5,000 depending on shipping costs and accessories/customizations this is a premium model. To own the world's lightest folding e-bike clearly comes with the price tag to match such a title. 

Features
The Hummingbird Electric's key feature is of course the weight. At 22.7lbs it comes in lighter than a standard non-electric Brompton folding bike which typically weighs in at around the 36lb range (which is still incredibly light as far as folding bikes go). 
To create such a lightweight model, Hummingbird has looked to reduce unnecessary weight in every possible facet of the bike. The seat, seat post and handlebars are all made from ultra-light carbon (with the seat post also having titanium hardware) while the wheels are made from an ultra-light aluminum alloy. 
The motor is an industry standard 250W which allows for an assisted speed of 15mph, well within the legal requirements of most states' speed limits for motorized bikes. 
Even though this motor is an industry standard, Hummingbird has managed to manufacture it to a feather lightweight of 7.5lbs which includes the integrated battery as well. This combination of engineering has the highest energy/weight ratio on the market and is a key driver in achieving such a light folding e-bike. 
The engineering doesn't just stop at providing a light e-bike, Hummingbird has also looked to ensure that with the light weight you still get the functionality of an easy and convenient fold for commuting and carrying.
The bike folds in three parts (collapsible handlebars, the rear wheel folding under the frame and the saddle retracting) and while it's understandably not as compact as a non-electric folding bike it's still incredibly compact and the video below shows that it can be folded in just a few seconds!
Close Contenders
Hummingbird Electric is a new model that has really pushed the boundaries of how light a folding e-bike can be. Before this model came along, however, there are a few e-bikes that have an incredibly competitive weight and are worth considering if you want a few options to consider. 
United City Bikes The ONE
Before Hummingbird entered the folding e-bike market, United City Bikes was the market leader when it came to the lightest folding e-bike with their model – The ONE. This 16-inch folding e-bike uses a magnesium frame said to be "lighter, cheaper and stronger" than carbon and aluminum.
It features a removable battery, can fold in less than 10 seconds and most importantly weighs in at only 27.5lbs.
Carbo Model X
The Carbo Model X is an allrounder when it comes to a light folding e-bike. It features a 350W motor capable of a top assisted speed of 20mph, a battery that charges in only 4 hours and an ultra-lightweight carbon fiber frame.
The Carbo Model X is the 3rd lightest bike on this list but is a top contender coming in at only 29.3lbs. Any folding e-bike that comes in with a weight under 30lbs is a top-end model in our opinion and will even compete with folding non-electric bikes in terms of weight. 
Gocycle S
Gocycle has been a great mid-range priced folding bike brand for several years now and the Gocycle S gets an honorary mention on this list as it's a high spec and light offering in the folding e-bike category.
This bike has a powerful 500W motor allowing for speeds of 20mph with a 40-mile battery life (though it does take 7 hours for a full charge). It also features thick tires and rear suspension for a surprisingly comfortable ride and also uses a magnesium frame to give a relatively light weight of 36lbs.
Folding Lightweight Electric Bikes
The Aceshin 20″ electric folding bike is one of the best we have tested in recent months. With the LED 3-speed smart meter button, you can choose the electric-assist power according to your needs. You can add a burst of speed with the throttle, which is ideal for pulling away from traffic lights.
Weighing just 23lbs this electric folding bike is one of the lightest we have tested within a sensible budget.
Check it out on Amazon here ↗️
Other Considerations When Buying a Folding E-Bike
We know you've come to this article looking to find the lightest folding e-bike in 2022 and while we've covered that above, it's important to note that there are some other features that you should consider when looking to purchase one. 
Some of these bikes are so close in terms of weight that your final decision on which is best for you really does need to factor in some of these common and essential features:
Weight Capacity – a lighter folding bike will typically have a reduced weight capacity due to having more structural weak points (the hinge/joint that allows for folding). The average weight capacity is usually 220lbs – 260lbs for most folding bikes and folding e-bikes tend to have a similar weight capacity so keep that in mind.
Battery Life (Distance) – the distance of your daily commute will need to be factored in as each battery will have a certain distance range before it needs recharging. If your daily commute is 15 miles and you have a battery range of 20 miles (when fully charged) then you know this is enough to handle your commute but you'll also need to charge it every day as a result. The distance range is usually based on a relatively flat road with minimal hills (inclines), therefore, if you live in an area with a lot of hills then this will reduce the distance you can travel when fully charged.
Price – with a regular folding bike, the higher priced model usually signifies a higher quality build and this is something we agree with in general. For folding e-bikes, however, the market is still very much in development and therefore price ranges can fluctuate greatly. The most expensive e-bike is not necessarily the best so make sure to research the features before assuming that price=quality.
Comfort – to use the example of the Hummingbird Electric, in order to create the world's lightest bike, they had to reduce all features that are not completely necessary. In the quest for a light e-bike this meant that suspension was not high on the agenda and as a result, the comfort of this model was the compromise for weight. If you live in an area with a flat, paved road then this shouldn't be an issue for your commute but for anyone who experiences any form of rough terrain, comfort needs to be high up on your list of needs.
Summary
The popularity of folding e-bikes is currently booming as more and more people look for a fast, convenient and eco-friendly commute. A lightweight option is becoming one of the key features that people are looking for in a folding e-bike and the Hummingbird Electric has delivered the lightest one to date.
We're not sure how much more innovative these companies can be but one thing is certain, Hummingbird has raised the standard in 2022 and 22.7lbs is the weight that everyone will be looking to beat!