Folding bikes have not only become sought-after by those who travel city streets. Rural dwellers who live in small apartments or shared housing also favor these portable methods of transportation.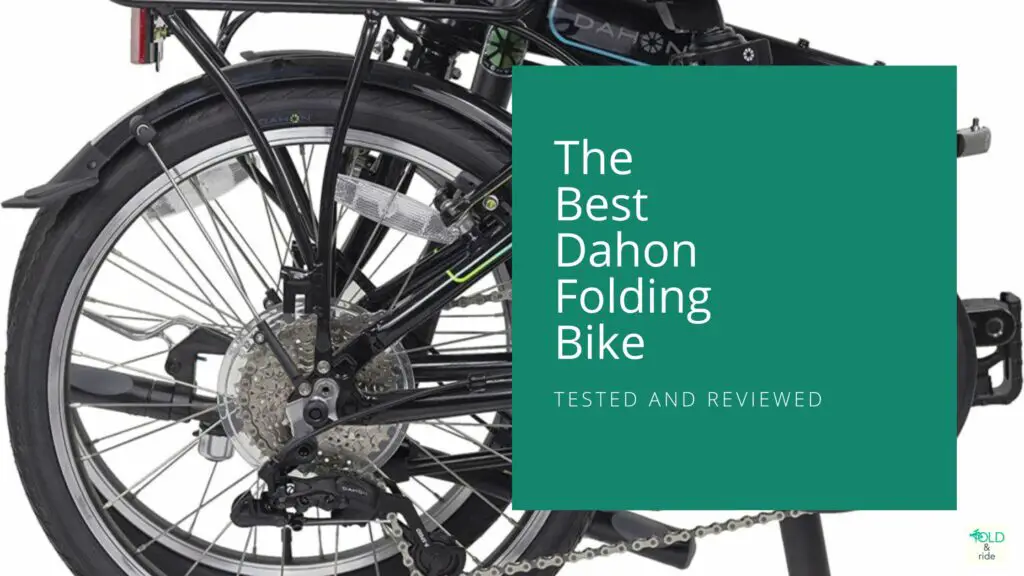 As an Amazon affiliate, we earn from qualifying purchases.
Folding bikes do precisely what their name suggests; they fold down into a compact size that can easily be carried or tucked away into tiny spaces. This makes them ideal for people who live in small trailers, travel in RVs, or reside in houseboats. 
When looking for the best quality of folding bike for the price, Dahon tops the list again and again. But what sets Dahon apart from the rest, and which is the best Dahon folding bike? 
Dahon Mariner D8 – Affordable, Safe, Compact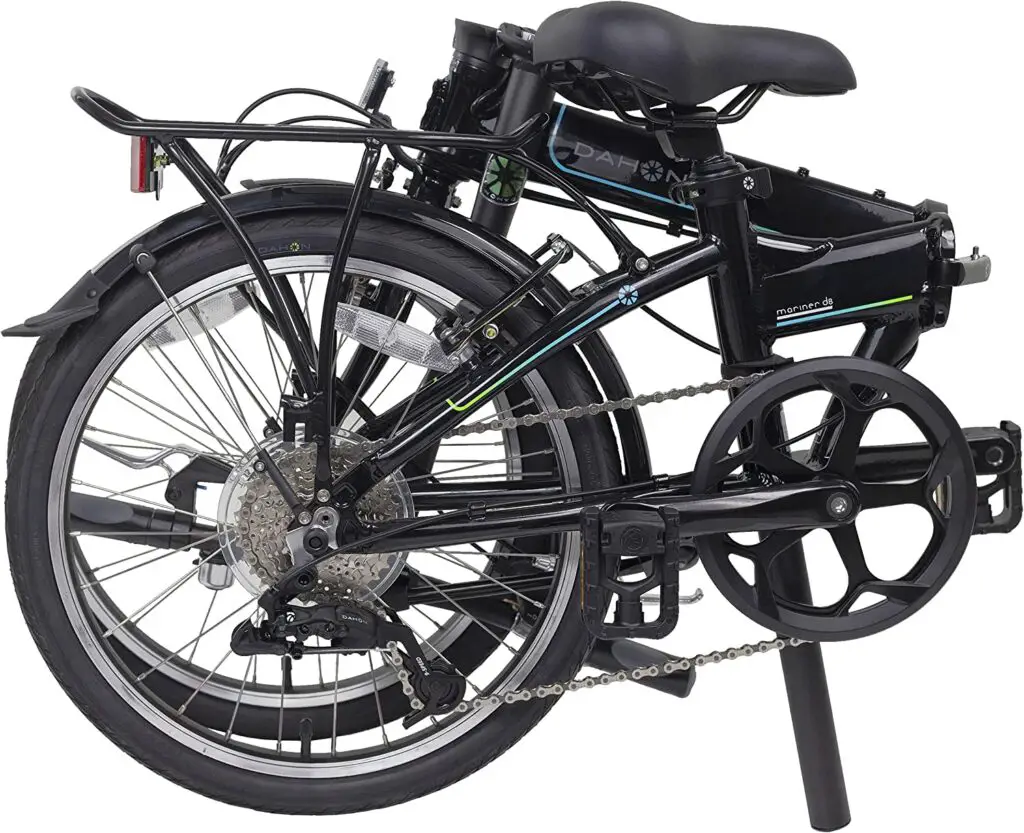 The Dahon Mariner D8 folding bike frame is made from Dahon's own lightweight aluminum alloy called "Dalloy." This, along with their "VideGrip" technology and Lattice-forged hinges, delivers the strength and durability of a more robust bike with the portability of a more compact one.
With a price of $869 on the Dahon Website or Amazon, this folding bike gives you a lot of features for that price point. While it isn't the smallest or lightest one on the market, it's definitely compact and easy to transport.
Specifications of the Duhan's Mariner D8
Size: When folded, this bike measures 25.5" X 12.5" X 31.1"
Frame: Dallow Sonus Tubeset, Lattice-forged Hinge
Wheels: Single-wall aluminum alloy rims – 20"
Drivetrain: Adjustable Shimano RD-M310 Rear Derailleur
Weight: Twenty-eight pounds
Capacity: Holds up to 230 pounds
Brakes: Alloy V Brakes, 11 MM
Drivetrain: Fast-Shifting 7-Speed SRAM
Features of the Mariner D8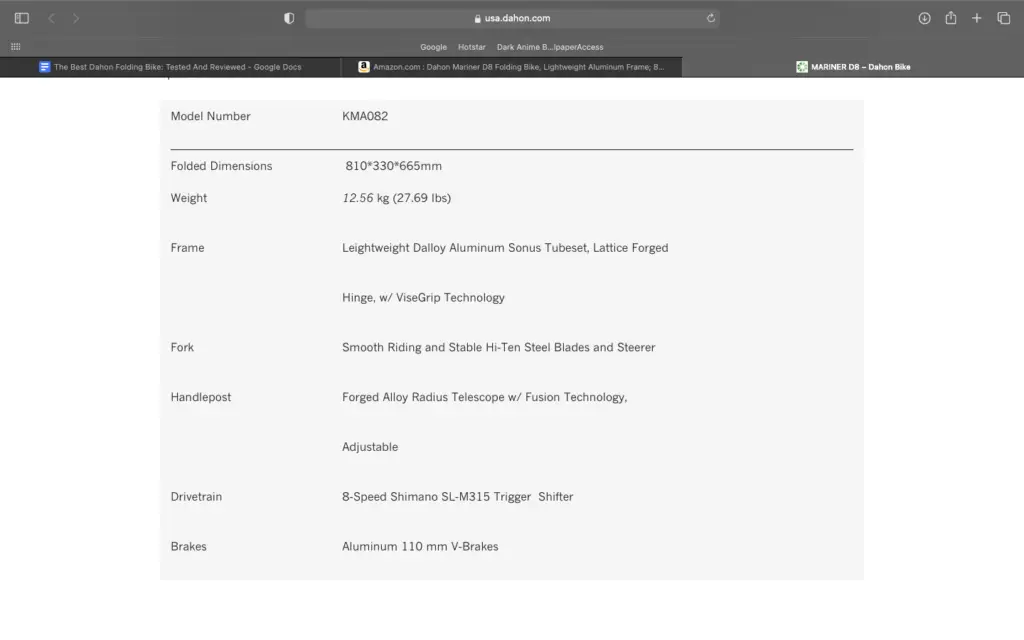 The Mariner D8 is considered the top of the line in folding bikes for its price, weight, and balance. Here are some of the features that push the Mariner D8 to the top of the list for Dahon's folding bikes. 
The 8-Speed Shifter Transmission Handle – This transmission is very responsive, making it fast and easy for you to switch gears anytime you need. Traveling in city traffic with its many starts and stops just became much easier for the cyclist on the go.
Adjustable Height on the Seat and Handle – You can adjust both the seats and the handles on Dahon's bikes with a simple flip of their fold buttons. This makes the Dahon Mariner D8 a good fit for riders of almost any height.
Foldable Pedals with BS Reflector, Anti-Skid Surface – Ride with peace of mind, even at night, with the BS reflectors built into the pedals of this bike. The anti-skid surface helps prevent slipping, and these pedals tuck in for a smaller folded size. 
Alloy Rims and Slip-Free Tires – The tires on the mariner D8 are made from high-quality rubber that is resistant to aging or damage. They are made to be non-slip on slick surfaces for added safety. Their alloy rims add a layer of durability to your ride, even on wet roads.
V Breaks on the Front and Rear – To make your ride an even safer one, V brakes have been installed on the front and rear of this folding bike. Stop on a dime, smoothly and evenly, without jerks, slips, or skids.
Non-Slip Kickstand – A non-slip sole kickstand helps ensure that your folding bike won't fall over in wet conditions or on slick pavement. Confidently park your bike without fear of it tipping over and becoming damaged.
Folding Dahon's Mariner D8
The Mariner D8 folds quickly in just a few simple steps. After you have pushed the seat as low as possible, reposition the handlebar and release and collapse it downward. 
Once the handlebar is adjacent to the front wheel, release the center wicket hinge on the frame and fold the bike in half. You can watch how to fold the Mariner d8 and other Dahon bikes in this video. As you can see, it is quick and easy to do.
Conclusion
Overall, this bike gives you a lot of bang for your buck. It rides smoothly on hilly roads and comes with many added safety measures. Both the handlebars and seat adjust, making it easy for you to find a comfortable ride.
We hope this article has shown why the Dahon Mariner D8 is at the top of the list for excellent folding bikes. Feel free to look over our site for more articles about Dahon, and other amazing brands of folding bikes, scooters, and more!