Going places by bicycle is a great alternative for the car, or even public transport. I would often worry that after a long day at the office I would not find my bike waiting for me anymore, as in an ideal world I would be able to take it with me, wherever I go.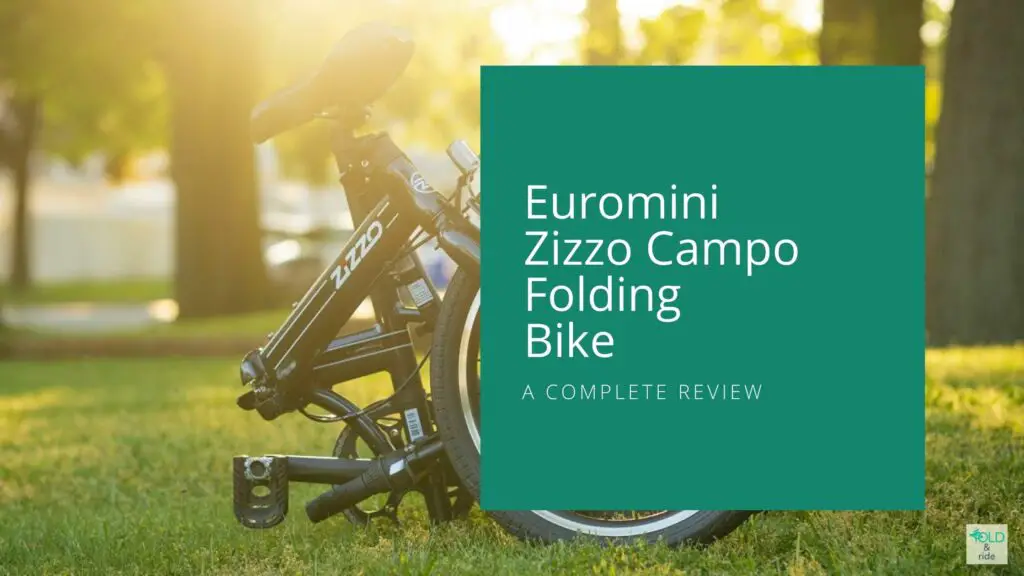 As an Amazon affiliate, we earn from qualifying purchases.
Bike crime has increased 10 fold over the past few years and with the cost of a new bike increasing, I no longer wanted to risk leaving a $300-500 bike outside my office.
So, I started to look at folding bike as I could easily fold it and carry it upstairs and store in the office without taking up too much room and people tripping up over it and shouting at me.
So, I jumped on Google and started to research popular and best selling folding bikes and I soon came across Euromini on Amazon.com
Getting from place A to place B has never been more fun, relaxing, and healthy than with the Euromini Zizzo Campo folding bike. I absolutely, love it!
The lightweight aluminium frame makes the foldable bike very easy to carry, the powerful brakes allow for the ultimate feeling of safety, and the 7-speed shifter gave me enough options to get through my journey's in any circumstance.
Keep reading to find out more about why this foldable bike is so useful, and why I suggest everyone should consider getting one.
Easily Foldable and Compact
Probably the main reason that this bike has won me over is because of the way it folds. Once you've done it a few times you will be able to fold this bike in about 30 seconds, which is probably the same amount of time you would need to get your things and get out of your car.
The bike will stay stable and upright once it is folded, so there is no need to worry about it falling, or having to place it somewhere specific when you take it with you, this is because the seat and the pedals form a tripod shape when folded, allowing for stability.
The pedals fold too and the seat also lowers, making the bike as compact as it can be. It easily fits in the trunk of a car, as it is about the size of a standard carry-on bag. 
The Fastest Unboxing Ever 
Believe it or not, but the total amount of time it took from when I unboxed the bike to when I took it for the first ride was about 8 minutes (yes, I timed it). I have never even assembled IKEA furniture that quickly,( Usually hours ) so assembling this bike was more like a fun chore than an actual task.
Everything about this product is quick, easy, and practical, why is why I strongly encourage all the sporty (or even non-sporty) people to get one and make their life and easier. 
Safe and Secure
This bike might seem on the pricey side at first, but it definitely pays off and can be considered as an investment. With a weight of about 28lbs the bike is considered lightweight, whilst it is still strong and secure; I did not feel like the bike was going to fall apart under me, like I have with other bikes before. 
To me, the most important thing is safety, there is nothing better than the thought of being safe and secure. The bike has very strong brakes, which is a big plus. The shifting is very smooth, which ensures an enjoyable and relaxing ride.
The seat and stem are easily adjustable, meaning that multiple members of a single-family can use the bike, but trust me, once they have tried it, everyone will want their own. 
Although my 13 year old son still says it's not cool. But hey, it works for me.
Save Space, Money and Time
I'm a big fan of substituting the car or public transport with other means of getting to work (or anywhere), but this isn't always that easy. When going by bicycle, there is the constant fear of it getting stolen, losing your keys to it, or not finding any space to put it.
Luckily, you won't have to worry about any of that with this foldable bike. You are saving space on the street – and in your house or garage – by being able to fold it and take it with you.
You could easily put it in your office and there is a high chance that no one would even notice it there. Let's say you were to take this bicycle to work every day, imagine the amount of money you would be saving on gas, the bus, the metro, or a cab.
Other than money you will also be saving time, as it is so easy to get stuck in a traffic jam when you are in the car, especially around the time that you are getting to work. The bicycle allows you some leeway (literally) in getting through spaces or taking detours. 
If you do drive into work you can easily throw the bike into the trunk of your car and head out for a bike ride through your lunch break. Stretch those legs!
Health Benefits
Riding this bicycle, whether it is to work, to school, or around the block is all considered to be exercise. Now, it won't necessarily substitute going the gym and lifting weights for example, but it is definitely an extremely healthy way or commuting to and from places. You will notice a difference, the fresh air, your blood pumping after going up a hill, and your muscles forming will give you a positive boost and will only benefit you. 
Conclusion
To summarise, there is little reason to not get the Euromini Zizzo Campo folding bike. This bike is extremely practical; once folded, it is about the size of a carry-on, whilst being light-weight and easy to carry.
You can put this bike anywhere and there is a high chance that it will go unnoticed. Most importantly, it is safe and secure. The breaks on it are very strong, and the gear switching proceeds very smoothly.
The seat is adjustable, making it accessible for anyone who wants to use it. The concept of taking a bike to school or workplaces is very cost-effective, as you are able to save money on gas or public transport, it saves you time because you are more likely to avoid traffic jams, and it saves you space as you don't actually have to put the bike outside (or fear it being stolen).
The health benefits also play a role, and make this bicycle even more beneficial than it already was; it is not only a means of transport but also a form of exercise.