Dahon is the go-to manufacturer if you are looking for the perfect, folding bicycle for your local commute. While they have manufactured several folding bikes, the Dahon SUV D6 is one of the more unique aesthetic creations with a folding mechanism aking to folding a piece of paper in half. 
As an Amazon affiliate, we earn from qualifying purchases.
The Dahon SUV D6 is a fun little bike with some unique innovations from a company known for leading innovations in a crowded industry. With the loyalty of American commuters secured, Dahon has turned its focus to India, where the population is in need of a portable commuting alternative. 
No matter where Dahon decides to go, however, the SUV D6 is an exceptional bike with a few minor flaws. 
Pros
Streamlined but curvy and appealing aesthetic
Excellent braking power
Fun to ride
Rolls well
Great value for money
Cons
Steel frame is heavy and can be unwieldy
Gear shifters take some getting used to
Hinged section makes for a bumpy ride
Features of the Dahon SUV D6
The Dahon SUV D6 falls squarely in the category of foldable bikes that are excellent choices for short commutes and for those who don't want to bother wasting time with a car to deal with inner city traffic. While it's not Dahon's greatest foldable bike, there are a lot of things to like about the SUV D6.
Frame/Design
Unlike the Dahon Mariner D8, Dahon decided to go with a Hi-Ten Steel frame for the SUV D6. This is a much heavier bike than the Mariner D8, which comes with its own benefits and drawbacks, depending on how you ride and where you store the bike.
The frame is also curvier than some of Dahon's other editions, with the center mass of the bike featuring an upward curve from the rear tire to the front handlebars and tire. It's a unique look and not one that's a turn-off in terms of positive aesthetic appeal. 
Like many of Dahon's offerings, the SUV D6 comes with a bike rack and, unfortunately, lacks the added bungee cords for stowing items on the rear rack. You will have to come up with your own for that.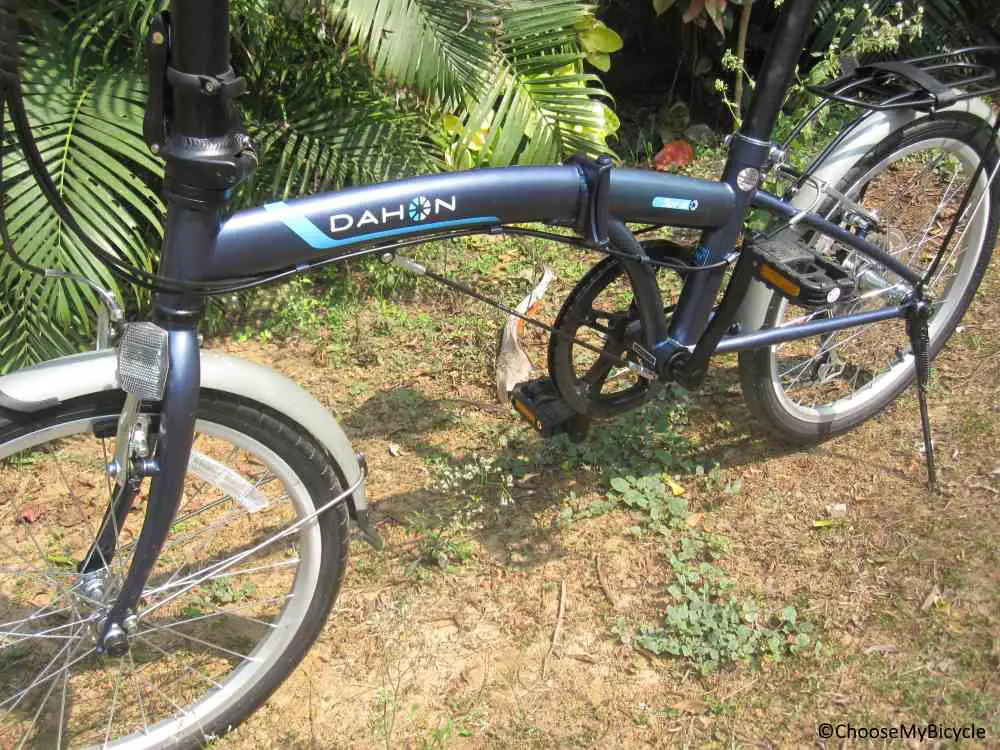 The latching mechanism for folding the bike is an SD latch design and operates smoothly, despite the heavy, steel frame. The tires include mudguards for those rainy, wet-weather days, which is a welcome addition, despite the compact nature of the bike.
Unlike some of Dahon's other bikes, there are a few color choices with the SUV D6, namely metallic blue and white with a secondary blue coloring, such as in the letters. It's a matte finish and you will have to maintain it since steel is subject to corrosion if you don't practice much in the way of preventative maintenance.
Gears
Shimano provides the gears for Dahon bicycles and Shimano is a known commodity within the bike gear and fishing reel industries. They are known for making high-quality gears and the Shimano Tourney TY-21 that comes equipped with the Dahon SUV D6 is no exception. 
It's a little more limited than other offerings, with only 6 gears to work your way through. On the bright side, it makes for a less complicated drivetrain but you aren't going to break any speed or acceleration records with the Dahon SUV D6. 
Fortunately, the shifting is instant, efficient, and very smooth when in action. This Shimano design uses a trigger for shifting and doesn't lag in the least. For city commuters, you aren't going to need an 18-speed monster bike anyway, so the SUV D6 is perfect for its intended use.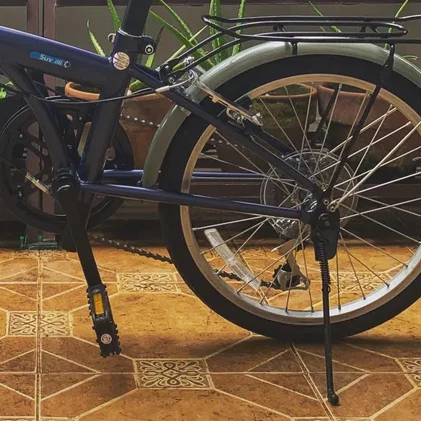 The only knock is that this Shimano design is a trigger-activated index shifter and that will take a lot of people some time to get used to and can be uncomfortable trying to operate while you are moving down the street at speed, especially if you are unfamiliar with it. 
Brakes and Handlebars
Thankfully, there is nothing complicated about the braking system on the SUV D6. The brakes have great stopping power. Like many of Dahon's creations, the D6 comes with alloy V-Brakes and is highly responsive. 
You won't experience any shaking, detectable levels of friction, or skidding with these brakes. They are efficient and work great as you wind your way through heavy, inner-city traffic, with multiple stopping spots along the way. 
The Dahon handlebars are adjustable as well. Not so much as the Dahon Mariner D8 but they have enough up and down movement to accommodate short or tall riders. Unlike the frame of the rest of the bike, the handlebars are forged aluminum and are very lightweight and responsive. 
In fact, they are so light that it may be a little disconcerting at first, considering the heavy weight of the rest of the bike, to feel like you are controlling a feather on top of a smooth rolling bowling ball. 
The handlebar grips are on the hard side but are not overly uncomfortable for longer rides and your palms won't sweat, which makes gripping the handlebars a slippery process.
What is the Overall Ride Quality Like?
The way that Dahon designed this particular bike practically screamed that it needed a heavier, steel frame. The hinged section in the center requires a stronger frame to be a viable, workable hinge.
There are a lot of positives that come with a steel frame, especially when it comes to traction. The tires have excellent grip in all weather conditions and the additional weight of a steel frame increases the productivity of the tires in this instance. 
The steel frame also gives the hinge mechanism much more longevity than you might get out of an aluminum frame. However, it also means that you are going to feel the bumps and divots in the road to a higher degree. 
There is not much to complain about with the Dahin SUV D6 but the bumpiness of the ride can be a bit aggravating. Also, like the Dahon Mariner D8, the seat design is not ergonomic in nature, and it's a bit on the hard side. 
Negative Aspects of the Dahon SUV D6
We've covered most of them, in one way or another, above. The seat is one of the main points of contention and since it is a problem beyond just the SUV D6, perhaps Dahon will address it in the near term. Not only is it not very ergonomic, but it's also hard, so those long commutes may be a bit uncomfortable. 
The steel frame is the other major negative as it makes for a heavy bike. Normally, that wouldn't be an issue, especially when all you have to do is park and drop the kickstand. But, since this is a folding bike, it makes the D6 downright unwieldy when you are trying to fold and store it. 
Last but not least, the shifter will take some getting used to. It's not a bad shifter and it's incredibly efficient and fast. But not everyone is used to index shifters and it may take some time to get the hang of it. 
Final Thoughts
Overall, the Dahon SUV D6 is an excellent, folding bike and should be on anyone's list when looking for a short commute bike with storage capabilities. Aside from a few troublesome aspects (what bikes don't come with a few cons?), the overall result is a dependable and durable long or short commuter bike.