The bicycle is one of the best personal travel devices ever conceived. The Dahon Mariner D8 was originally designed for boating trips but has become the defacto folding bike of choice and one of the most popular bikes in America. Commuters love it and if you are in the market for a folding bike, the D8 is an excellent choice.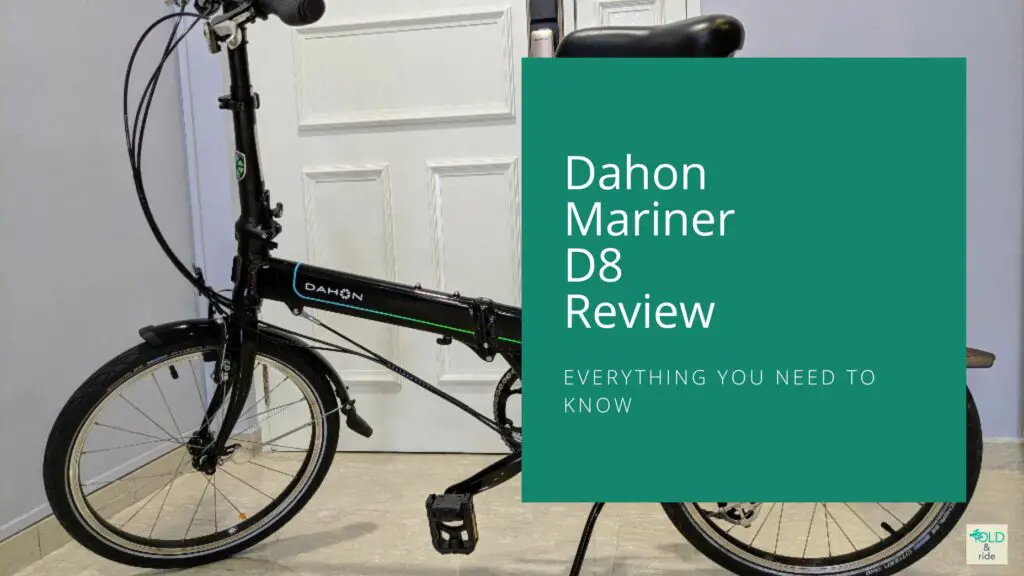 As an Amazon affiliate, we earn from qualifying purchases.
It's especially useful in terms of storage, for obvious reasons, because the handlebars are foldable, along with a fully adjustable seat. For those who live small or who commute within inner cities, the folding, portable aspect of the D8 has made it the number one choice for many. 
Pros
8-gear trigger shifter for easy gear transition
Adjustable for short and tall riders
Great storage capacity for its size
Folding system is quick and easy
Rust resistant
Cons
Heavy once it is folded
Seat is overly hard
Takes a long time to set up
Features of the Dahon Mariner D8
The Dahon Mariner D8 is arguably one of the most popular bikes in America and it didn't get that way just because it happens to fold up when your journey is over. There are several attractive features on the D8 as well. 
Frame/Design
If not for the necessary, telescopic extension capability of the handlebars, the D8 would look like most bikes in terms of form, function, and aesthetics. The D8 is manufactured of 7005 lightweight aluminum and despite its light weight, the D8 is highly durable and strong. 
Steel bikes are supposed to be the kings of longevity but the Dahon Mariner D8 has earned a reputation for lasting longer than the competition. The frame has a capacity of 230lbs and is constructed to a high standard, with the tiny weld beats uniform throughout.
Unfortunately, you only get one color choice with the D8, which is an aesthetically pleasing, partially reflective aluminum gray, otherwise known as brushed aluminum. The look is strongly offset by the deep blacks of the wheel wells, bike rack, pedals, and handlebars. 
In the folded position, the bike is pretty small and compact, which is very useful for storage purposes both long and short-term. The D8 comes with a rear bike rack that is long enough for a separate traveler but is much more useful as a storage device. 
In fact, the Dahon Mariner D8 comes equipped with bungee cords that extend from an attachment in the center of the rear well and wrap up and around the bike rack. 
Gearing
Shimano is the manufacturer of the D8's 8-shift drivetrain. Of course, everybody is familiar with a shifter on a bicycle but the D8's version creates a smooth and rapid transition from one gear to the next. It doesn't have enough range for doing things like mountain biking or hitting the trails but the D8 was clearly not designed for that. 
You won't get up to speed in a rapid fashion either and acceleration is average at best. However, if you're using this bike for its designed purpose, you won't notice this aspect as the D8 hits the right line between sporty and effective. 
You will be able to climb hills, stops and go, ease into turns, and generally just get up to speed with ease. These aren't an internal hub design so you can't change gears while sitting still. It's a more traditional function. As you would in a manual car, you will have to downshift as you slow and come to a stop. 
The Shimano RD-M310 is an Altus Derailleur and Shimano is known for manufacturing gears with a smooth transition. The D8 is no exception and as long as you keep it well maintained, it will be a smooth ride as you work your way up or down through the gears. 
Brakes and Handlebars
The D8 went with Winzip aluminum V-brakes in the front. These are traditional brakes and you won't find anything here that is going to blow your socks off. The stopping power is perfect, especially for traveling through the inner city or on short commutes where you deal with traffic from time to time.
The braking distance is short and the brakes are more than adequate to bring you to a stop quickly. The braking ability of the D8 is much like the shifter in that they bring you to a smooth stop without the feeling of drag or extra friction. 
The handlebar is fully adjustable so you can raise or lower them until you find that sweet spot for short rides and long-term comfort. The handles are soft enough that you won't feel like the friction is eating the skin off of your palm.
The brake levers are plenty long, which allows you to move your hands around a bit or it gives you a wide window of comfort and exploration, especially with the adjustable nature of the handlebars. The design is such that just about anybody will find a comfortable position. 
What is the Ride Quality Like? 
It's one thing to have a bunch of features and entirely another to be a terrible ride. While riding on the D8 is certainly not terrible, you may want to consider purchasing a third-party seat as the factor seat is pretty hard.
For short rides or commutes, the hard seat may not be such a big deal. However, if you are commuting clear across town, it may cause a bit of consternation on your backside. On the flip side, the tread is excellent with superb gripping power on most surfaces, even in the rain. 
The tires are Schwalbe Citizen tires and they are more than up for the job. It doesn't have the best in terms of shock absorption but, again, this bike wasn't made for off-roading and it does just fine on asphalt, concrete, and other paved settings. 
Negative Features of the Dahon Mariner D8
We've mentioned the bike seat and for some, it doesn't seem to be that much of a problem, however, it's all down to distance. There isn't a focus on ergonomics when it comes to the D8's seat and it is certainly on the hard side. 
When you fold the D8 up into its compact form, it's a little on the heavy side and it loses its ability to roll around very well. In other words, you shouldn't fold this bike up until you are very near the place you are going to store it. 
Smaller individuals may struggle with the weight and awkwardness of the D8 when it is folded up. It will roll, but the way that it folds up places friction on the tires, making it difficult to move around and manipulate objects. 
Last but not least, while it comes with its own bungee cords and storage rack, it does feel a little bit limited in terms of overall storage capability. Since this folding bike doesn't come with an additional storage bag or box, you may need to purchase something separately. 
Final Thoughts
The Dahon Mariner D8 is an excellent folding bike that has risen from the ranks of competing, portable bikes to become one of the most popular folding bikes in the country.
The Mariner D8 is the perfect solution if you need a commuter ride and, despite the slightly uncomfortable seat, you should definitely put it on your list if you're looking for a commuting solution.