ECOSMO is a breakout brand in the folding bike category specializing in budget-priced models. The leading folding bike brands like Brompton and Tern all come with an expensive price tag thanks to their focus on high-quality folding bikes.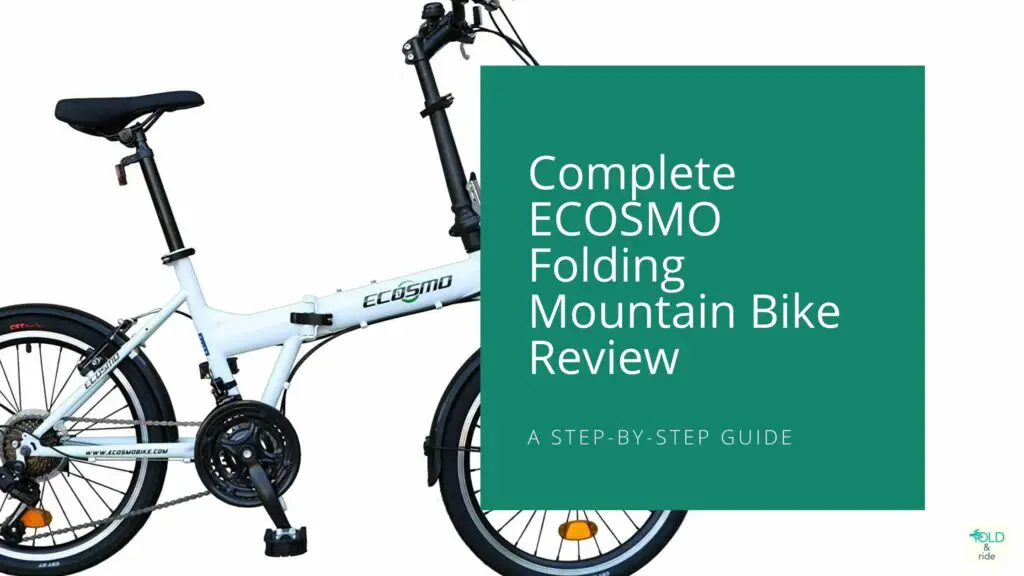 As an Amazon affiliate, we earn from qualifying purchases.
This has left a gap in the market that ECOSMO is looking to fill which is for a high-quality folding bike that also comes with a cheaper price for the budget-conscious rider. This is not an easy combination to try and pull off but ECOSMO is making themselves a strong option in the budget range. 
The ECOSMO 26" folding mountain bike (MTB) that we are going to review today is a top seller when it comes to folding MTB bikes and is frequently one of the highest-rated bikes on Amazon in this category. Therefore, we felt that we need to have a detailed look at this bike and see if it really justifies these rave reviews. 
ECOSMO Folding Mountain Bike Features
The ECOSMO folding MTB covers the majority of the basics that you'd expect to see in a standard MTB, the key exception of course is that they've looked to do this with the added feature of a hinge clip for portability. 
Below are some of the notable features of the bike as well as our take on what you need to factor in when deciding whether or not this is the right folding MTB for you. 
✅ What We Liked
Price – this is one of the most affordable folding MTB bikes on the market. 
Durability – the rigid and sturdy frame is an essential component in any folding bike and in particular an MTB that is subjected to off-road activity.
Gears – 21-speed Shimano gears are ideal not only for off-road use but also for a daily commute or long-distance ride. 
❌ What We Thought Could Be Better
Assembly – the bike comes 80% assembled so some tools and basic assembly skills are required. The pedals, stem and seat all need assembling and the gears and brakes might need some adjustments.
Handlebar extension – the handlebars don't extend as high as you might expect so taller riders may struggle to get into a comfortable upright position. 
Heavy – For a folding bike this could be considered quite heavy when compared to other lightweight frames, this is, however, the compromise that you need to take when getting such a low price.
---
ECOSMO Folding Mountain Bike Review
Now that you've had a chance to look over the surface-level features that the ECOSMO folding MTB provides we're now going to give you the full rundown on this bike and see if it really is a contender for one of the best budget folding MTBs. 
Price
The price is often the most important factor that most people will take into consideration when purchasing a bike (regardless of the model or functions). ECOSMO has made the move to target the budget-conscious cyclist and the 26" folding MTB is the most popular bike in their range.
For a folding mountain bike, we have to say the ECOSMO 26" really does deliver in the budget price range and you'll struggle to find many flaws considering the value that you are getting with this bike.
This model covers everything that you need with an off-road bike and does so with added features that other manufacturers simply don't have in this price range. The only negative thing we can say is that the bike can be quite heavy for a folding bike but as mentioned earlier, the lighter the bike's frame material is the more expensive it is as a result of the costly manufacturing process that comes with it. 
Therefore, we can confidently say that the ECOSMO 26" really provides great value for money and if you are looking for a starter folding MTB, this model will be exceptional value for money.
Off-Road Functionality 
The ECOSMO 26" Is designed first and foremost, to be a mountain bike and therefore it's primary features will, of course, be how well this bike handles in off-road terrain. 
When it comes to the budget-mid price ranges for mountain bikes, you'll often find that in order to keep the price affordable some features have to be sacrificed, when you then add folding functionality into the range it's really important to make sure these bikes hold up well when they are challenged off-road. 
Firstly, the ECOSMO 26" does everything that you'd expect at a very basic level, full front and rear suspension is essential for shock absorption and comfort when riding in bumpy off-road terrain. Front disk brakes increase the safety of this bike and a 21-speed Shimano gear system allows for a range of gear changes and this significantly adds to the lifetime value of the bike. 
A single-speed or 6 gear mountain bike will not do well in off-road terrain where frequent changes in speed and control are needed, a 21-speed feature is certainly a welcome feature on this bike.
Front and rear mudguards are again a feature that most budget manufactures leave out in order to increase their profit margins however it's something we feel is an essential component to an MTB. Riding off-road in a range of weather conditions is all part of the enjoyment of owning an MTB in the first place and therefore we were glad to see that ECOSMO didn't neglect this accessory. 
These are the basic features that we feel any mountain bike should have as standard (though the 21-speed gears are a great bonus) however, the durability of this model is of course questioned by the weak link in a folding MTB and that is the clip hinge. 
A folding hinge on any folding bike is a weakness in the structure, even in an urban terrain under minimal forces on the bike. When going off-road your bike will be subjected to impact forces and therefore the bike structure will always be at risk of breaking. 
Thankfully, the Hi-Ten steel frame combined with the dual suspension for shock absorption means that the ECOSMO 26" has no issue in off-road terrain and the folding hinge will hold up with no problems.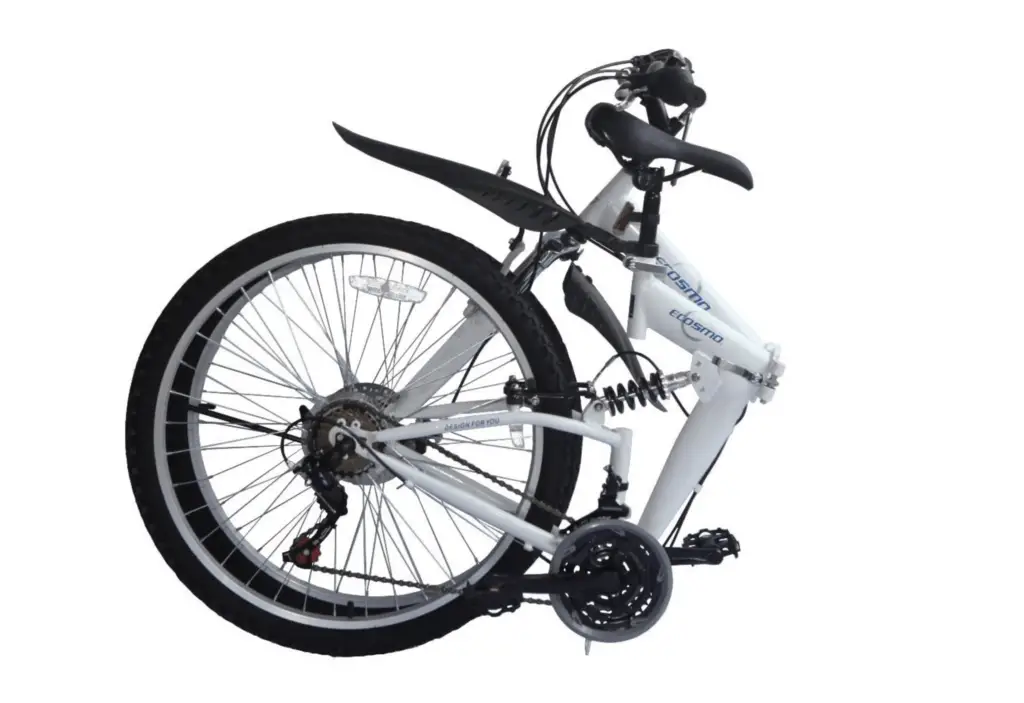 Portability
A folding bike's main intention is to be portable and convenient. Some folding bikes on the market will add a folding function to make it seem as though they have a unique selling point when in actuality, the folding function is tedious, time-consuming and ultimately not worth the hassle. 
With the ECOSMO 26" folding MTB there are a few points to keep in mind when looking at portability. Firstly, the bike takes less than one minute to fold up and most will be able to do it in around 30 seconds. Any folding bike that takes less than a minute a fold easily passes the convenience test for us. 
At a folded size of 95cm(L) x 33cm (W) x 74cm(H) it's not the smallest bike when folded, however, with these dimensions, it will easily fit in the boot of your car for easy transportation, will fit in most luggage compartments on public transport (mainly trains) and will also be easy to store in your home so again that's another bonus point for ECOSMO. 
Finally, the weight of 18kg is admittedly on the heavier side so it's worth keeping in mind that you can't easily carry it with one hand for most people. This we feel is the only downside of this bike when it comes to portability, though we don't see it as such a drawback that it's not fit for purpose. 
Despite the weight, most people can comfortably lift this into the boot of a car or carry it upstairs, etc.. It's therefore not as big a drawback as you might expect and there are certainly folding mountain bikes that are much heavier than this on the market. 
Frame & Build Quality
The build quality of the ECOSMO 26" is solid but not revolutionary. The Hi-Ten steel frame is solid and durable, though as mentioned the weight is a slight drawback on this build material. Lightweight aluminium rims, a side stand and of course the 21-speed Shimano gears are notable additions that improve the build quality of this bike.
While most aspects like the handlebars and seat are adjustable, we found that the seat isn't necessarily the most comfortable (as expected from a non-premium model) though the fact that it has a quick-release seat post means that you can upgrade this seat if you want to. 
The folding latch/hinge is sturdy and well made and overall the build quality of this bike is great considering the affordable price tag that it comes with!
Final Thoughts
If you are looking for a budget (or even intermediate) level folding mountain bike then the ECOSMO 26" is a model that you really can't go wrong with. It has numerous features that you simply won't find when looking for a bike in this price range. 
A fold-away time of less than one minute, solid Hi-Ten steel frame, 21-speed Shimano gears and front disk brakes are features that really do stand out when you consider the bikes price and you can be confident that this bike is durable enough to handle any off-road terrain that you ride it on.