Folding bikes have seen an unbelievable surge in popularity in the last decade, they've gone from being something you would only see outside of an uptown coffee shop or on a college campus to something that fills the roads of major cities worldwide.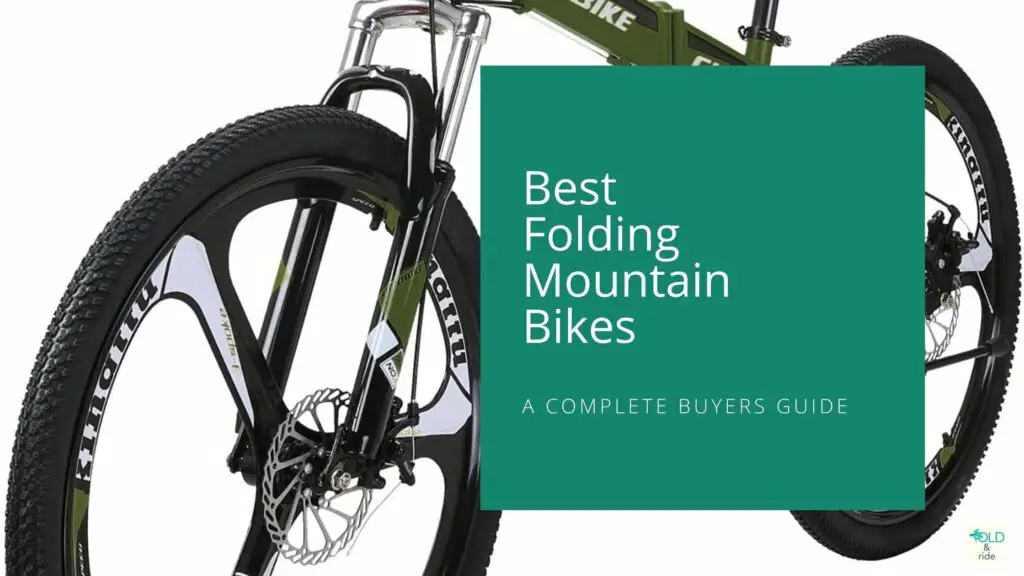 As an Amazon affiliate, we earn from qualifying purchases.
As more and more people become environmentally conscious combined with an increasing trend for good health (both physical and mental), an easy choice has been to ditch the stress of traffic for the freedom of cycling and as a result, the folding bike market is booming.
Innovations are coming out on a yearly basis as people find that they can now fold a bike up small enough to fit in the trunk of a taxi or on the subway allowing the freedom the cycle combined with the use of public transport for a daily commute. 
While this is the common trend that we are seeing across the industry there is another model that is gaining traction and seeing some popularity and that is for folding mountain bikes. 
Now we know that at first, this doesn't seem like an ideal fit, mountain bikes are used for off-road terrain where the bikes are put under significant force and stress, can a folding mountain bike even handle off-road terrain without breaking?
As we mentioned, folding bikes have come a long way in recent years and in this article we are going to run you through some of the best folding mountain bikes that are currently available.
** Please note that for the purpose of our reviews, folding mountain bike will be referred to as folding MTB
Are Folding Mountain Bikes Any Good
The first question you might have before we get into some of the models is whether or not folding bikes are actually any good and worth the money. In the past, we would have no doubt said that folding bikes, in general, are a waste of money and the idea of a functioning folding mountain bike would have been laughable.
We will however be the first to admit that folding bikes have come a long way in general and this includes all categories from the regular, mountain and even electric kind. The truth is that folding bikes now are basically the same as a regular non-folding bike, the only difference is often the folding mechanism itself. 
Therefore, if you had the option of two bikes with similar features, at a similar price, the folding mountain bike would be just as viable an option as the regular mountain bike and in fact, it might actually be the better option due to the increased portability and convenience!
Are Folding Mountain Bikes Durable
A question we are often asked is whether folding mountain bikes are actually durable or whether they are incredibly susceptible to breaking. We cover the topic of how durable and sturdy folding bikes in general are here, but for the purpose of this article, we'll cover the specifics of a folding mountain bike's durability. 
With most bikes, depending on the design, there will be a few weak points in the frame that could be susceptible to breaking if the bike is poorly designed. If we are being honest, bike testing and design has come a long way over the years and rigorous safety and quality testing takes place to ensure that bikes are not easy to break. 
With that said, a hinge, latch, or another form of folding mechanism is certainly a weak point in any bike and this is magnified when you factor in an off-road mountain being placed under continuous force and impact. The truth, however, is that a folding mountain bike is just as durable as a regular mountain bike.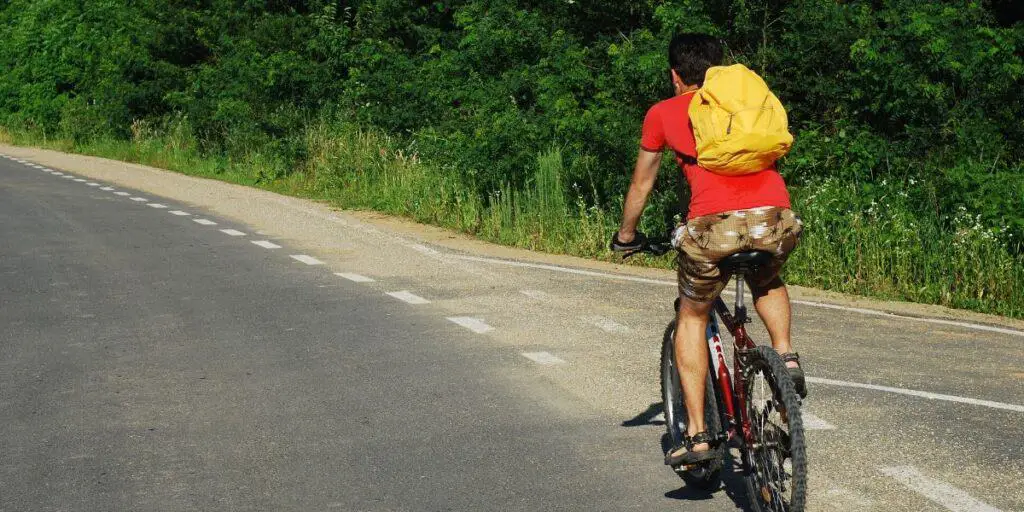 The reason for this is testing and design, suspension, large wheels and the rider's weight distribution (through seat and handlebar positioning) are all used to reduce the force that any folding hinge is placed under. The truth is that if a folding bike can't pass the durability test then the manufacturer would have no customers to sell it to. 
Online reviews are so unforgiving for products that a manufacturer can't afford to produce a poor quality bike, they could definitely get away with this in the past but this was when communication channels were a lot less instant and far-reaching as they are today. 
Therefore if you are worried about the durability of a folding mountain bike you just need to know that they are made out of the exact same material as a regular mountain bike and due to the folding mechanism, these bikes are often put through more testing as a result.
7 Best Folding Mountain Bikes
First on the list, we have the Eurobike 26" full suspension folding MTB which is a solid option covering most of the basic features that you'd hope to see in a mountain bike. 
A sturdy steel frame is slightly on the heavy side however it does allow for a max user weight of 300lbs which is amazing, we've heard nothing but good things about the dual suspension and it's understandable given the weight capacity that it can support.
Disk brakes, 21-speed Shimano gears and lightweight aluminum wheel rims are some of the high end features that you'll find in this very affordable folding MTB. When we mentioned basic features, a 21-speed gear and disk brake would definitely not come under the category of 'basic'.
Overall, this is a solid entry-level bike in the folding MTB category. 
✅ What We Liked
The bike comes 85% assembled so while there is some assembly required, we've seen bikes that can take hours to put together whereas this takes 5-10 minutes
Heavy-duty mountain bike supporting a max rider weight of 300lbs
Full suspension and disk brakes allow for a surprisingly comfortable and safe ride in most off-road terrains
We've mostly seen great reviews for this bike which is surprising seeing as it's such and affordable model
❌ What Could Be Better
The handlebar adjustment is quite limited which can be frustrating on a 26" bike (slightly on the small side)
Heavy duty but also heavy in weight so might not be as easily portable for some
---
You honestly can't go wrong with this 21-speed, full suspension, 26" folding MTB and the reason for that is the crazy affordable price. For the features you get, this is one of the most affordable folding bikes we've come across and really emphasizes our earlier point about folding bikes coming a long way in terms of design and quality!
If you've never had a folding bike before (of any kind) then this is a great entry-level model with minimal downside. The colors are eye-catching, the folding mechanism is simple and the dual suspension means that you'll have no issue when going off-road.
✅ What We Liked
Without a doubt, the affordable price for this bike makes it a very lucrative bike, especially for first time folding MTB buyers
The clean and modern design is easy on the eye, the color options are simple yet eye-catching and the 3-spoke magnesium wheels look great during motion
The foldable frame is quick and simple to use, something which we are big fans of
21-speed Shimano gears and full suspension are unexpected features to have at this price point
❌ What Could Be Better
A max user height of 6'1 and weight of 220lbs is quite limiting so this bike isn't suited for everyone
When folded it's certainly not the most compact or lightweight bike that we've come across so we'd suggest checking the measurement to ensure it fits in your trunk etc.. before purchasing
---
The Eurobike Kingttu G6 is a heavy-duty folding MTB built to handle the rigors of off-road terrain. Weighing in at around 43lbs, this is definitely one of the heavier folding MTB's, however, this helps to support a huge 310lbs weight capacity.
Again, this is another bike with 26" wheels, 21-speed gears, full dual suspension and disk brakes which shows the overall quality of folding MTB's, in general, are high. We still remember non-folding MTB's that were single gear and used padded brake pads which is why we keep pointing these out as key features.
If we're being honest, the big is slightly higher priced than those with similar features and the only justification we have would be the weight capacity alongside the fact that it really is an aesthetically good looking bike.
✅ What We Liked
Folding instructional videos on YouTube are useful for those that struggle with the manual instructions
With a weight capacity of 310lbs is one of the heaviest we've seen and could easily support off-road cycling with an additional backpack
Visually good looking bike, particularly with the 3-spoke wheels
Side stand included for any quick stops to take in the scenery
❌. What Could Be Better
Despite the huge 310lbs weight capacity, the height restrictions of 5'4-6'0 are very limiting to a lot of potential riders.
Set up time of 10 – 20 minutes is quite high as a standard as some beginners could easily end up taking upwards of 1 hour
---
The Macce 21-speed folding MTB is a great addition for those that are looking for a reliable, no-frills folding MTB. We've recently seen Macce models enter the market yet they are all very similar designs and don't look too different from some of the bikes we've already taken a look at. 
This isn't necessarily a bad thing and something that we do like is the fact that it offers a 26" wheel, 21-speed bike for adults or a 24" wheel, 10-speed bike for teens. 
It has a lightweight and aerodynamic frame, smooth gear changes and a matte finish frame to stand out on-road or off-road. We just feel that for the price point, it isn't differentiating itself from other bikes enough. 
✅ What We Liked
24" option for teens is something we've not seen much off and definitely a good addition to the folding MTB range
Simple twisting latch for a quick folding mechanism in less than 15 seconds
Visually stunning modern design (the white is a particular standout color option in our opinion)
Lightweight magnesium wheel compliments a solid steel frame for durability and portability, though it is still quite heavy at around 40lbs
❌ What Could Be Better
Suspension and tires aren't the best for off-road terrain, upgraded tires might be a necessity
Very new model so not many reviews
---
Now we are going to look at a different offering with the Ancheer folding electric MTB. This is a very unique model and one that really stands out in this market at present. If you thought a folding MTB was unique then this electric model will really surprise you.
A top speed of 15mph unassisted thanks to a 250W motor and 8AH Lithium-Ion that also gives a battery range of 15 – 20 miles which means that you can use this bike off-road as well as on an urban commute.
All-weather tires, dual suspension and front and rear mudguards are all premium additions for off-road use and are exactly what we'd like to see moving forward with these bikes. The motor is clearly not just a fancy addition as this bike has some high-end features that are impressive in their own right.
✅ What We Liked
Professional assembly in-store by and approved Amazon vendor
Front and rear mudguards, something that the non-electric folding MTB's seem to be neglecting
The flexibility of 3 riding modes with e-bike (fully automatic), assisted and normal 
26" wear-resistant tires which are a quality upgrade on a standard tire
Adjustable step handlebar to change between an aerodynamic body position or a more comfortable upright one
Detachable battery to charge on the go
❌ What Could Be Better
The weight of 60lbs is definitely a steep increase on some of the bikes we've viewed already
---
The Elevin is the first folding MTB we've seen that actually looks fit for off-road use and that's down to a simple addition of some mudguards. It's such a simple feature but something that the folding MTB manufacturers seem to have forgotten!
While this looked promising we must admit that it's a very small addition that doesn't really justify the high end premium price. This bike is a solid build and again covers it's bases with 21-speed gears and disk brake design though we feel you'd be paying a premium for the visual design rather than the features (which is perfectly understandable if you are someone that prefers visual aspects over function).
✅ What We Liked
Front and rear mudguards are a welcome addition to this bike and the first we've seen besides from the Ancheer
Folds in as little as 15 seconds for ease of portability
Steel V-brake allowing you to decelerate quickly
❌. What Could Be Better
The price is a little steep, we don't know if it justified being double the price of the Onya Power
The visual design is not as appealing as some of the sleek and modern designs on the other bikes we've reviewed
---
Finally, we have another Ancheer bike on this list and that is the model AN-EB002 electric folding MTB. This is a slightly more expensive model than the AN-EB003 and is the most expensive folding MTB that we've reviewed though we do feel it justifies its price.
A max speed of 15mph – 17mph (non assisted) is slightly more than the AN-EBOO3 and you'll certainly feel the power of this bike in off-road terrains, particularly on hills. We can honestly say that you'll struggle to find any negative reviews for this bike besides from a few niggles. 
If you want a powerful MTB that also doubles up as a folding option then you shouldn't look much further than the two Ancheer models as they are certainly leading the way.
✅ What We Liked
Rear suspension hub that works much more efficiently than other bikes reducing fatigue and increasing comfort
A 250W motor gives enough power to support a lightweight aluminum alloy frame (though the bike as a whole isn't very light!)
Anti slip thick tire for all riding conditions including rain and snow
Powerful enough for some steep uphill riding
Powerful front LED light for added visibility if riding in the dark
❌ What Could Be Better
More expensive than the AN-EB003 and we can't really see the justification for it
The welded stand on the bottom can get caught on rough terrain like high roots or during steep inclines. The battery is also not fixed into an ideal position when going over bumps so needs to be taped or secured in place
---
Editors Pick
Our editors pick for the best folding MTB is the Ancheer AN-EB003 electric folding MTB. There wasn't much to choose between this bike, the Ancheer AN-EB002 and surprisingly the Oyma Power (which was amazingly good value). 
In a currently untapped bike category however, we feel that the features that the AN-EB003 model offers is just too much for the other bikes to compete with. A constant theme we saw with folding MTB's is unclear assembly instruction and for a bike that has the added features of a motor and battery, you get the option to add an in store professional assembly via Amazon which is such a huge time and effort saver!
The truth is that with this model we really struggled to find any negative reviews or downsides. Sure the price is more than a non-electric folding MTB but the upgrades are significant and there is a noticeable difference in quality between this bike and the others we'd reviewed. It's also worth pointing out that for an e-bike, this is incredibly well priced in comparison to others so the off-road functionality is a genuine bonus.
Final Thoughts
We still think that the folding MTB market is developing and at the moment manufacturers are following each other's lead rather than innovation. 
There are a few stand out brands like Ancheer and Onya Power though, who appear to be leading the way either on affordable price or high end features and we feel these models are already a high enough quality for us to consider the folding MTB to be one with a lot of current and future potential. 
The bottom line is that portable off-road bikes are now very much a reality and the quality is already surprisingly high!