Electric scooters have rapidly grown in popularity in recent years thanks to a few global needs and lifestyle changes. The increased concerns over environmental sustainability have meant that an increasing number of people are ditching cars and switching to more sustainable transportation for work commutes and quick trips in urban areas.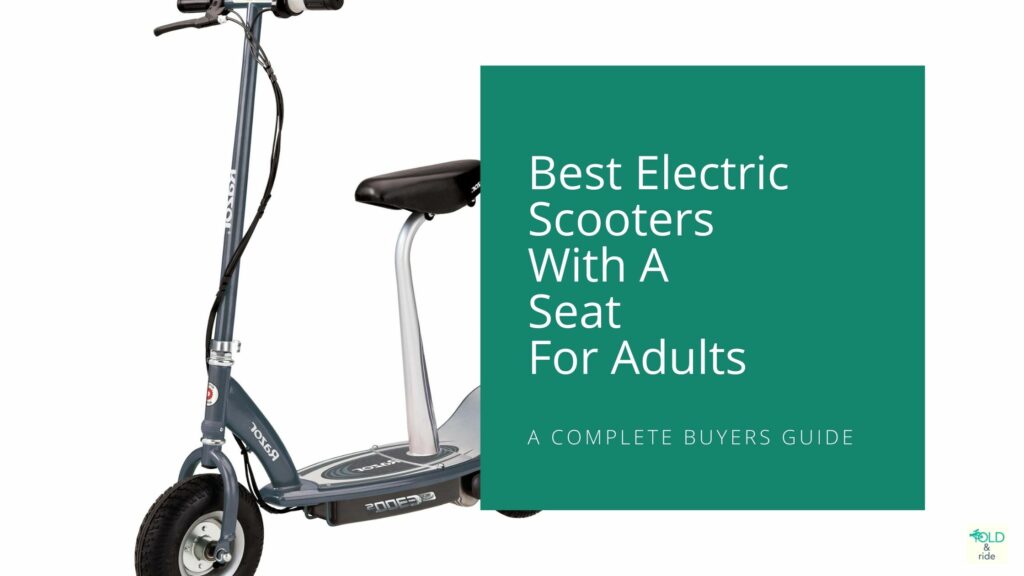 As an Amazon affiliate, we earn from qualifying purchases.
If you've seen people using these in the city or around the neighborhood and are interested in what all the fuss is about then we are going to give you a complete run-through on what we feel are the best electric scooters with a seat (for adults). 
Editors Pick
Our editors pick for a seated adult electric scooter is the Razor E300S. This is an all-round excellent model that has a number of features that would appeal to both the urban commuter or city explorer alike. 
Are Electric Scooters for Adults
The early electric scooters were something that was either a children's toy to be used as a fun substitute for a bike or something that a quirky college/university student could be seen racing around campus on. The thought of an adult riding around on an electric scooter was not even a consideration and in fact, the weight capacity for most electric scooters wouldn't have even supported an adult. 
Fast forward to the present day however and we are seeing electric scooters that are not only suitable for adults but ones that are being manufactured specifically for adults. In a time when large engines are being used as a scapegoat for environmental damage, it's no longer as popular an option to own the largest engine in the neighborhood. 
While it's road bikes, e-bikes and folding bikes that are becoming increasingly popular in urban areas, electric scooters are not far behind. Electric scooters have hit the mainstream and it's likely you'll see just as many adults utilizing these quick and convenient modes of transport as you will see children playing on them.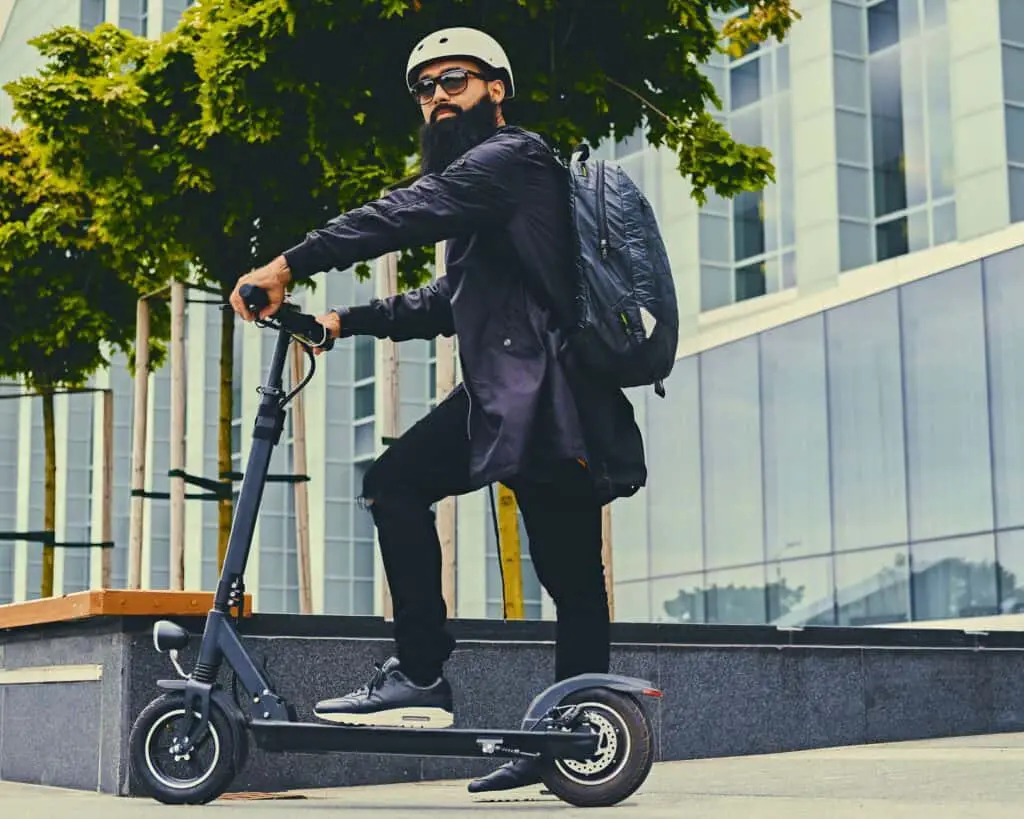 Is It Worth Buying an Electric Scooter
Electric scooters are an up and coming product that has not yet reached their peak in terms of design, performance and value. When we use an electric bike as the benchmark, these have transformed over the years from heavy, clunky, noisy and unattractive vehicles to the ultra-light, compact and powerful models that we see today. 
You only need to use the world's lightest e-bike, the Hummingbird Electric, as a guide on how far innovation in this category has come. While electric scooters aren't quite at this level yet, they've certainly come a long way and offer a quick, convenient and most importantly affordable option for urban travel. 
With electric scooter rental companies popping up on an almost weekly basis it's easy to see that these are fast becoming one of the most popular forms of city travel and this wouldn't be the case if consumers didn't think they were worth it. 
While the price of an electric scooter can vary drastically from model to model depending on features and branding, the average price is still significantly less than a standard e-bike so if you are looking to make the transition to quick urban travel then an electric scooter is a great starting place. 
Key Considerations
An electric scooter might seem like a toy or simple machine at first however it's important to remember that you'll be using this on the road surrounded by traffic and pedestrians so there are a number of considerations to keep in mind before getting an electric scooter.
Safety – a helmet, reflectors and lights are some key accessories that you'll need to look into getting. Even if you use these on a college campus or just to ride around a park you still need to be cautious of accidents and injuries as some of these scooters can reach speeds of 15mph – 20mph.
Battery life – an electric scooter, even with a seat, is not designed to be a long-distance form of transportation. Make sure you work out what duration of travel you'll need the scooter for and whether the battery life can support it.
Security – a lot of these scooters are so portable that they fold down for ease of transport but a chain and padlock would always come in handy for times when you'd need to leave it outside unattended (just as you would with a bike).
Terrain – most electric scooters are made for flat ground in an urban environment. While some will have enough torque to handle slight inclines and hills it's best not to try and challenge them in off-road terrain. 
Weather conditions – electric scooters do not offer the same tire grip, steering control or braking ability as a bike and therefore when going at speeds of 12mph and above it's advised both by the manufacturers and ourselves not to use an electric scooter in wet conditions
---
The Razor E300S is a market leader when it comes to seated electric scooters and understandably so. Razor has a few electric scooter models on the market and are a reliable brand across the board, however, the E300S is by far the most popular model thanks to the added seat and a range of upgraded features. 
This seated electric scooter is ideal for anyone that wants to make a quick and comfortable short commute.  Whether you use it as a part commute alongside the subway (or a full commute), need a quick trip to the shops, use it to get to class or some people even use it to take small children out for a ride you won't be disappointed. 
We'd recommend choosing this if you are new to the world of electric scooters and need a great starter model that also provides a seat. The E300S has many features that will surprise you in an electric scooter. 
With speeds of up to 15mph, a 40-minute battery duration, twist grip throttle (though it's not a variable one) and 10" tires you'll really be surprised by how quick and durable this model really is.
✅ What We Liked
Rear-wheel drive is a surprising feature to find in an electric scooter which allows for more traction and greater flexibility in driving terrain (though this doesn't mean it's suited to off-road terrain!)
Spring-loaded retractable kickstand for quick stops
Holds a weight capacity of up to 220lbs which is more than enough to cater for a large percentage of adults though many claim that it can actually handle more weight
This is an incredibly value-priced electric scooter considering the build quality, an e-bike of similar quality would cost 2-3 times more on average
Removable seat is very useful if you want the option to use it as a standing electric scooter or let your child/teen use it
Thick tires and slightly larger than average wheel size allows for a comfortable ride (the seat is padded as well to add to this)
❌ What Could Be Better
A run time of 40 minutes on a full charge is good for short commutes however we'd like to see a longer battery life as some of the modern electric bikes boast (typically 30 – 40 miles ride time on a full charge).
Used old-style acid batteries whereas we'd like to see more modern lithium Ion batteries that are much easier to charge and replace (though cost a bit more). This means the life cycle (not run time) is shorter.
A 12 hour charge time is very long considering today's technology
---
The JUE SHUAI electric scooter with a folding seat is for those that are used to an electric scooter and want a bit more power with their ride. There's no denying that scooters are fun (even as an adult), so it's fair to say that JUE SHUAI really bridges the gap between an electric scooter and electric bike with this model!
This scooter is definitely geared more towards the commuter with a 62.5 mile duration and speeds of up to 25mph! The powerful 500W motor is complemented by 10" wheels, front and rear disk brakes and a lithium battery meaning that you are getting a powerful commuter bike with this model.
As it's more powerful and capable of some significant speeds, we want to point out that you should only use this bike in dry weather conditions. This scooter is not well adapted to rain or wet and slippery roads so the fact that it has such a high-speed potential means that we'd be very cautious of riding conditions. 
✅ What We Liked
This scooter is so powerful that it could be a strong match for many e-bikes
Lithium battery allows for quick charge times of 6-8 hours and also has a favorable duration of 62.5 miles
Disk brakes and an anti-braking system and turn signals are premium safety features
Folding handle and seat make this an excellent portable seated scooter for storage under a desk in work or in a closet in your house/apartment
48V, 500W powerful motor means this scooter can even handle small hills and continuous inclines
❌ What Could Be Better
This isn't a very mainstream or popular product so we struggled to find many customer reviews (good or bad) though the seller does provide a demonstration video on Amazon
The folding feature is great for portability however it's quite a slow process to actually make these adjustments
---
Another Razor model in this list is the EcoSmart Metro electric scooter which is definitely a more upgraded version on the previously mentioned E300S. By upgrade, we don't necessarily mean better but the age rating of 16+ for this bike is a good starting point to demonstrate that this is specifically for adults.
While it has the same run time as the E300S at around 40 minutes, there's a slight upgrade to the speed of this model to 18mph and while it's certainly nothing in comparison to the powerful JUE SHUAI, it's still quick enough to get you from A to B.
This scooter also has a very distinctive 'eco-friendly' look thanks to the bamboo wooden deck, we think this is a visually appealing feature however we can also see that it won't be to everyone's taste!
✅ What We Liked
Improved speed of up to 18mph, not the fastest on the market but certainly a decent speed for most
The rail attachment to the rear is a great feature for carrying work equipment, groceries, gym clothes and a range of other accessories raising the profile of this as a genuine commuter scooter
The bamboo wooden deck and powder coated frame are both environmentally friendly and features that help make this scooter look more modern and attractive
The E300S can be quite noisy however the EcoSmart is incredibly quiet, we've heard computers powering up that sound louder than this
16" tires are a significant feature in this model and really support a comfortable journey (the standard 10" tires on most electric scooter pose an issue when it comes to a comfortable ride)
❌ What Could Be Better
We've seen quite a few complaints about customers having issues with the battery after a short period of time
---
While we can admit that the other models had some great features in their own right when it comes to getting a reliable electric scooter (especially for a first time user) that the Razor E300S is just too well rounded to ignore. 
While the motor isn't the strongest and the speeds are quite limited we can't help but find that this reliable model is just ideal for getting you around the city with minimal fuss!
Final Thoughts
Low-emission, urban travel is definitely looking like a popular option for the immediate future as more people get overly frustrated with daily traffic and more and more people become environmentally aware of their impact. 
While we don't think electric scooters have reached their peak just yet in terms of innovation, the three that we've reviewed here are all excellent entry-level models to introduce you to the latest and most convenient way to experience inner-city travel. 
Even if you're sporting a $4,000+ e-bike we'd still recommend getting one of these electric scooters just because they are genuinely fun to ride about and let go of the everyday struggle of sitting in a car in traffic!